Black Friday is well around the corner. For you to have clicked through to this post, my bet is that you are looking for strategies to double your sales and make a killing this coming shopping holiday.
After all, that's what the title of this post says, isn't it?
Definitely!
In this post, I am going to be sharing with you 7 ridiculously simple strategies you can use to double – and even triple – your sales.
Who is this post for?
Affiliate marketers, eCommerce entrepreneurs, marketing executives, and anyone interested in making lots of sales this Black Friday.
That said, here are the 7 Black Friday marketing strategies we will be looking into:
Let's get right into it!
#1 Use Popups to Promote Your Black Friday Deals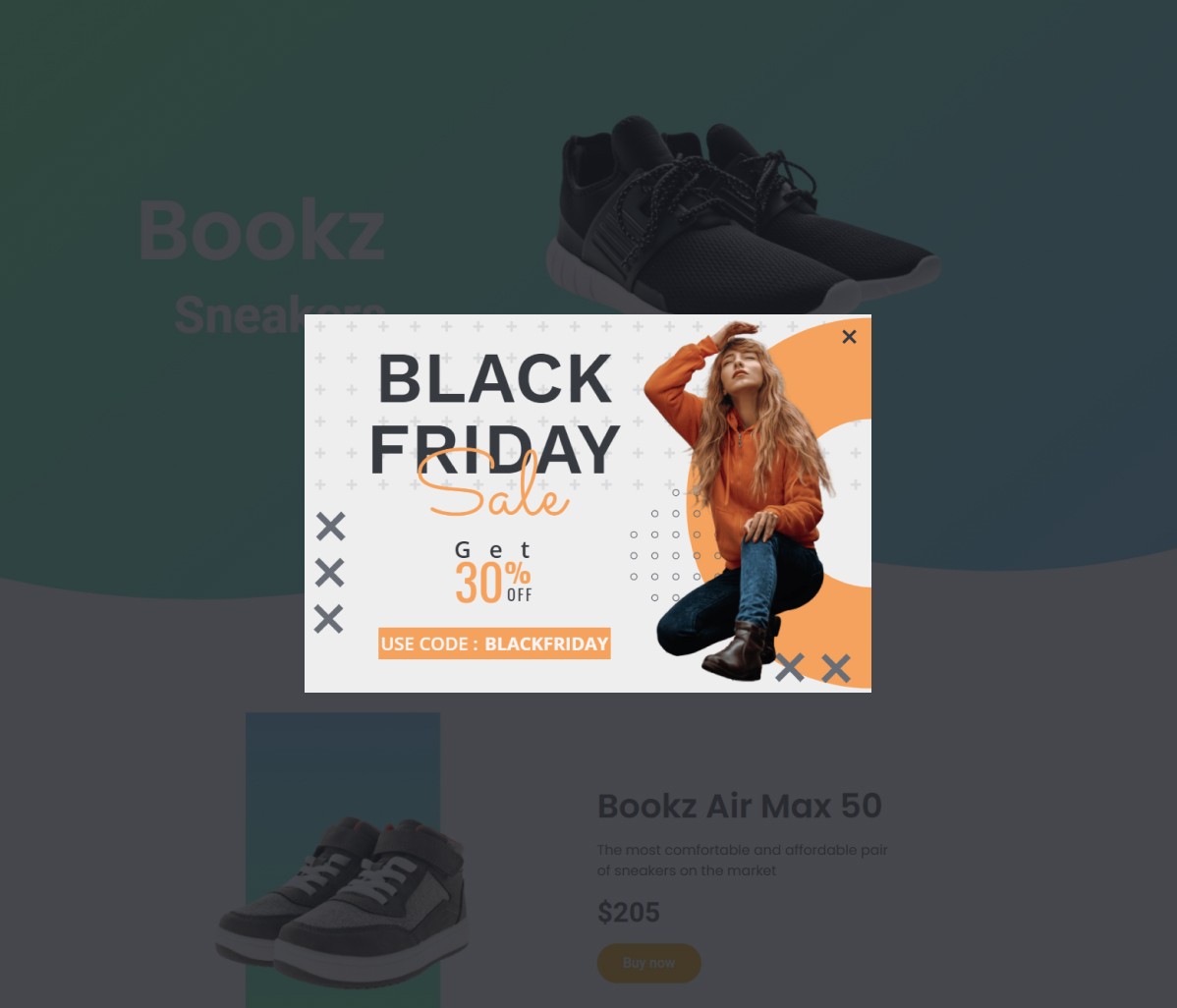 Do you want to capture your visitors' attention and sell to them while they are browsing through your website?
A popup box is your best bet.
Popup boxes are just hard not to notice. And when implemented properly, they can help you double sales on your website.
Now, there are a couple of ways you can use it to generate sales. The two most common are:
Suggest products to visitors
Direct traffic to your product page
How do you create and implement one on your website?
Easy.
First, start by signing up for a free account with Adoric.
After that, pick a popup template from our library of over 1000 designs. When you've found the one that you like, edit it to your heart's content using our design editor.
When you are done, publish. It's that ease.
Need a detailed tutorial? Check out our documentation page to understand how to create and publish a popup to your website.
#2 Slide-ins Can Be Helpful Too
Popups are great for capturing your visitors' attention. However, your visitors might find them off-putting because of their rather intrusive nature.
Thus, slide-ins might be a better alternative to popups.
But what are slide-ins, really?
As their name suggests, they are modal boxes that appear by sliding in from the left or right side of a web users' screen while on a web page.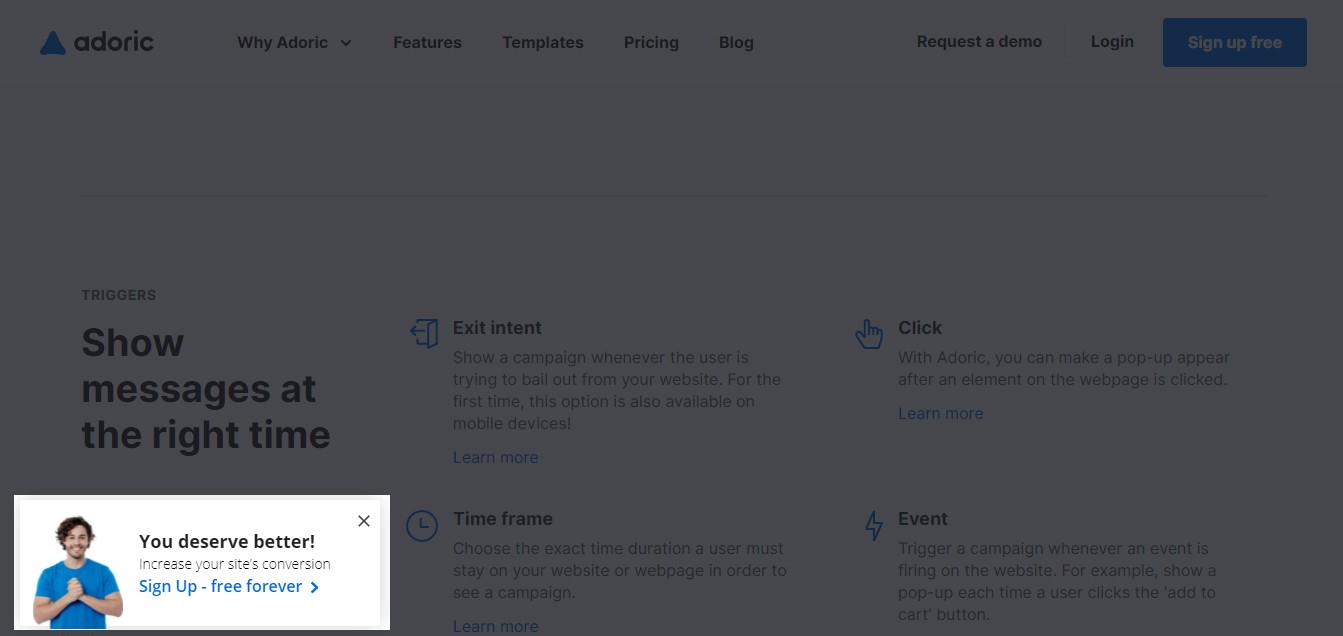 Like popups, slide-ins are also excellent for promoting Black Friday deals and without hurting your website's UX.
Thankfully, with Adoric you can also seamlessly create and publish slide-ins to your website, just as you would with popups.
Plus, Adoric comes with a ton of slide-in templates you use without having to build one from scratch.
#3 Floating Bars Are Also Great
So you've seen what seen slide-ins can do. Good.
But what if you wanted something that is way more attention-grabbing and at the same time way less invasive?
Floating bars are the answer. Your Black Friday marketing campaign is never truly complete without one.
As you would expect, floating bars are horizontally aligned campaigns that stick at the top – or bottom, and even at times middle – of a webpage.
You've most likely seen them a couple of times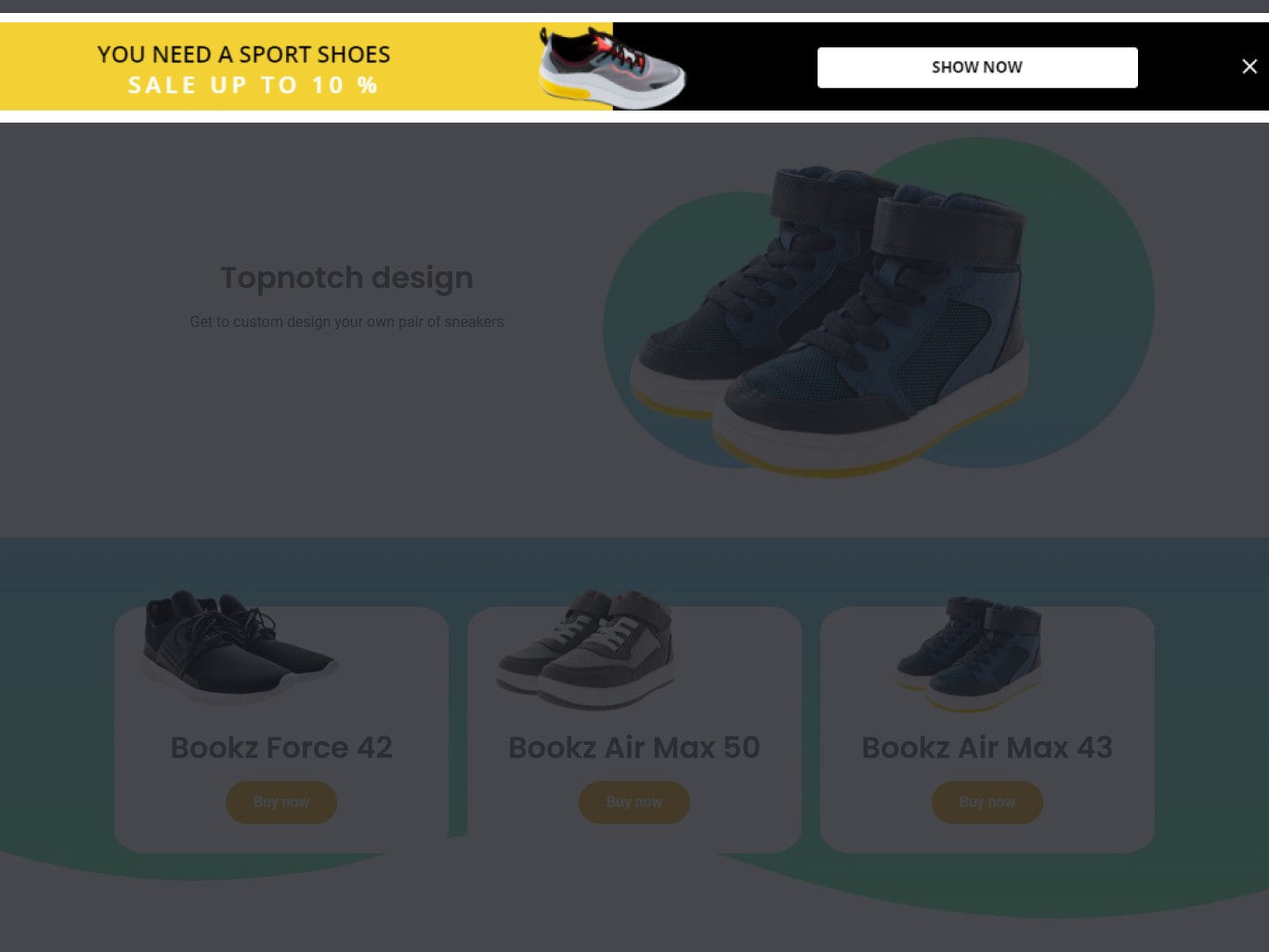 Their sticky nature makes them highly noticeable, and at the same time barely invasive.
This makes them the best campaign format for promoting Black Friday sales offers.
And yes, with Adoric you can easily create one.
#4 Capture Abandoning Visitors With Exit Popups
Getting visitors to go make a purchase can be daunting. One of the reasons is that people are naturally impatient.
They land on your website – oftentimes enthusiastically and ready to make a purchase – and the next minute they are off.
Sometimes, they don't even make it to your product page. Other times they do – and even start the checkout process – only to abscond halfway.
How else do you define frustration?
But the good news is that you can recapture those abandoning visitors – at least a good number of them – with Exit-intent popups.
These are pop-ups that show up on users' screens just when they attempt to leave a website. This makes exit popups an excellent tool for capturing the attention of abandoning visitors.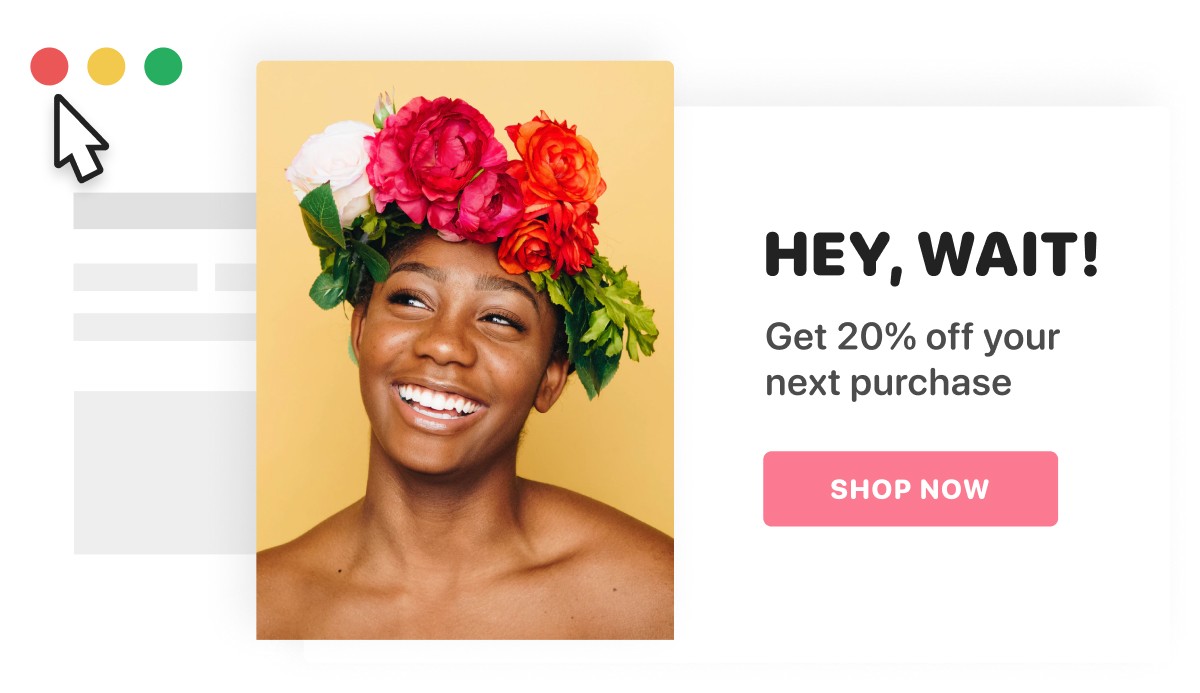 When you've finally gotten their attention, you could entice them with a coupon/discount to make them finish up their checkout.
Curious already and want to know how to create exit-intent popups?
#5 Entice Visitors With Coupons Using Spin-a-Wheel Popup
Who doesn't love coupons and discounts?
People often buy stuff online not because they need it, but because they want to redeem a coupon.
This is a big opportunity for you.
To drive huge sales this coming Black Friday, go big with coupons and discounts.
But to make your coupon marketing campaign successful, you need a spin-a-wheel popup to make it engaging and interesting.
Here's how one looks like: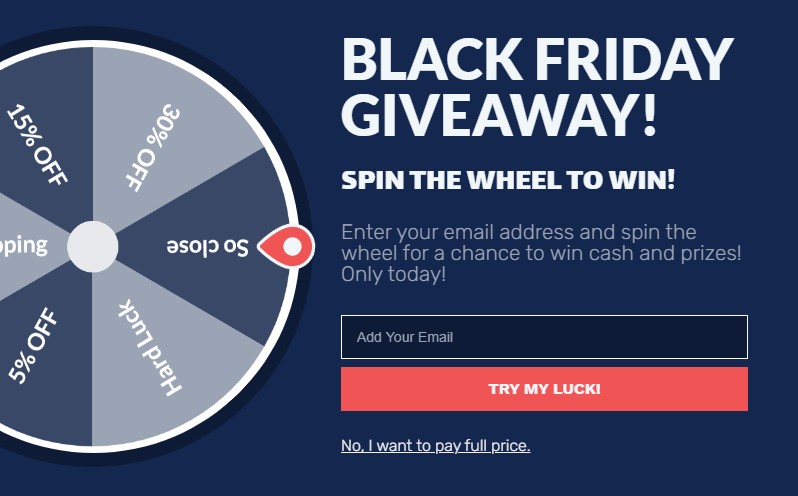 This kind of popup gives your visitors a chance to win coupons by spinning the wheel of luck. Then they can shop in your online store with the coupons they win.
This makes them an excellent Black Friday marketing tool.
Adoric has a ton of spin-a-wheel campaign templates you can edit and use however you wish. What's more, you don't need any coding or design skills to use and edit these templates.
Ready to take Adoric for a spin?
#6 Use a Countdown Timer to Build Excitement and Urgency
You sure want customers to jump at your Black Friday deals without wasting time, don't you?
A countdown timer can be of immense help here.

Countdown timers are effective for stimulating a sense of urgency because they create what is known as FOMO (fear of mission out) in the minds of people.
And when people fear missing out on something they consider valuable, they are bound to act with urgency.
How best can you use a countdown timer to drive sales?
Here are a couple of suggestions
Use them in your modal popups
They will also work well in slide-ins and floating bars
Embed them directly into your website's pages and posts
#7 Start Promoting Your Black Friday Campaigns on Time
Don't wait till November to start promoting your campaign. You will only be setting yourself up for stiff competition.
To get ahead, start promoting earlier – possibly 2 months ahead before the time.
Conclusion
There you have it, 7 strategies to make more sales this coming Black Friday.
I hope you found the tips here helpful.
Finally, if you are ready to start converting your website's visitors into potential customers, sign up for an account with Adoric. It is completely free!