Did you know that 70-96% of the people leaving your website will likely not return again, ever? If you don't find a way of capturing these abandoning visitors, your revenue might suffer greatly.
Thankfully, Adoric's Exit Intent feature can help you capture as many abandoning visitors as possible, easily.
Technically speaking, Exit Intent is a technology that tracks the mouse movement of a web user. It then fires up a popup when a visitor attempts to leave your website without making a purchase. Or if a user fails to subscribe to your newsletter.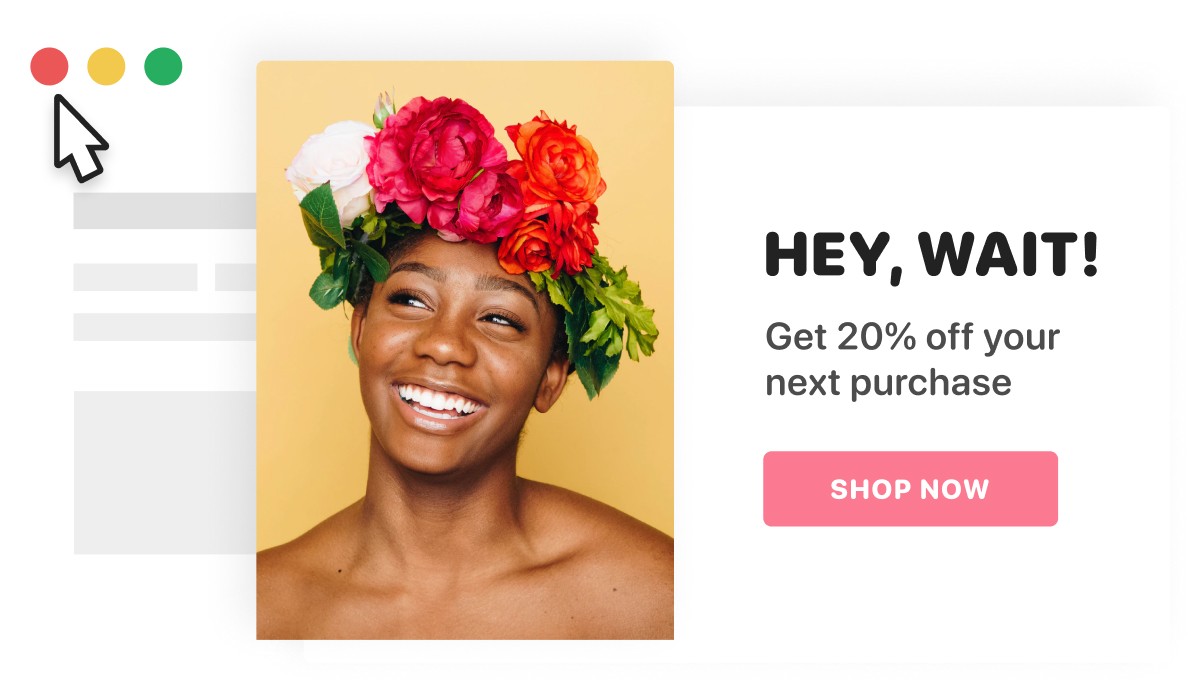 Why Should You Use Adoric's Exit-intent Popups?
Here are some of the benefits of using exit-intent popups on your website
1. Reduced Cart Abandonment
If you've been trying hard to reduce your website's cart abandonment rate but with little success, exit-intent might be the solution you've been missing all the while.
With our exit-intent popups, you can reduce cart abandonment by as much as 20 – 30%.
2. Increased Engagement
Exit-intent popups can help keep visitors longer on your website. The longer they stay, the better your chances of engaging with them.
And engaged users are the ones that bring the most sales.
3. Better Conversions
Showing your popups to visitors seconds before they exit your website can actually help improve conversions.
This is one sure-fire way to get more subscribers and leads.
How Best Are Exit-intent Popups Used?
Looking for creative ways to implement exit-intent popups on your website, but short on ideas?
Here are some inspirations
As Lead Magnets – Offer something of value, like ebooks, in your exit-intent popup forms to your visitors in exchange for their emails.
Offer Discounts – With an exit-intent popup, you can entice abandoning visitors with discounts, free shipping, freebies, etc.
Doing this will prompt them to make/complete a purchase, thus reducing your site's cart abandonment rate.
Offer Support – If users fail to find what they are looking for on your website quickly, they will very likely move on quickly as well.
With an exit-intent popup, you can prompt them to get in touch or speak with a customer support agent, to get help rather than leaving your website.
For Promotions –  Exit-intent popups are an excellent channel for promotions.
But what can you promote with them? Simple. Just about everything! Your content, events, ebook, contest, survey, etc.
What Next?
Already excited at the thought of implementing exit-intent popups to your website? Sign up for an account to see Adoric's full capabilities.
Beyond the exit-intent feature, Adoric has dozens of more tools you can leverage to improve your marketing strategy.
Drag and drop builder, schedule, triggers and targeting, thousands of free graphic assets, etc.