Are you looking for the best Mailchimp alternative to switch to this 2022? We've compiled a list of 10 of them in this post.
Mailchimp has dominated the market as the most popular email service for a long time. However, despite its popularity, there are some drawbacks to it that will make you want to look for an alternative email service provider.
An email service provider is essential to your email marketing endeavors. It lets you build a relationship with subscribers and get them to buy from you.
If the email service provider doesn't quite satisfy this function, there's no need to stick with it, right?
This is why we've compiled this list of alternative email service providers to help you ensure that you are smashing your email marketing goals – Mailchimp or not.
Here are the 10 Mailchimp alternatives we will be looking at today:
Reasons Why You May Want to Switch From Mailchimp
Mailchimp is usually the first choice for most business owners and marketers. But it might not always be the best for you, and here's why.
1. Not Cost-Effective for Medium and Large Scale Businesses
Using Mailchimp isn't a bad choice if you're just starting your business- especially when you consider that it allows you to send up to 12,000 emails to 2,000 subscribers every month for free.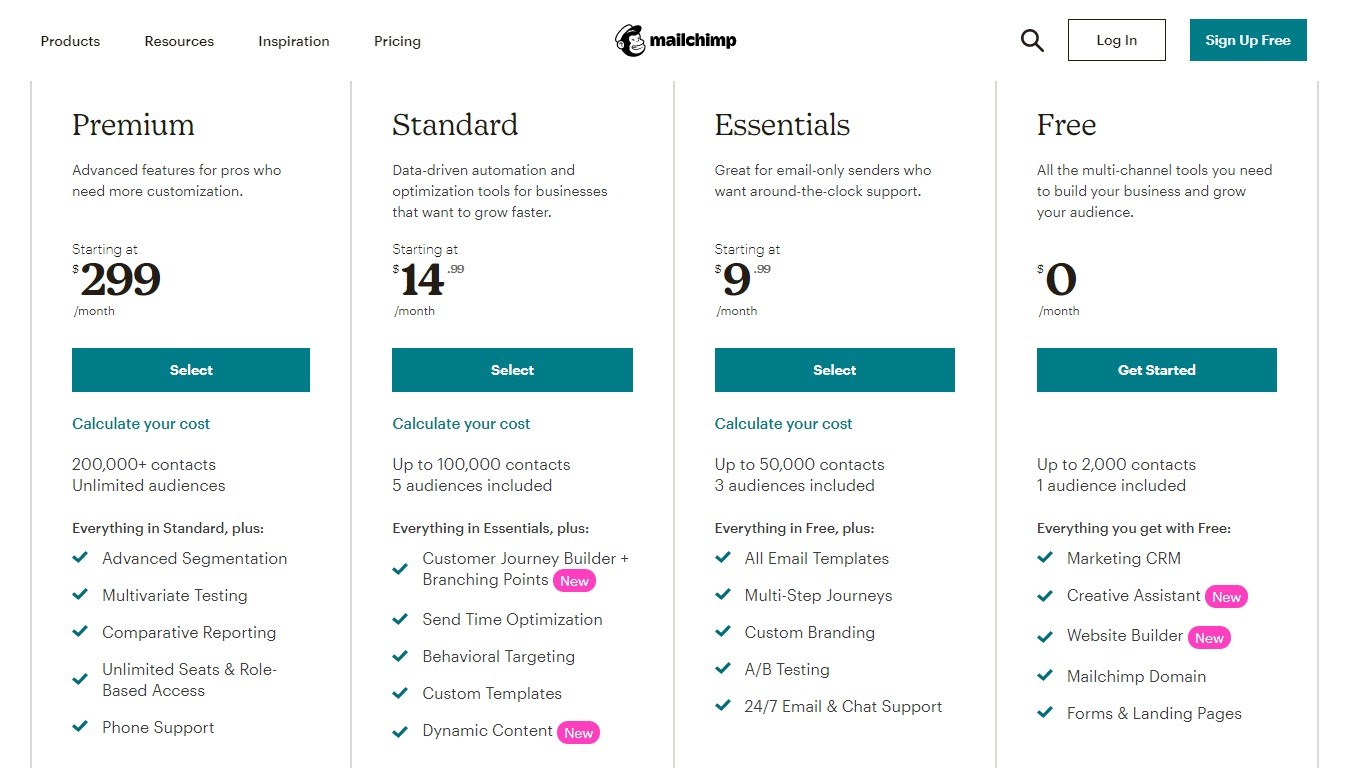 The thing is, you'll have to get on one of their paid plans when your business begins to grow. At that point, you may find that the features it offers on its paid plans do not cater to your business needs. Whereas there are many alternatives that offer more value at the same cost or even less. So, why shortchange yourself?
2. Poor Customer Support
You might find yourself getting disappointed with Mailchimp's customer support. Maybe they don't respond as quickly as you expect. At least, you'd be sure that someone would attend to the issues you face while using their platform.
Unfortunately, this is not the case. With many alternatives out there with way better customer support, we see no reason why you should stick with Mailchimp's poor customer support.
3. Too Basic Automation
With each day comes the need to adopt even more advanced solutions for marketing. Many email service providers have risen to the task but it doesn't look like Mailchimp got the memo.
Hence, Mailchimp may not meet your expectations if you're looking for advanced automation for your email marketing. But if you're okay with just basic features at a not-so-friendly price, Mailchimp could be your go-to.
4. Inadequate Segmentation Features
Segmentation is a critical part of email marketing. It's only when you segment your subscribers that you can send relevant emails to them.
Although Mailchimp has a segmentation feature, it might not quite fit in for you.
What to Look Out For When Searching For Mailchimp Alternatives
When looking for an email service provider to use in place of Mailchimp, there are some factors to consider. They are:
1. Simple to Use
Whatever email marketing solution you use should make your life easier? So, see to it that the email service provider (ESP) you choose allows you to focus on growing your business and not learning how to use it all the time.
2. Effective Analytic Features
If you can't measure your marketing campaign's performance, how will you know when you need to improve? This is why an effective analytic feature is important. Analytic features work to give you in-depth reports that help you track your campaign's performance via a dashboard, like this one below.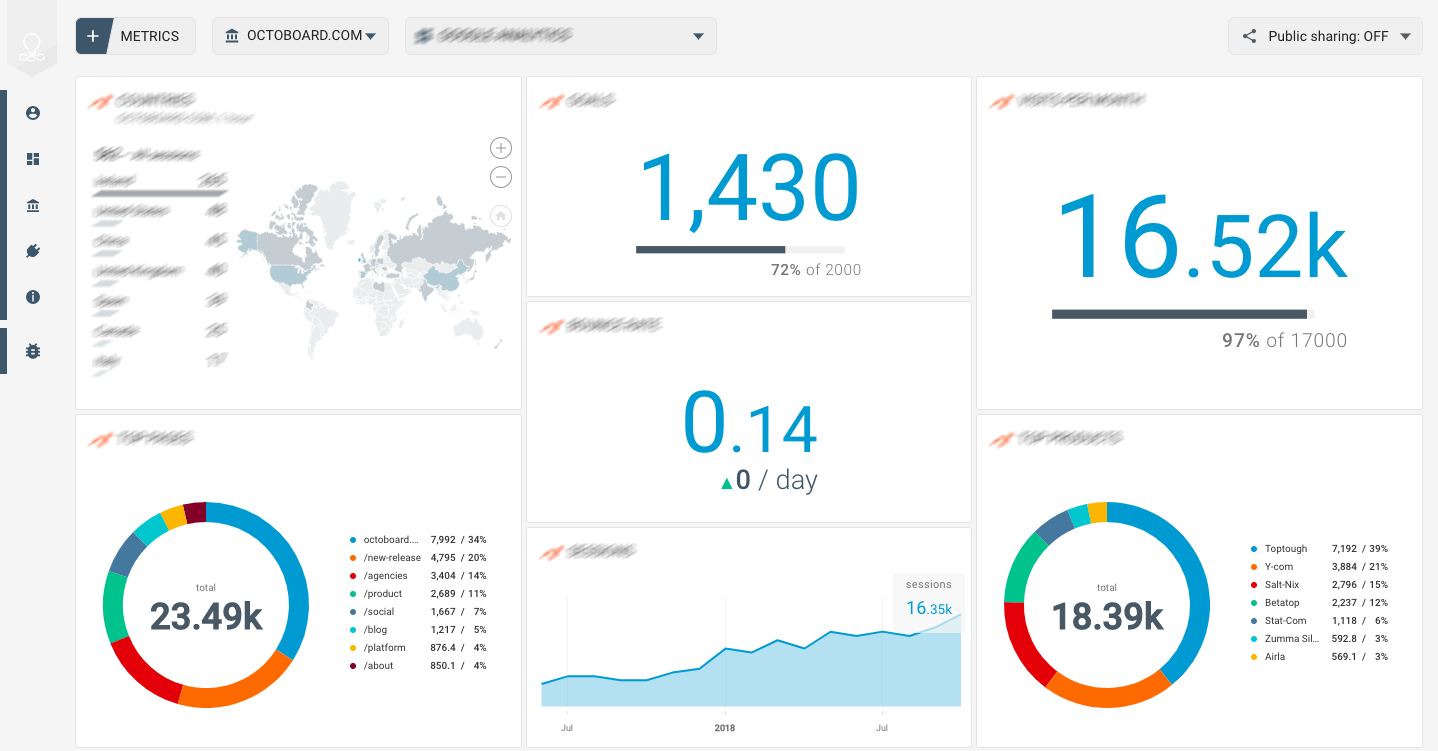 3. Cost
You can't be too cost-conscious when looking for an email service provider. But you equally need to be sure that you are getting the best value without having to empty your coffers.
Thankfully, most Mailchimp alternatives offer free plans. As your business grows and your revenue increases, you'd be able to afford an upgrade as you go.
4. Support Availability
In the event you run into technical issues when using your chosen ESP, who do you turn to for help? Whichever alternative email marketing software you choose, ensure they provide support to their customers via live chat, calls, or emails.
10 Best Mailchimp Alternatives
Now that we've gotten that out of the way, here are the 10 best alternatives to Mailchimp that you can choose from:
1. Sendinblue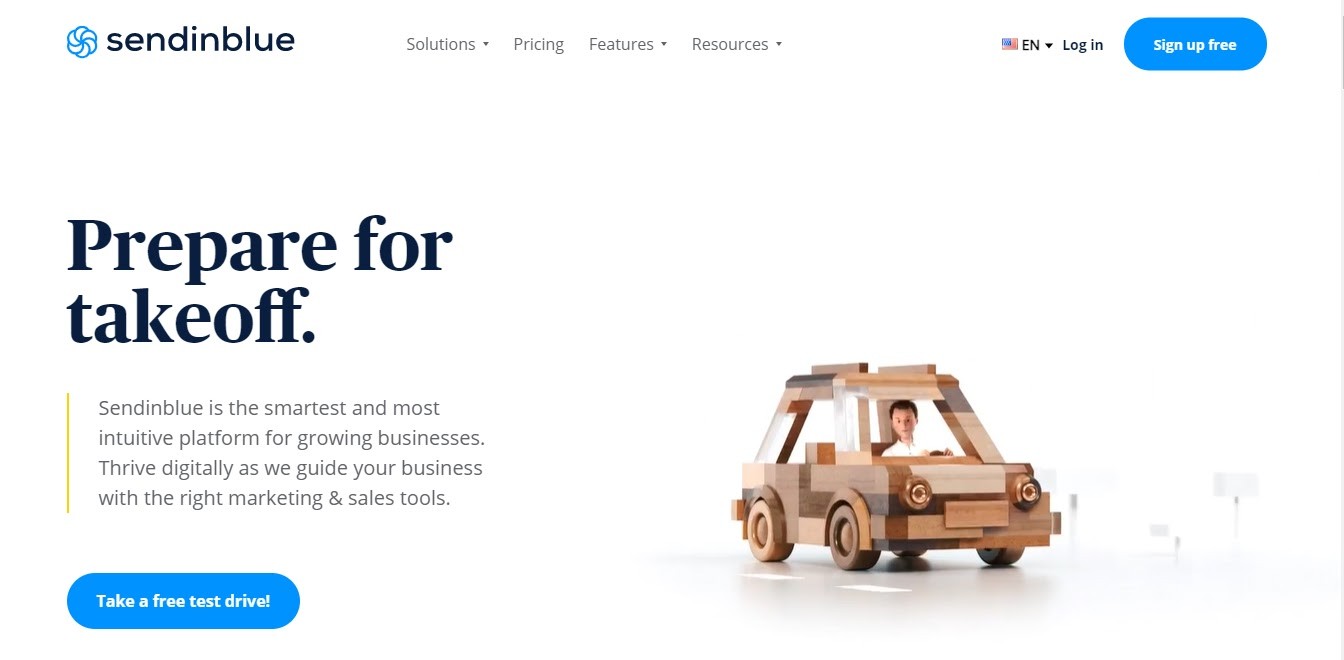 First on our list of Mailchimp alternatives is Sendinblue, which is a fantastic tool for any business. Apart from email marketing, Sendinblue also doubles as a marketing automation software.
This software is available in not one or two but six different languages and used by over 80,000 businesses, small and big alike.
It provides all the cloud-based tools necessary to manage your email campaigns, sends bulk text messages, and set up autoresponders at a pocket-friendly price.
Unlike Mailchimp, Sendinblue offers a free plan that allows you to add an unlimited number of contacts. You also get to send a maximum of 300 emails every day.
As your mailing list expands, you can always increase your capacity with Sendinblue by upgrading to its premium plan which starts at $25 a month.
Here are some of Sendblue's awesome features:
Marketing Campaigns
This tool makes it possible to send bulk messages via email and SMS to effectively reach all your subscribers.
Automation
Do you want to send automated abandoned shopping cart emails to win back your customers? Sendinblue makes doing so easy.
CRM
Provides a customer database feature that helps you manage all your contact details with ease and get insights into how effective your campaign is.
Facebook Ads
Sendinblue also allows you to retarget your visitors or reach new audiences via Facebook with ads and direct them to your website as long as they are on your Sendinblue contact list.
Retargeting Ads
Looking to retarget your visitors with relevant ads after they've left your website? Sendinblue allows you to do just that by showing specific ads to them while they browse on other websites or platforms. This way, you can direct them back to your website.
Landing Pages
With inbuilt tools like an editor and a selection of templates, you can build custom landing pages that align with your brand without having any coding knowledge.
2.  MailerLite
MailerLite is one of the best Mailchimp alternatives available. So, it may come as a surprise that it has one of the cheapest plans out there. It offers a Forever Free plan that allows up to 1,000 subscribers and a limit of 12,000 emails every thirty days. Its paid plan is so cheap it starts as just $10 a month!
It's not just cheap, it provides advanced tools that make it easy to start, build and manage email campaigns easily.
As a plus, it also makes it possible for you to grow your mailing list, automatically target and segment subscribers, customize and create landing pages, build an unsubscribe page, enable popups and carry out surveys to get useful feedback. Have a look at this extensive MailerLite Review for more details on the tool including all the list growth, automation, and targeting options compared to others.
MailerLite boasts of serving a community of over 1 million users that trust their services, amongst which are Marvel and BoredPanda.
MailerLite integrates perfectly well with other web services like Adoric, WordPress, Shopify, WooCommerce, Stripe, and Zapier among others. Signing up on Mailerlite is extremely easy and you'd be done in a matter of seconds. On top of that, you don't need a credit card to get started.
3.  AWeber

Much older than Sendinblue and a bit more expensive than Mailerlite, AWeber's pricing starts at $19 monthly for up to 500 subscribers.
While AWeber is not really cheaper than Mailchimp, it provides some basic CRM features. Its functionality is not as vast as Mailchimp's.
But one good reason you might want to use it is that it offers a free plan.
It allows you to create, design, and customize newsletters for your subscribers, use autoresponders to automate your marketing, and analyze various statistics to show the effectiveness of your email marketing campaign.
It offers a wide range of templates for your email content, allows you to import a previously owned email list, carry out A/B testing, provide live chat support, and most importantly, it allows you to integrate third-party applications seamlessly.
AWeber has two versions: a free version and a pro version. Like earlier mentioned, its smallest plan starts at $19 per month for 500 subscribers and goes as high as $149 for a mailing list containing between 10,001 to 25,000 subscribers.
4.  Campayn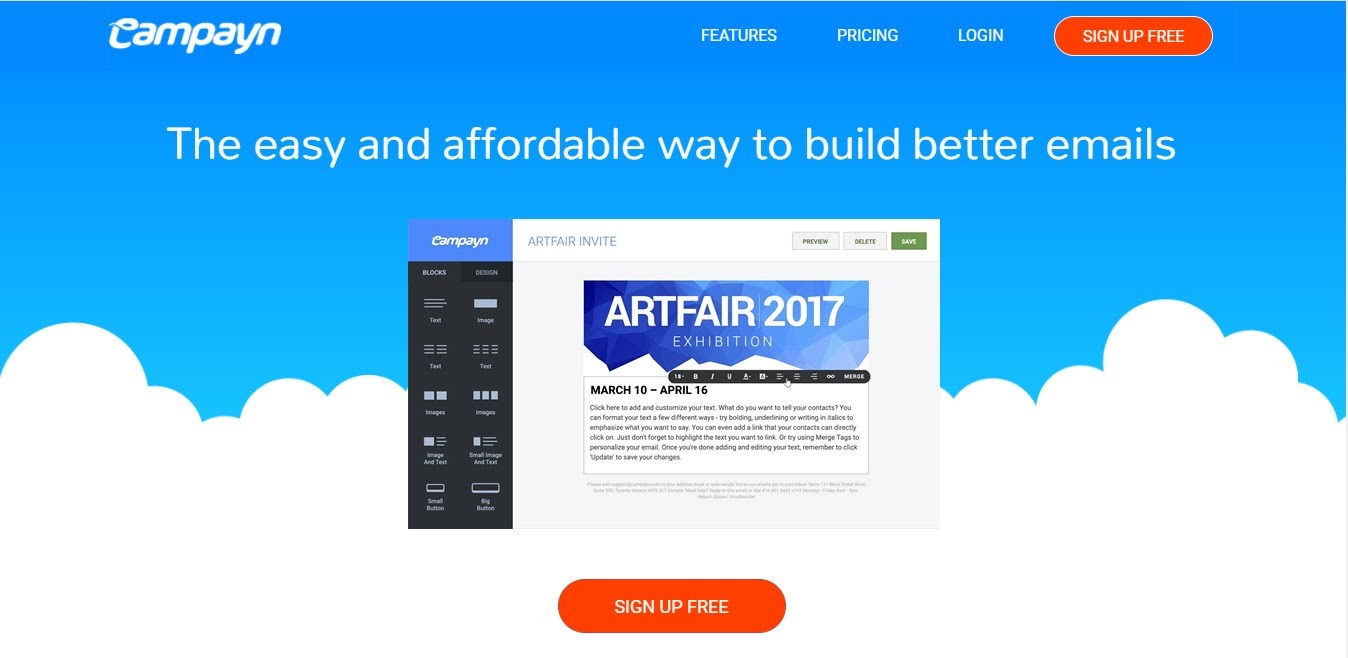 Campayn makes it easy to send out timely, customized emails to your subscribers. It boasts about being "the easy and affordable way to build better emails" and delivers on its word, thus making it onto our list of the best Mailchimp alternatives.
With Campayn, designing your email content is a breeze. You'll be provided with dozens of eye-catching free email templates that are responsive and perfect for all types of devices.
Campayn allows you to compile your email list or import it from another platform if you are making a switch. It also provides accurate and detailed analytics to show how successful your campaign is.
Campayn is easy to use whether you are a marketing expert or beginner. It provides the right tools to send bulk emails in a matter of minutes.
To design your emails, you can either choose from available templates or create yours from scratch.
This tool also allows you to upload your custom HTML and add calendar buttons to your emails. You can also add Google Maps images to make it easy for subscribers to know your business location. If you wish to attach files, such as digital brochures, Campayn has no problems with that.
Campayn also makes it easy to actively manage your contact list, segment your mailing list, and generate quality leads thanks to its double opt-in feature. You can also automate your email marketing by enabling autoresponders.
Campayn offers flexible pricing plans that don't cost so much.
It offers a Forever Free plan that allows you to send a maximum of 12500 emails to a list of 500 subscribers,  including all the basic features you need to run a successful email campaign. Its paid plans start at $19 a month.
Campayn is trusted by brands like Mercedes Benz and is also an amazing choice for small businesses that need an advanced email service tool.
5.  Sendlane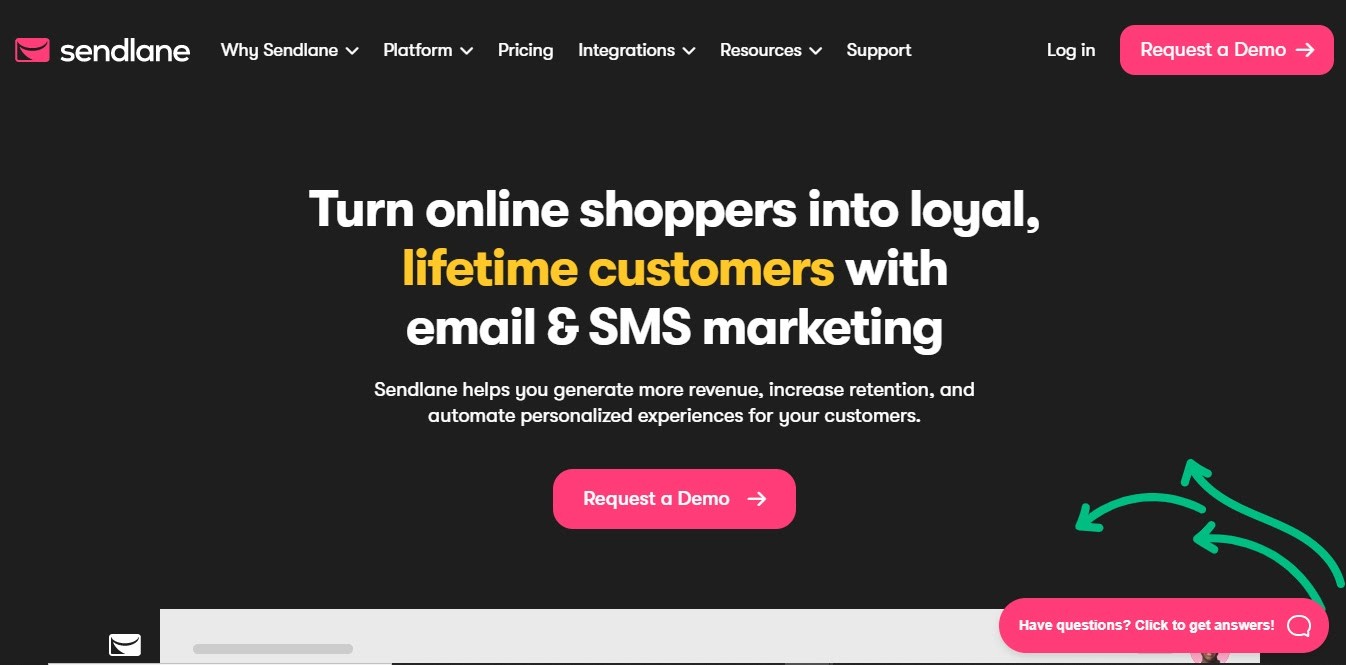 Sendlane is another Mailchimp alternative that offers better segmentation features and advanced automation options. It also comes with features that allow you to personalize emails for your subscribers.
It is trusted by over 1700 companies who use it to send over 40 million messages daily.
Sendlane not only makes it easy for you to create email content for your campaign but also gives you behavior-based, data-driven automation features to help you give your subscribers a good experience reading your emails.
Other features of this tool include its website tracking feature which triggers and sends emails based on real-time website engagement.
If you want to know how your marketing campaigns are doing, you can do so with its analytic feature.
On top of that, Sendlane allows you to A/B test your email designs to get maximum results.
Sendlane is rather expensive compared with Mailchimp. Thankfully, though, it offers a free version. But if you would like to test run the premium plans, you are free to do so, thanks to Sendlane's free trial offer.
You can pay for Sendlane's either monthly or annually, and according to the number of contacts on your list.
6.  Moosend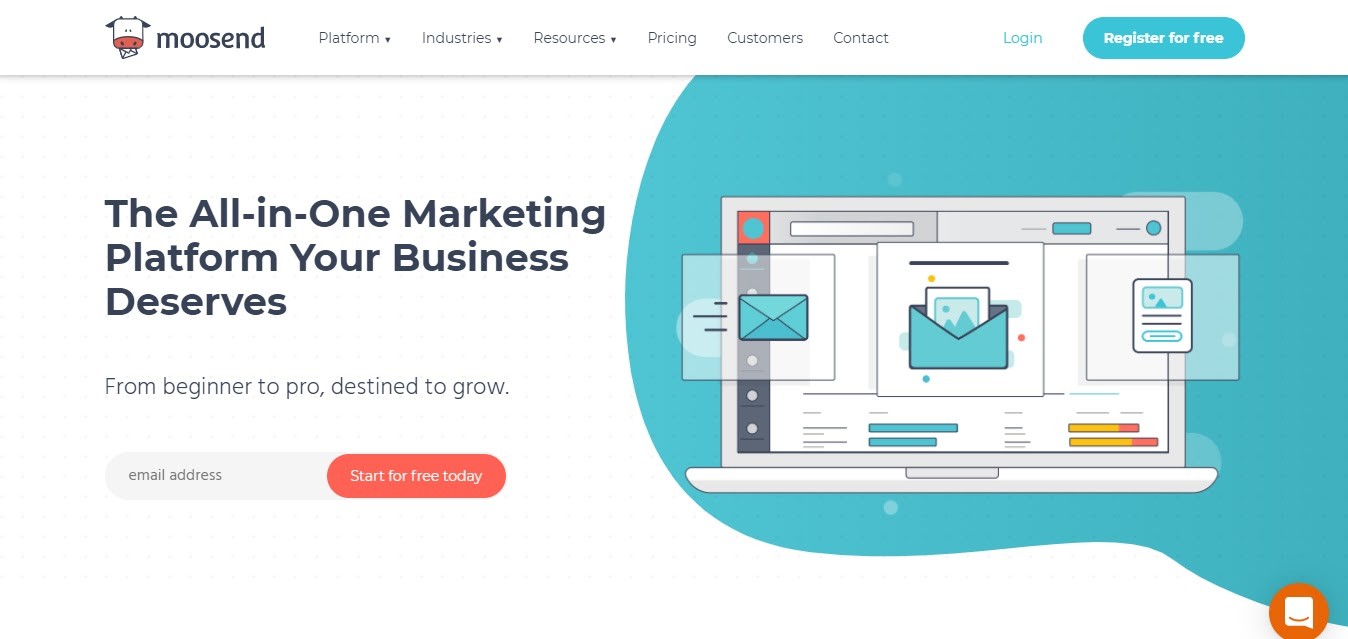 Moosend works great for all businesses, big or small. While it is not very different from Mailchimp, it is a great alternative that is worth giving a shot at.
Moosend provides core features like a drag and drops email editor, data analytics, A/B testing, and email list segmentation which you can use without any need for coding knowledge. Moosend also provides you with email templates that you can customize to suit your brand needs.
With this tool, you can also create landing pages and custom opt-in forms for your website.
As for pricing, Moosend offers a forever free plan. Also, there are flexible paid plans for businesses with a contact list built already, ranging from 500 subscribers to 200,000 subscribers.
You can either opt for a monthly plan or a yearly plan. If you have a large subscriber list that exceeds 200,000 subscribers, Moosend allows you to create a custom plan for yourself.
7.  Constant Contact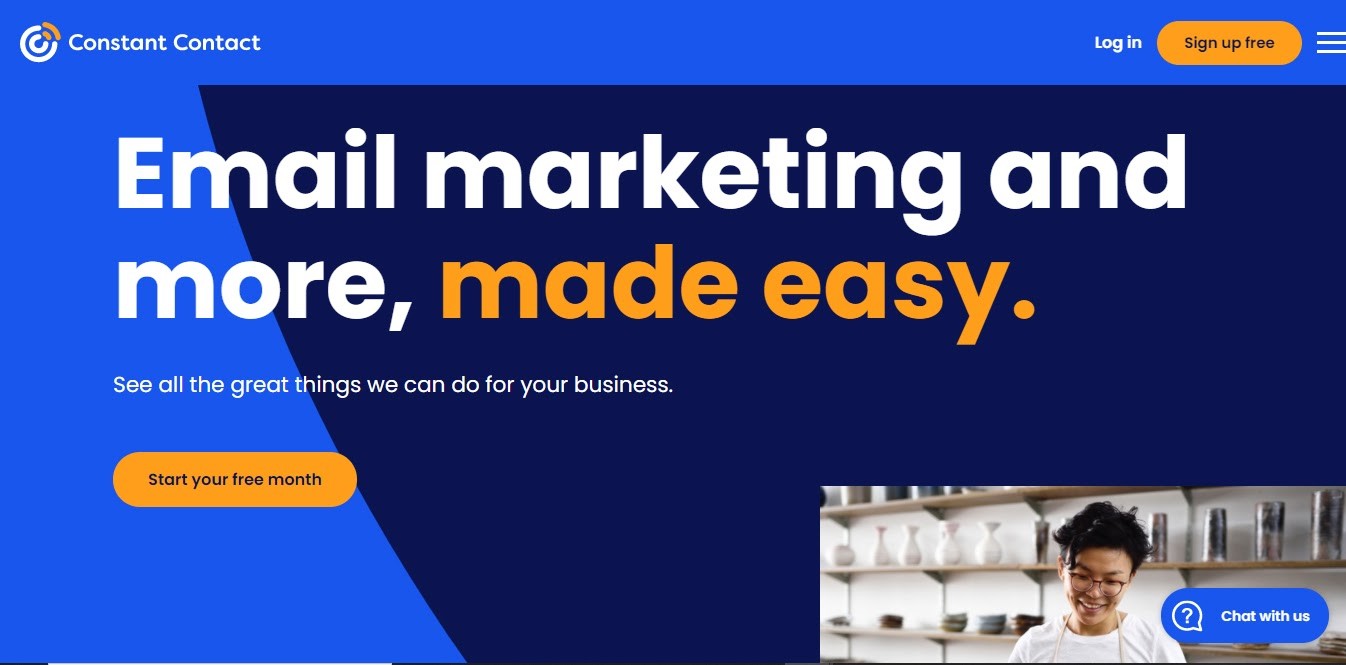 Constant Contact is one of the best Mailchimp alternatives you can count on if you run a small business. It allows business owners to launch and monitor their email marketing campaigns with ease.
With the provision of ready-made templates, you can create email sequences in no time. Regardless of the type of products and services you offer, you can tailor your campaign to fit with your brand using the intuitive editing tools provided.
With its web builder that is powered by an intelligent algorithm, you can create a professional and well-optimized website that contains all the necessary elements you need to make your website convert visitors into customers.
Constant Contact's e-commerce feature allows you to effectively optimize your conversion rates. It is designed to give your customers the best online shopping experience on your web store.
With other features like contact segmentation, triggered emails, resend mail features, and other marketing tools, your email marketing campaigns become much easier to manage.
Apart from your contacts, Constant Contact helps you manage your business in general with real-time analytic results and email autoresponders.
You can also create and carry out surveys and polls, create donations and events, and even forms to collect your visitors' contact information.
As for pricing, it starts at $20 per month. This might not be the cheapest in the market but is worth every penny.
8.  ConvertKit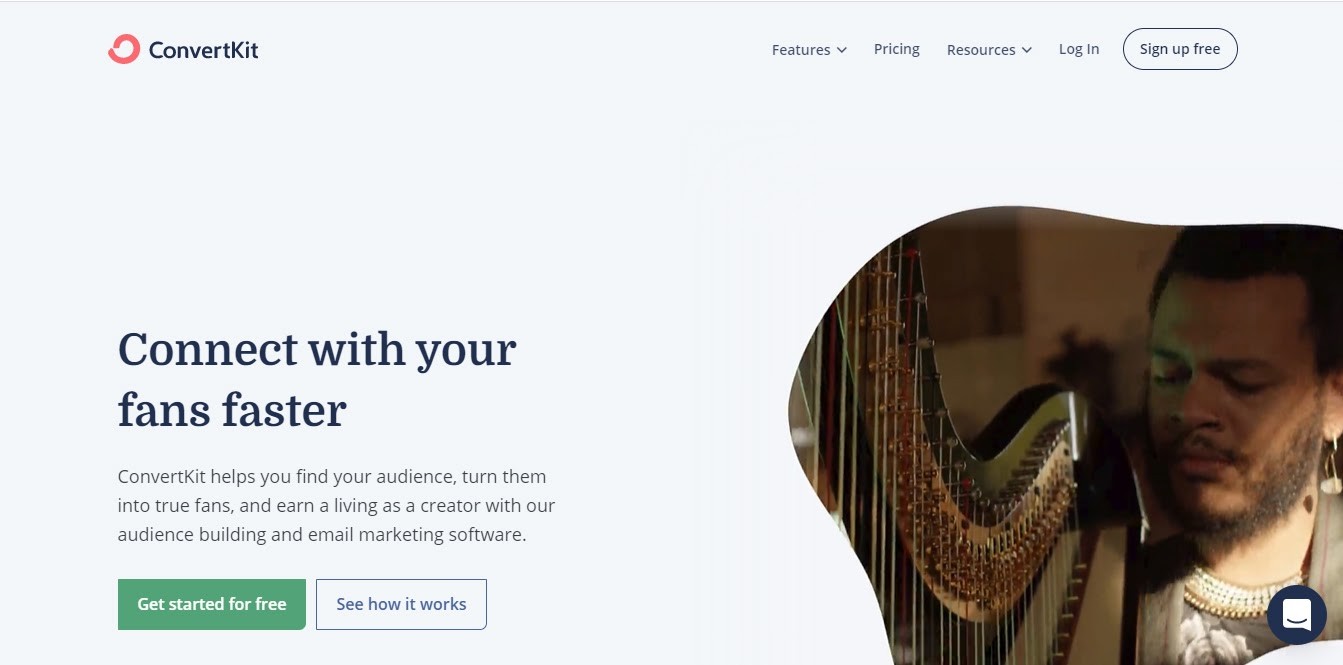 Next on our list of Mailchimp alternatives is ConvertKit. And, believe me when I say it's worth giving a shot at. It comes packed with loads of features designed to amp your email marketing.
ConvertKit has features that will help you find your audience and communicate with them seamlessly.
Its email design editor makes it easy to design your emails so that you can focus on writing your content.
With ConvertKit, creating a custom landing page is easy. Would you like to add a "buy now" CTA button to your landing page? ConvertKit has no issues with that.
To speed up your conversions, ConvertKit also lets you create a sales page or add a  website.
ConvertKit easily integrates with platforms like Shopify, Teachable, and Crowdcast. Although it offers a free plan that caters to up to 1,000 subscribers, its paid plans are $29 and $59 respectively.
9.  GetResponse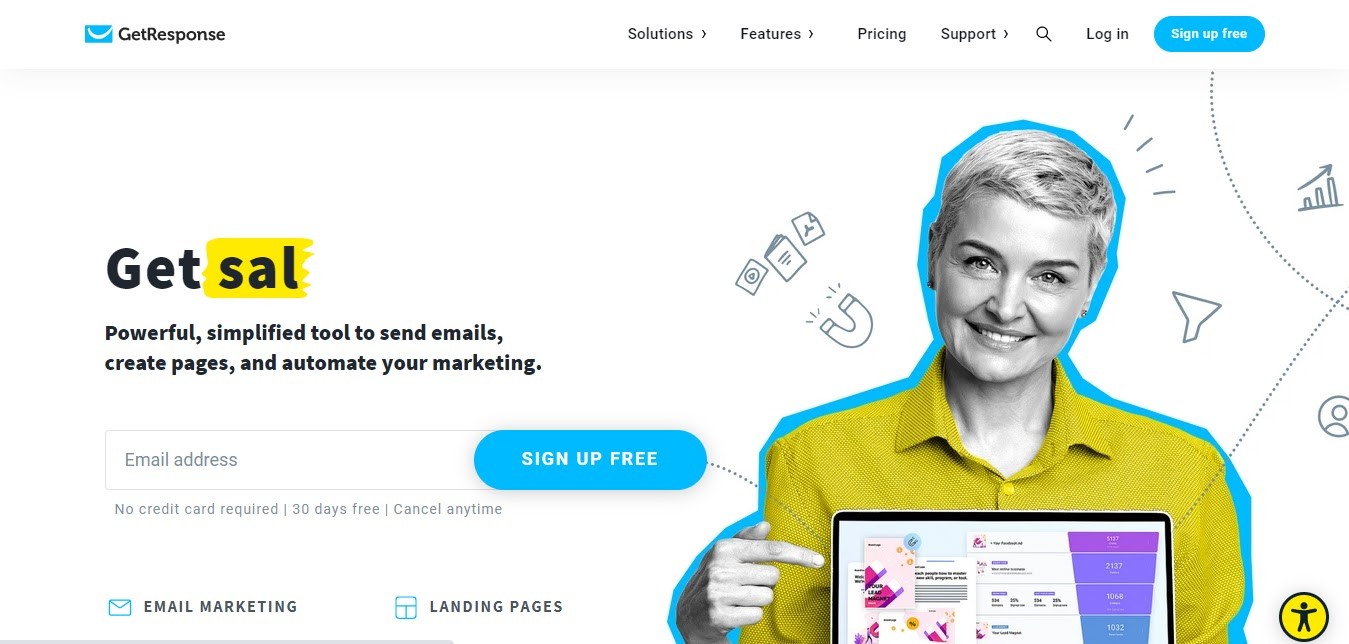 Like other providers, GetResponse email marketing makes it easy for you to develop and sustain a relationship with your subscribers.
GetResponse is trusted by big brands like IKEA and Revolut. It has all the features you need to grow your audience, engage your customers and make more sales.
Its features not only make it possible to create email marketing campaigns but also create landing pages and paid ads among others.
You can also improve sales of your products or services by creating popup forms, sales funnels, and autoresponders.
GetResponse provides a 30-day free trial followed by a billing period of one month, 12 months, or 24 months.
Its monthly basic plan currently stands at an affordable $15 per month for a list size of 1000 subscribers.
10. Drip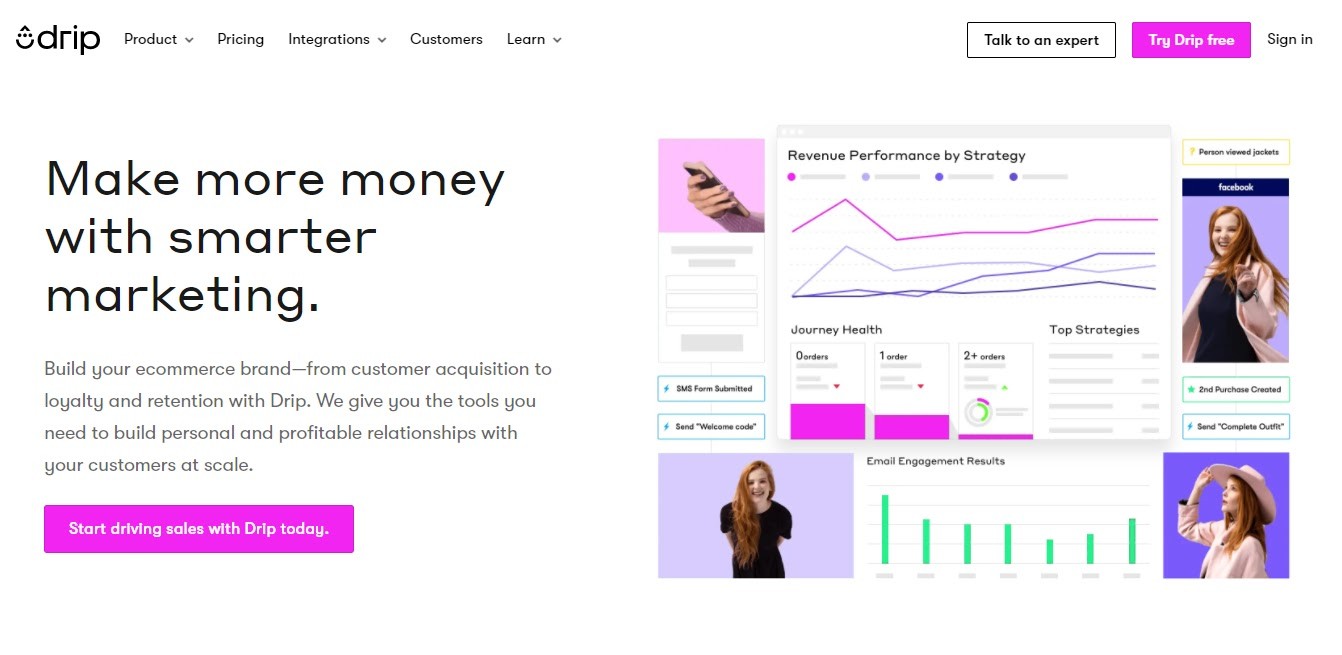 If you are looking to increase your email conversion rate, Drip is the perfect platform for you. Drip allows you to create better marketing campaigns and strategies.
It does this by providing you with the necessary tools you'll need to build and maintain a professional relationship with your clients.
Drip allows you to grow your email list, send bulk messages to clients, and increase sales of your goods and services.
What's more, Drip has a built-in intuitive dashboard that provides you with insights into your email campaign's performance. This is particularly useful to help you create better marketing campaigns for your business.
What is Drip's cost like?
They offer a 14-day free trial that provides you with revenue-driving tools and flexible pricing for a range of paid plans.
Conclusion
These Mailchimp alternatives all perform well and have plans that are flexible enough to cater to all types of business.
Most of the email providers we listed in this post integrate seamlessly with Adoric. It's great for lead generation and can help you build your email list with attractive opt-in forms. Why don't you sign up today to see how we can make your business do better? What's more, it costs you nothing!