Black Friday and Cyber Monday (BFCM) are upon us again. It's the time of the year when online sales peak – and e-commerce sales records are shattered.
Don't believe us? You will at least believe the following statistics.
Last year alone, online shoppers spent a total of $10.1billion during the Cyber Monday sales rush. Black Friday sales came out at $9.03 billion.
Here's where things get interesting: those sales came from roughly 180 million American shoppers. You can imagine how large the figure would be if shoppers from Europe and Asia were added to the mix.
All these stats prove one thing: there are a lot of sales to be made this holiday – and you can make a killing. In fact, you can make a year's worth of sales on Black Friday and Cyber Monday if you get your act right.
But we've bad news: you are not the only one gearing up for Black Friday and Cyber Monday holiday; your competitors are also hard at it. They might blow you out of the water if you are not careful.
What to do? Arm yourself with the right tools and strategies. Doing so not only gives you a competitive advantage, but it will also help improve your chances of making good sales.
And that's exactly what this post is about: to show you how to create conversion-driven Shopify Black Friday and Shopify Cyber Monday campaigns.
Let's get started already!
A Few Things You Should Know About BFCM
You might be wondering if BFCM fits well in the Shopify ecosystem. Well, it does, and here are two reasons why: Shopify merchants amassed a total of $6.3 billion from Black Friday sales last year. 47 million shoppers contributed to these sales, with each shopper spending about $100.
So optimizing your Shopify store for BFCM holiday sales is one great favor you can do for yourself.
Black Friday and Cyber Monday holiday sales have been around for a long while, with Black Friday dating back to the 50s. Black Friday comes up on November 25th, 2022, whereas Cyber Monday will follow three days later, which is November 28.
Before the COVID-19 era, brick-and-mortar businesses had a larger share of BFCM sales. But all that has changed now as consumers have shifted their shopping online, and Shopify store owners are profiting hugely from it. This is why starting your own Shopify store, if you haven't already, is important.
8 Tips to Make the Most of BFCM Shopify Marketing
Do you want to amass a lot of sales for your Shopify store this Black Friday? Here are some tidbits that will help you.
1. Optimize Your Website for Search Traffic
Potential customers will likely find your website via Google. However, that can only happen if you optimize your website for search. The best way to do this is by infusing target keywords into your website.
Specifically, you should add these keywords to your page headings, product descriptions, meta descriptions, and every other relevant place.
What kind of keywords should you target?
Black Friday deals
Black Friday specials
Online Black Friday deals
Cyber Monday deals
And many more!
2. Deploy the Falling Gift Game to Your Site
Your website will get a lot of visits from potential online shoppers this Black Friday and Cyber Monday, no doubt.
However, where you will have trouble is keeping their attention. Online buyers have a severely short attention span and so will likely exit your site before you get a chance to engage them.
This is where our Falling Gifts game comes into play. The Falling Gifts game lets you gamify your visitors' browsing experience by allowing them to play an interactive game to win discounts and coupons.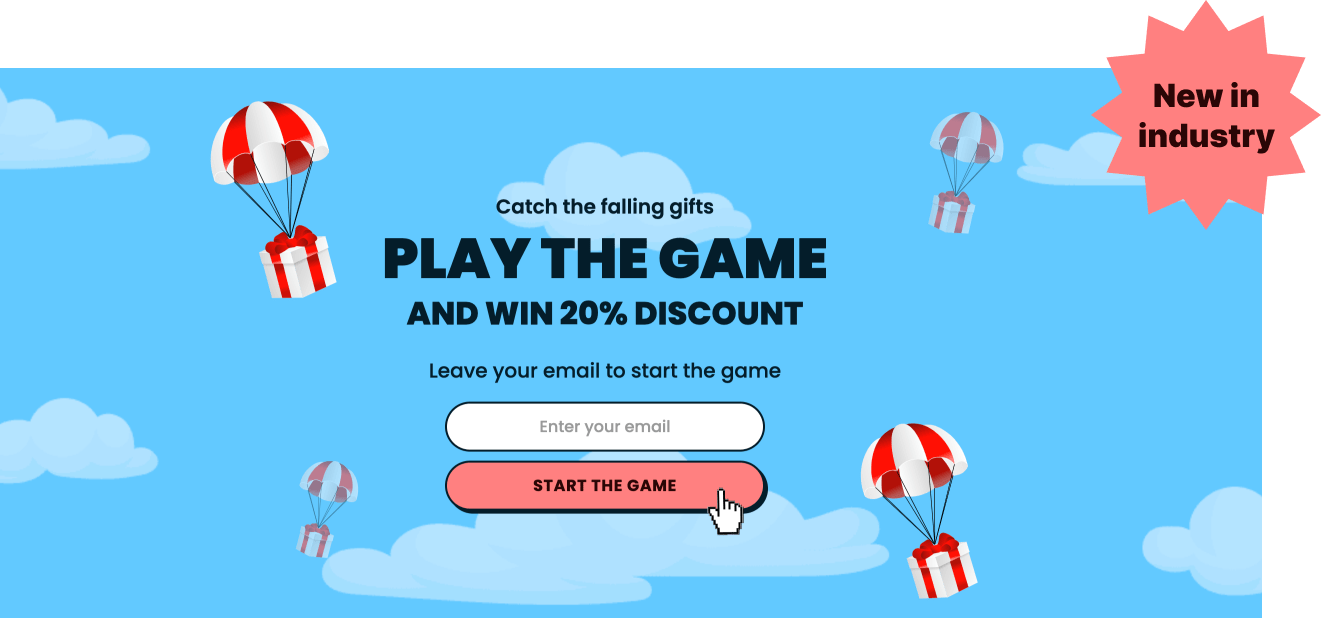 How does it work?
Moments after visitors land on your website, they will see a popup, as shown above. On the popup, they will see an email opt-in form. The falling gifts game will start after they type in their email and hit the Start the game button.
All they have to do to win gifts is to click on the falling boxes to reveal the gift content of the boxes. If on the first attempt they win nothing, they will be asked to make another attempt.
Depending on your settings, they might only win a gift on the third attempt (Adoric allows you to raise it to as many as 6 attempts).
Once users make a win, the coupon code will be automatically forwarded to the email address they provided, and the game ends.
Deploying the Falling Gifts game can help boost user engagement, spur shoppers to buy a lot more from you, and gain you a lot of sales this Black Friday.
3. Use the Spin-to-win popup
Our spin-to-win popup is another awesome tool that can help you build Shopify Black Friday marketing campaigns that will drive results.
It's very much similar to the Falling Gifts game in that it also gives visitors a chance to win coupons and discounts by playing fun games.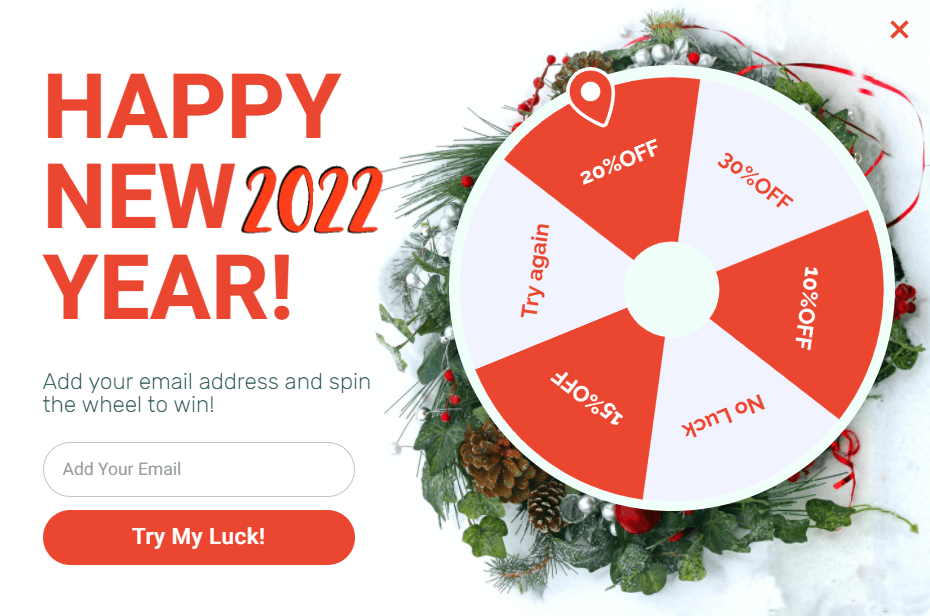 Only this time, they will have to spin the wheel of luck to win discounts. For example, on the first spin, the wheel might fall on a 20% discount. The discount will be automatically forwarded to their email.
4. Get Active on Social Media
Facebook and Instagram aren't only for sharing images and watching funny cat videos. You can leverage them to generate massive sales for your Shopify business.
The best part is that you don't even need to spend heavily on ads to make the most of social media marketing. Something as simple as hashtagging can help you gain a lot of visibility for your products and offers on social media.
Hashtagging might not give you the kind of reach you desire, no thanks to Facebook and Instagram algorithms. As such, you might want to try influencer marketing instead.
In this arrangement, you will offer influential people on Facebook, TikTok, Instagram, etc. some of your products for free, and in exchange, they will make a shoutout for you on their page.
Keep in mind, though, that some influencers prefer monetary rewards and not free products.
5. Start Early
There will be a lot of competition this coming holiday sales season. And it's going to be fierce.
While there is no surefire technique to beat this competition, starting your BFCM marketing campaign early will give you a leg up on the market competition.
In fact, if you haven't started putting your marketing tools together at this moment, you are very much late to the game. But you can still pick up pace now if you want to get a fair share of the market before your competition runs you over.
6. Offer Free Shipping
Online shoppers love free shipping. There is no better way to capture their attention and entice them to buy from your store than by offering free shipping.
The good thing about free shipping marketing is that it doesn't cost much. The key to succeeding with it is learning how to balance things. For example, offering free shipping for a $20 order doesn't make much sense. But $100 can be ideal.
It's one thing to offer free shipping; it's yet another to let your customers know about it.
This is where our free shipping bar comes in handy.
Put simply, the free shipping bar is a floating/sticky bar that lets you display free shipping information on your Shopify website.
One thing you will like about our free shipping bar is that it is very easy to use, and you can customize it to your heart's content, thanks to our drag-and-drop design editor. Plus, it comes with lots of awesome templates.
The coolest part is that you can make the bar dynamic. For example, you can make free shipping only available to customers whose orders are above $100.

7. Try SMS Marketing
Did you know that people tend to open their SMS texts more frequently than they open their emails? Studies have it that the average SMS open rate is about 90%. This means a strong SMS marketing strategy should be part of your marketing mix.
As you gear up for the holiday marketing season, try to create awareness with potential customers by texting them your irresistible offers. One vital key to succeeding with SMS marketing is keeping your messaging frequency at optimal levels, keeping your text short, writing a catchy subject line, and including links in your SMS texts.
Adding SMS marketing to your Shopify Cyber Monday campaign can generate massive sales for your store
8. Create Urgency With a Countdown Timer
Online shoppers are notorious for comparing prices on many websites before making a purchase. This means they will likely not want to buy instantly upon landing on your website.
We bet you definitely don't want that. You want them to buy instantly without dilly-dallying. Well, you have to make them do so, and the best tool to use for this is a countdown timer.
A countdown timer is excellent for creating a sense of urgency with buyers. Deploying them to your website will make your customers act quickly.
For example, you can offer them an irresistible discount and give them 24 hours to redeem the discount by displaying a countdown timer.
You can easily add a countdown timer to your popup using Adoric's design editor.
Conclusion
Black Friday and Cyber Monday present an immense opportunity for you as a Shopify merchant. You need the right marketing strategies and tools to make the most of it.
Luckily for you, we've shared 6 strategies that are guaranteed to help you win a lot of sales this Black Friday.
Ready to try out our free falling gifts, spin to win, or free shipping bar features? Install Adoric to your Shopify website right away.