Shoppers love free shipping. In fact, studies suggest that 75% of shoppers base their buying decisions on the availability of free shipping. 
So you would leave a lot of money on the table if you do not offer free shipping on your e-commerce website. 
Nevertheless, it's not enough to offer free shipping to your customers; you also need to let them know about it. 
And what better tool to use than our attention-grabbing free shipping bar? 
Our shipping bar is a sticky/floating bar you can use to display free shipping information on your website. 

Key Features
Here are some key features you will like about our Shopify free shipping bar:
Easy integration with Shopify

Lots of templates you can shuffle with a click 

Mobile responsive

Different styles and color schemes 
Why Use the Free Shipping Bar for Shopify?
Decreased Cart Abandonment
Did you know that expensive shipping can scare away your customers, making them abandon their carts while at checkout? Therefore, displaying the free shipping bar on your checkout page can help reduce your store's cart abandonment rate.
Increased Average Order Value
Offering your customers free shipping will entice them to buy more from your store, boosting your average order value.
Better Loyalty
Shoppers love free shipping. Offering them what they want is the easiest way to convert them into loyal customers.
Advanced Targeting
Improve the effectiveness of your free shipping campaign by showing it to the right people at the right time. 
For example, you can choose to show your free shipping bar to only first-time visitors.
Adoric allows you to target customers based on:
Geo Location 
Traffic Source
Browser Type
Operating System
Languages
Special Conditions and Events

This advanced targeting feature will come in handy when you want to set different free shipping rules for customers from different countries.
For example, you can set the minimum order value for free shipping to $100 for local customers and $200 for customers coming from overseas.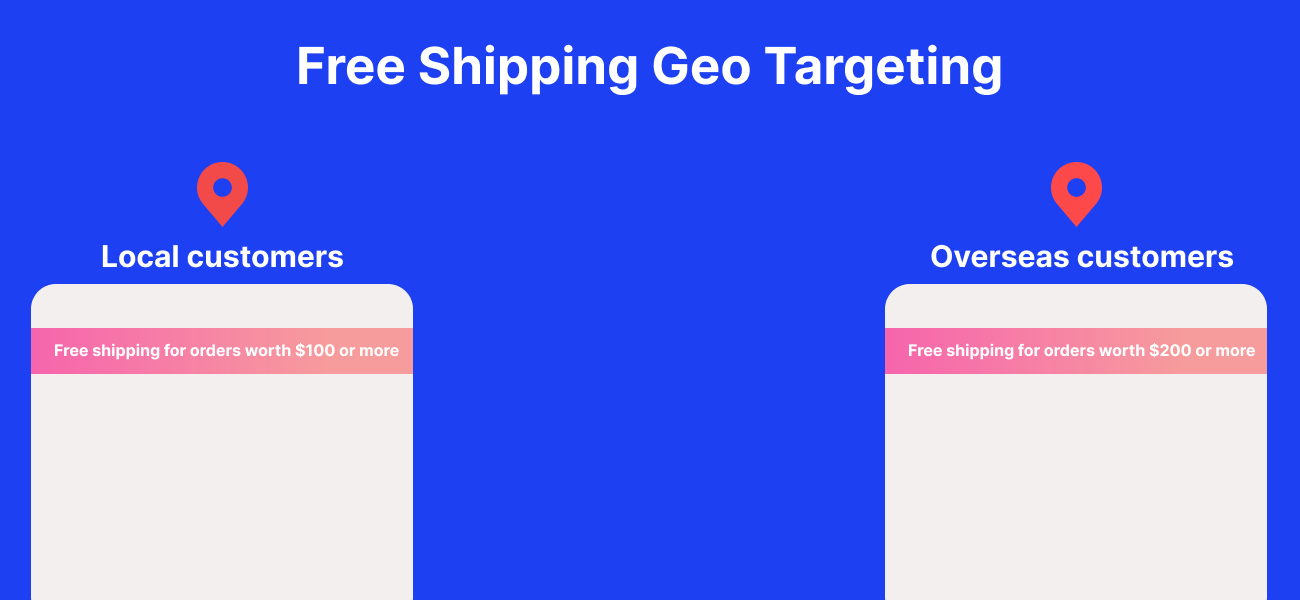 What about placement? Well, one sweet thing about using Adoric is that you can choose where to place your shipping bar, which can be your homepage, about page, product page, etc. 
As if that isn't enough, you can determine when your shipping bar will show: immediately a visitor lands on your page, after a certain time delay, when they've scrolled a certain distance down your page, etc. 
Dynamic Shipping Progress Bar
Static shipping bars can be boring at times. Why not spice things up a bit and engage your customers more by making your shipping bar dynamic?
How does Adoric's dynamic shipping bar work?
First, you need to set a minimum order quantity your customers need to reach or cross to qualify for free shipping. For example, you can set it to $100. This means your customers' total order value needs to be $100 or more to qualify for free shipping.
As they add products to their carts, they will see something like this:

The coolest part is that you can customize your progress message in Adoric to your heart's content. You can even set your preferred initial message, and the message customers will see on crossing the set milestone.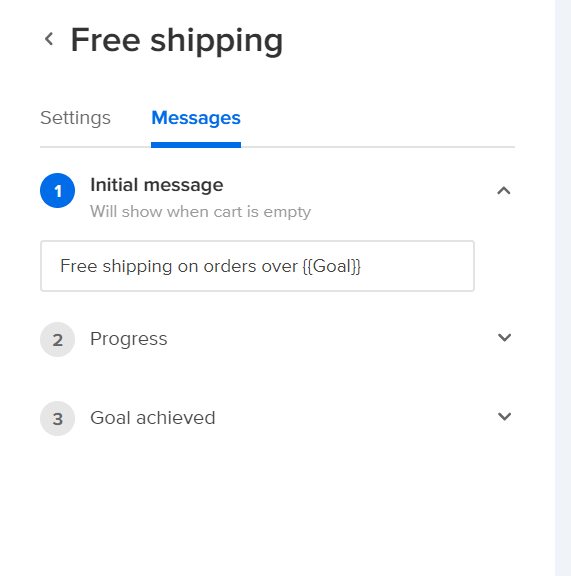 To set up a free shipping bar for Shopify in Adoric, first, you need to log in to your Shopify admin and set your shipping rules. To do this, navigate to Settings >> Shipping and Delivery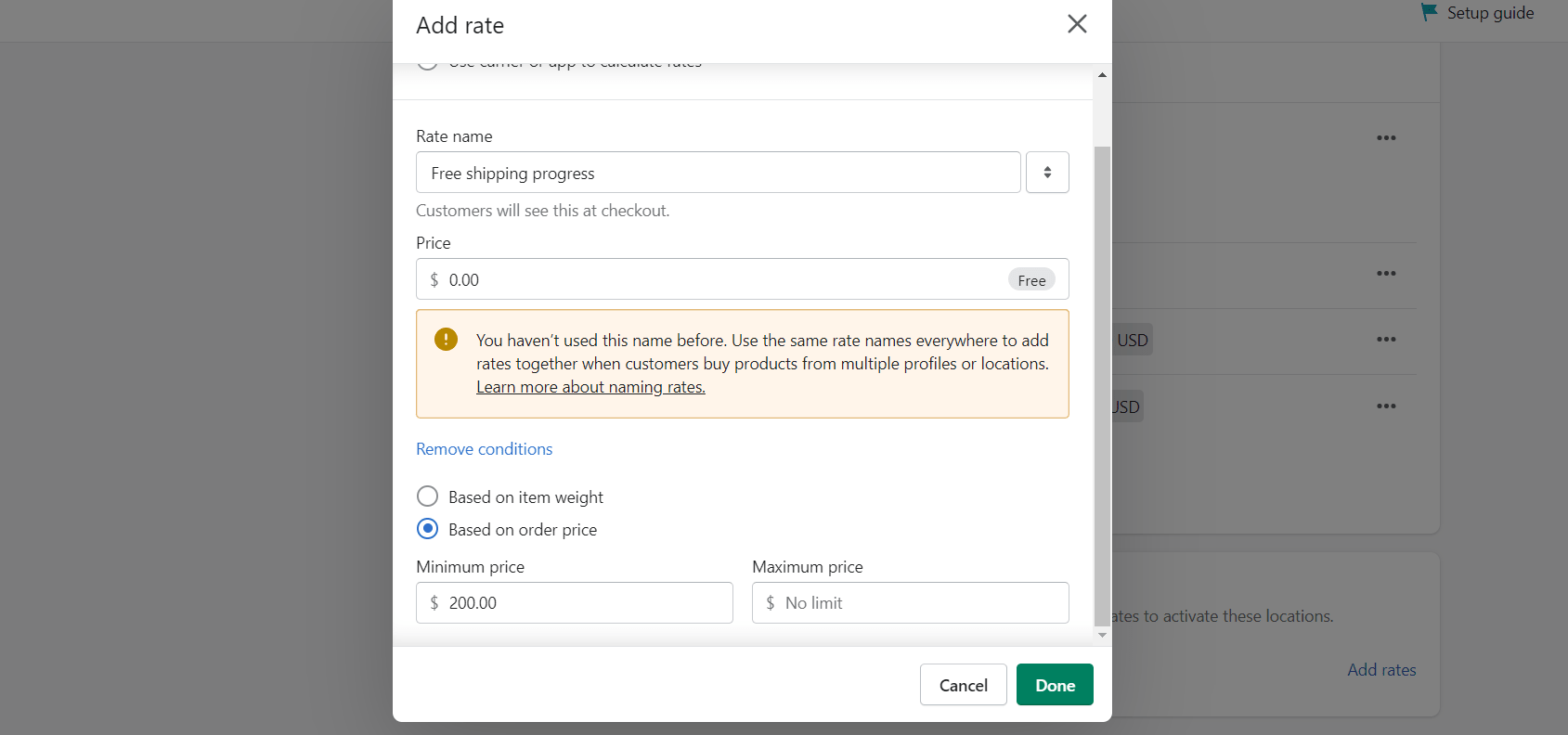 After that, launch Adoric from your Shopify admin dashboard by Clicking Apps >> Adoric. Create a new campaign and select Show free shipping bar. Then set your progress bar message and publish.

Does all that sound like mumbo jumbo stuff? Watch the video below – you will understand things better.
Note: You can choose to make your shipping bar static, and the procedure is the same for dynamic shipping bars.
Easy to Use
You don't need to know a lick about coding to use our free shipping bar tool. Just drag and drop, and you are all set to go. 
Round the Clock Support
Get support from us whenever you need it. We are always available to attend to your queries and help if you ever get stuck. 
What's Next?
Ready to see the Adoric free shipping bar in action? Sign up for an account right away.