Who doesn't love gifts? We all love them, especially if they are coupons.
And what better way to entice your website visitors and keep them engaged than by allowing them to play an interactive game to win mouth-watering coupons?
In comes our innovative falling gift game.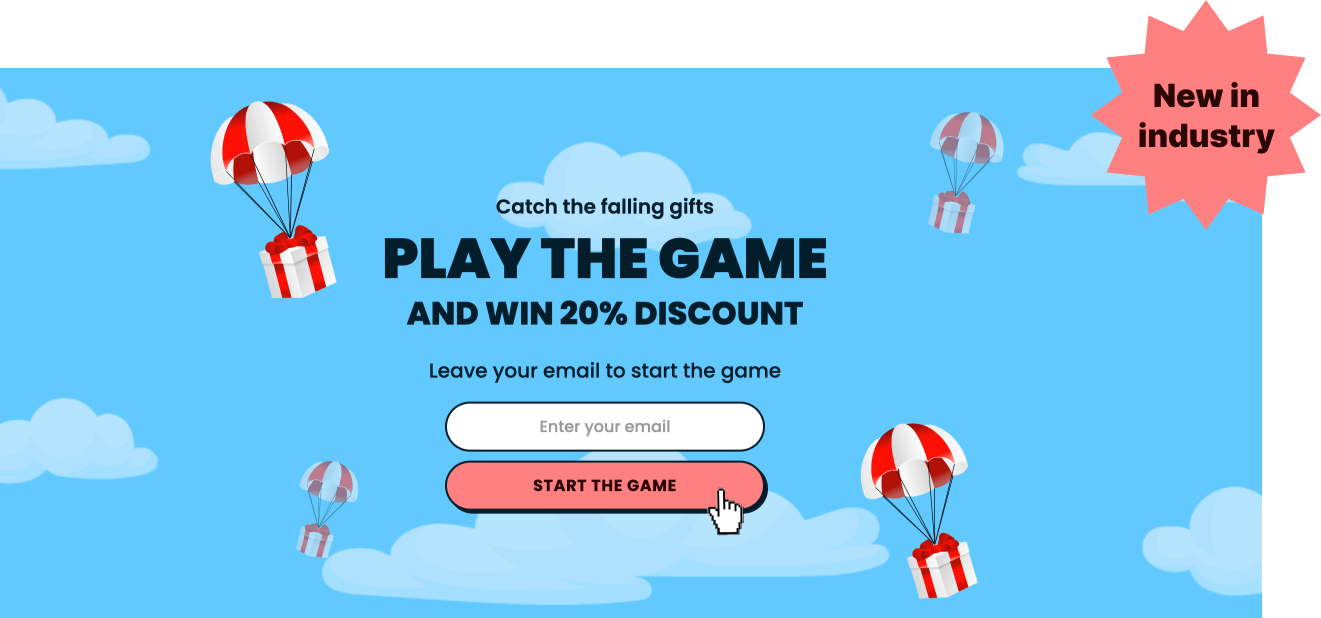 The falling gift game is a gamification tool for eCommerce we developed at Adoric to help eCommerce merchants boost their website engagement rate and uplift their conversion rate.
Setting up the falling gift game on your website enables you to give your visitors a chance to play games to win coupons they can use to shop in your store.
Why Use Our Falling Gift Game on Your Website?
Although our falling gift game is unique and new on the market, we've been using it on some of our client's websites, and the results have been amazing.
For example, we noticed that after implementing the game, our client's website conversion rate shot up by 30%. That's incredible, isn't it?
This proves that the falling gift game can improve your website's conversion rate in ways that beat your imagination.
In addition, adding the falling gift game to your website can also help boost your average order value and uplift your customers' live time value. This means more sales and revenue for your store.
How Does The Falling Gift Game Work?
The falling gift game is basically a gamified popup.
It appears moments after visitors land on your website. Depending on your settings, it can appear on all your website pages or on specific pages.
On the popup, visitors will see an opt-in form asking for their emails, as this is where the coupon code they win will be sent to. The falling gift game starts after they input their emails and click the Start The Game button.
Once the game starts, all they have to do is click on the falling balloons to reveal the gift they contain.
If they don't win a gift on the first attempt, a "try again" message will appear on their screen. Of course, you can always customize this message or use something different.
It's entirely up to you to decide how many times they have to try to win a gift. Right now, you can set the number of permissible attempts to 6.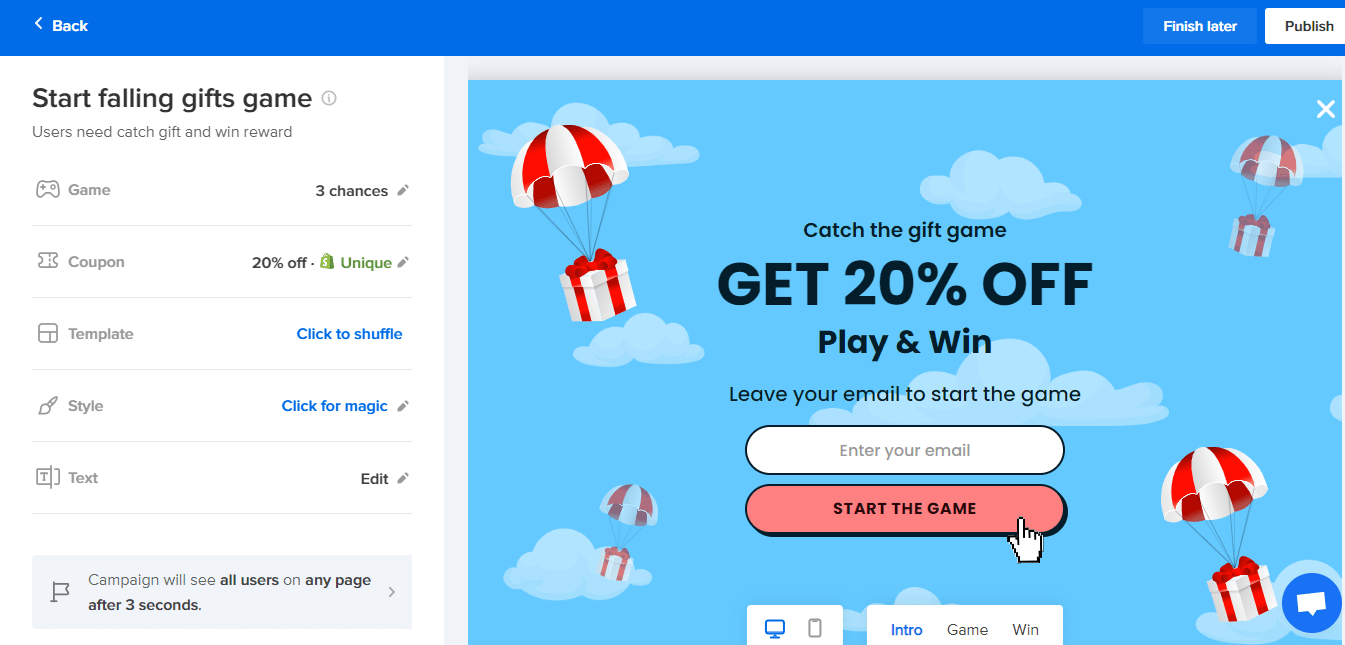 Once they click a balloon that contains a gift, a congratulatory message will appear, and the coupon they won will be automatically sent to their email. Then the game ends.
Unlimited Customization
One thing you will really love about our falling gift game is that you can customize it however you want. Right now, it comes with 4 cool templates you can choose from (we plan to add more soon).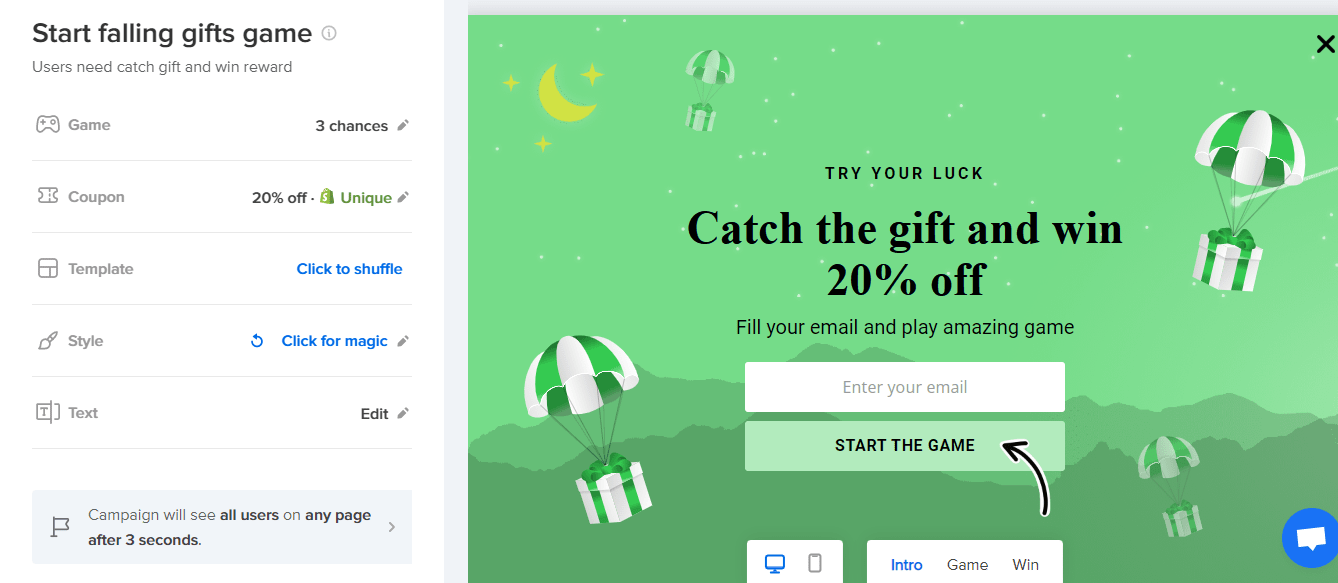 On top of that, you can set the number of allowable attempts, edit the text on the popup, and create coupon codes with a few clicks of the button.
That's not even all; you can change your background and text color, background image, and font style with just a click of a button.
What Next?
Sign up for an account with Adoric to see the falling gift game live in action.