Driving traffic to your website is hard work. But generating leads from that traffic is much harder.
And for your business to grow, you have to devise a means of continuously converting visitors to your website into prospective customers – or leads.
To make this task easier and efficient, you need the right tool – you need Adoric!
Adoric comes packed with a lot of tools that make lead generation a breeze.
Let's now dive in and have a comprehensive overview of these tools, and how they can help you drive higher revenue.
1. High-converting Opt-in forms
Optin-forms serve as a conversion channel for turning uncommitted visitors into loyal subscribers, repeat buyers, etc.
Thus, you need well-crafted opt-in forms to grow your sales and make more revenue.
Adoric has tons of elegantly designed, high-converting opt-in form templates you can use to instantly create a campaign.
They come in different types: popup boxes, slide-ins, and sticky bars.
With our templates, you can grow your subscriber base, get more signups for your webinar, promote your product or content, etc.
Plus, they can be used to create lead magnets.
What if you find a template, but want to make tweaks to it? No worries.
Our drag and drop design editor allows you to customize any template design just the way you want it.
By default, our opt-in forms only have name, email, and, in some cases, phone number fields. But our easy-to-use allows you to add as many field types as your please to your forms.
The available field types you can add are Address, Country, Birthday, and Web address. If these fields aren't what you are looking for, you can always create a custom field and add it to your form.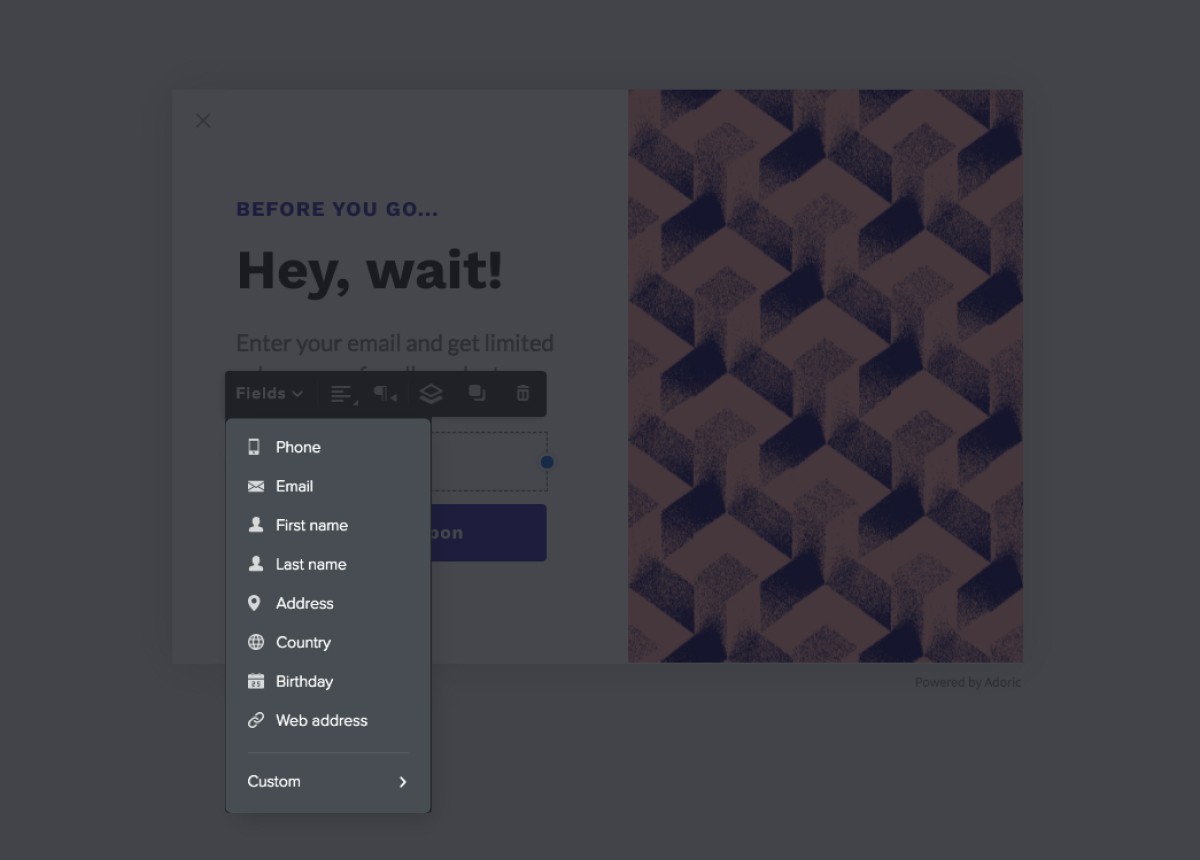 Did we forget to mention that Adoric's pre-designed templates are free?
2. Seamless Integration
When visitors fill out your opt-in forms, their details need to be stored in a database you can access, right?
Thankfully, Adoric has a database where it automatically stores your leads' information. And you can access it right from your account without hassles.
But if you are already working or prefer to work with CRMs like Salesforce, you can seamlessly integrate it with Adoric.
In addition to Salesforce, Adoric also supports plug-and-play integration for Sendinblue, Hubspot, Constant Contact, and a host of others.
What about email marketing services? You can as well plug them into Adoric without stress.
MailChimp, WebHook, Aweber, etc.
To connect your preferred email marketing service, just follow these simple steps.
3. Analytics
To enjoy success with your lead generation campaign, it's important you keep a tab on certain stats.
How many clicks and impressions did your forms get over a given period of time?
What percentage of visitors that interacted with your forms actually subscribed to your mailing list?
Which of your campaigns (if you run several) is converting better?
These are some of the questions that need asking, and can only be answered when you accurately track your stats. They provide you with actionable insights to improve your marketing campaign.
Adoric gives you a bird's-eye view of your campaign performance, allowing you to glean meaningful data to base your marketing decisions.
From Adoric's analytics dashboard, you can track the number of impressions and clicks each of your campaigns has received.
On top of that, you check the number of users that have interacted with your forms, over a specific period of time.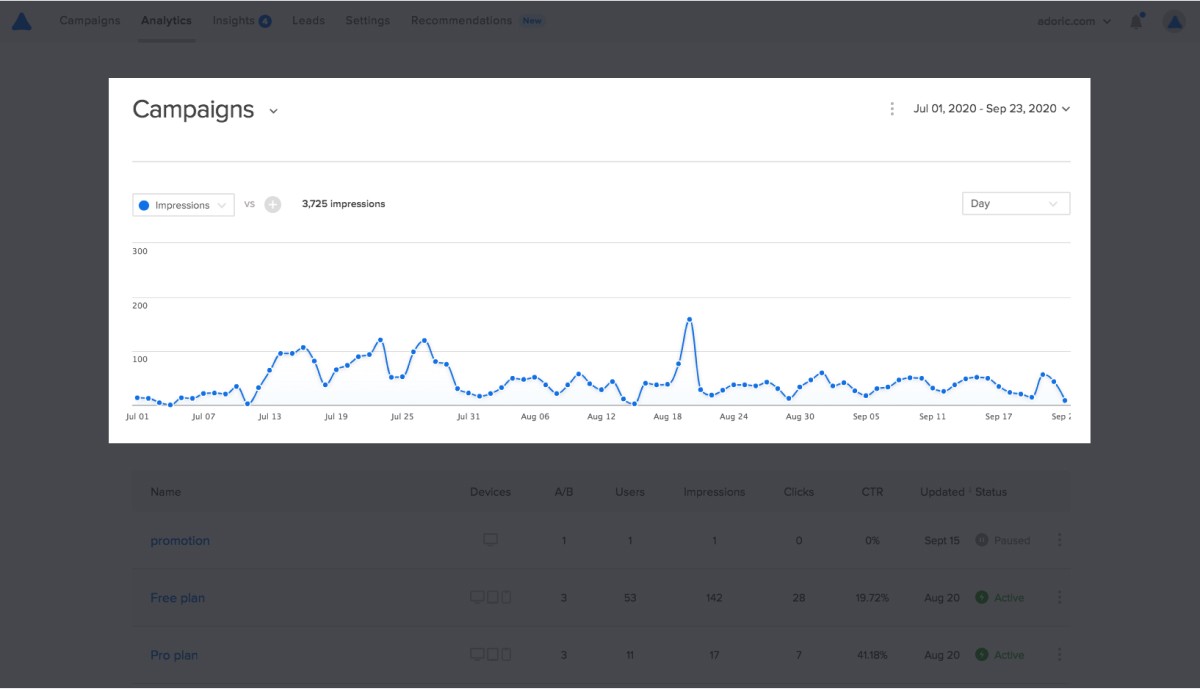 What if you wish to use Google Analytics in addition to what we have already instead?
No worries! You can connect Google Analytics to your Adoric account without breaking a sweat.
4. Exit-intent Opt-in Forms
Our exit-intent technology allows you to capture more leads by showing your opt-in forms to visitors attempting to leave your website.
This means better conversions and more sales.
5. Targeting and Triggers
No matter how well-crafted and elegant your opt-in forms are, they won't yield much results if shown to the wrong people and at the wrong time.
To avoid this unpleasant situation, we built a robust targeting and trigger feature into Adoric to allow you to target the right audience at the right time.
What Next?
Create a free account now and take Adoric for a spin. Your lead generation efforts will become effortless and more effective.