Wouldn't it be nice if you could create and launch a campaign in a matter of minutes, without having to worry much about designing?
Of course, it will, and Adoric makes this possible thanks to the dozens of pre-designed free templates it comes with.
Our templates are elegant and simple. Plus, they can be used for any type of campaign: pop-ups, slide-ins, sticky bars, etc.
To make it easy for you to find the design that bests suits your campaign, Adoric's templates have been split into 3 categories: Layouts, Campaign goals, and Events.
Let's now see how each works, and how best to use them.
Layout
Layout templates are of three types:
Popup box
Slider
Sticky Bar
Popup Box
Popup boxes are attention-grabbing campaign tools you can count on when looking to collect emails from your visitors, promote your products, etc.
Additionally, you can use them to conduct surveys and pass announcements on your website.
You can also use popup boxes to drive traffic to a specific page or product on your website.
The possibilities are endless – your imagination is only what limits you.
Adoric's comes with lots of carefully crafted, high converting pop-ups. They are excellent for driving conversions and sales.
No matter what your campaign goal maybe, Adoric has got a popup box template for it.
For example, if you just launched an app and would like as many visitors as possible to download it, Adoric's popup box can be of great help.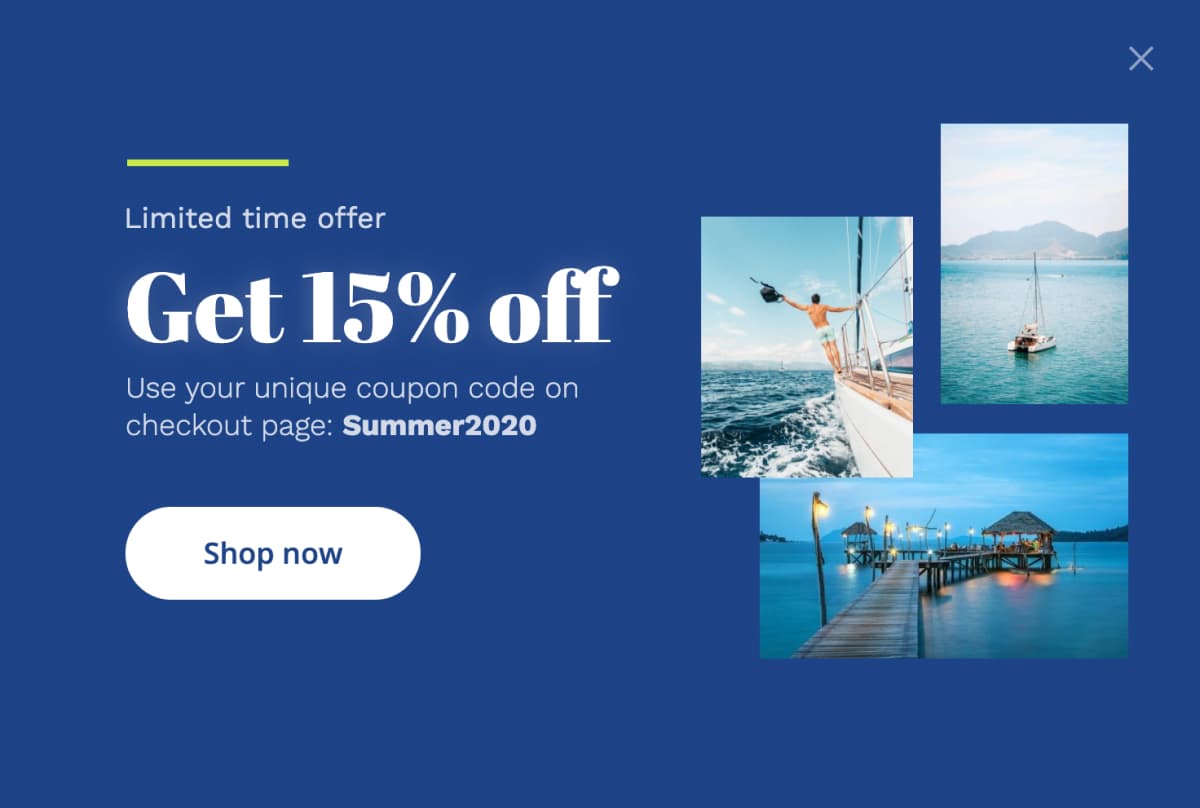 If you happen not to find the design that best suits you, our drag and drop builder can always come in handy. With it, you can customize any of our popup box designs to your taste.
Better still, you can use our intuitive builder to create an entirely new pop-up design from scratch. The best part is, you won't have to write a single line of code.
Sliders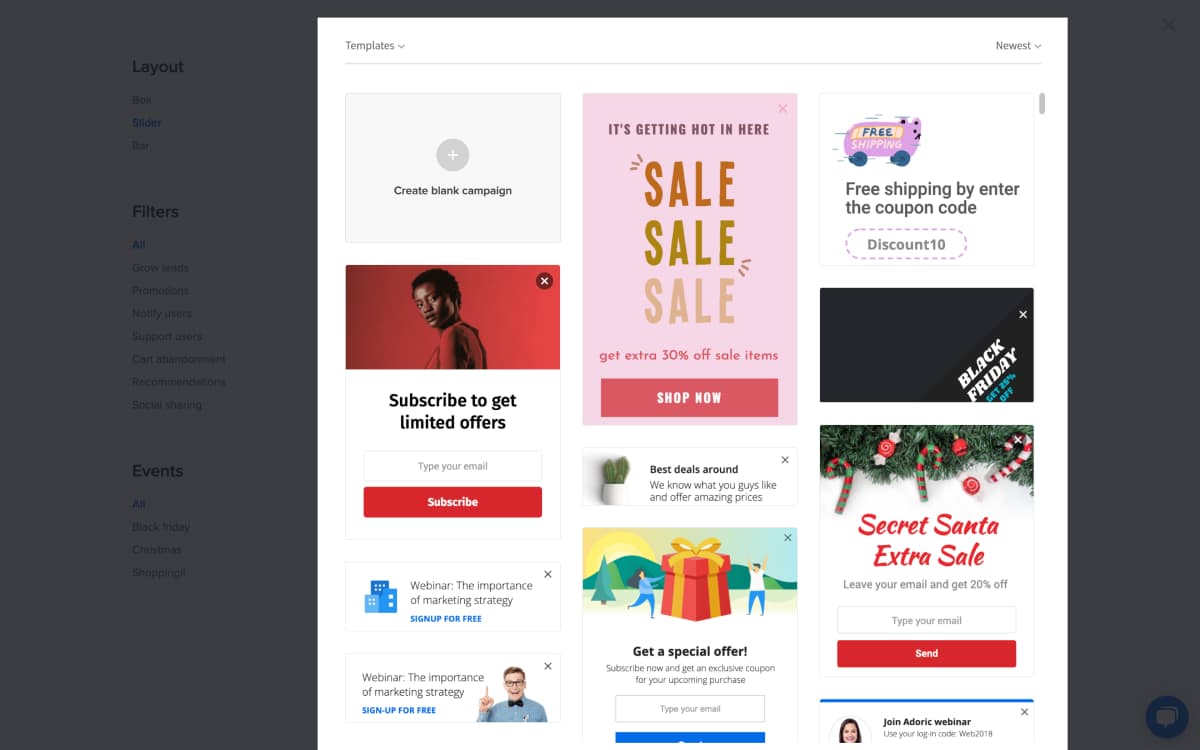 Sliders – or slide-ins – are less intrusive than popup boxes, but are equally attention-grabbing.
If you are looking to capture your visitors' emails without annoying them, Adoric's pre-designed sliders are the best tool for the job.
What's more, Adoric allows you to place sliders exactly where you want them on your web pages. For example, you can place them at the bottom-left corner like so: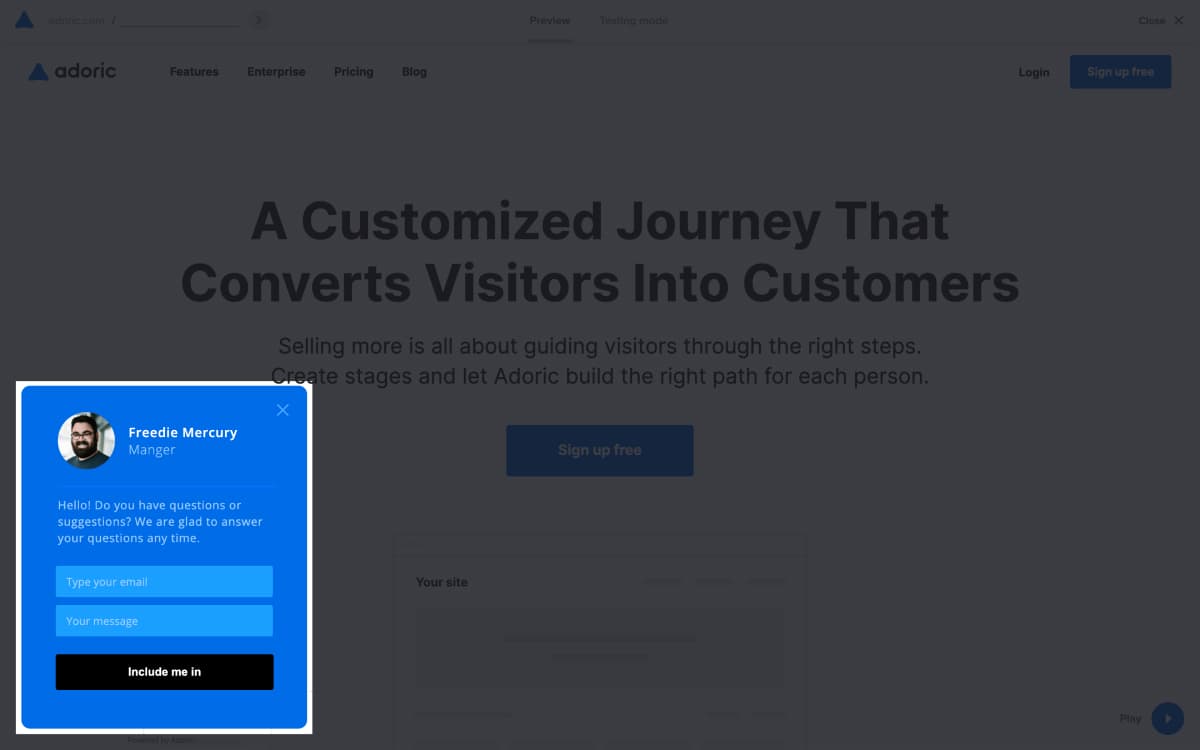 For the records, Adoric has 9 positioning options you can select from. Additionally, you can create your own custom position if none of the nine suits you.
Sticky Bar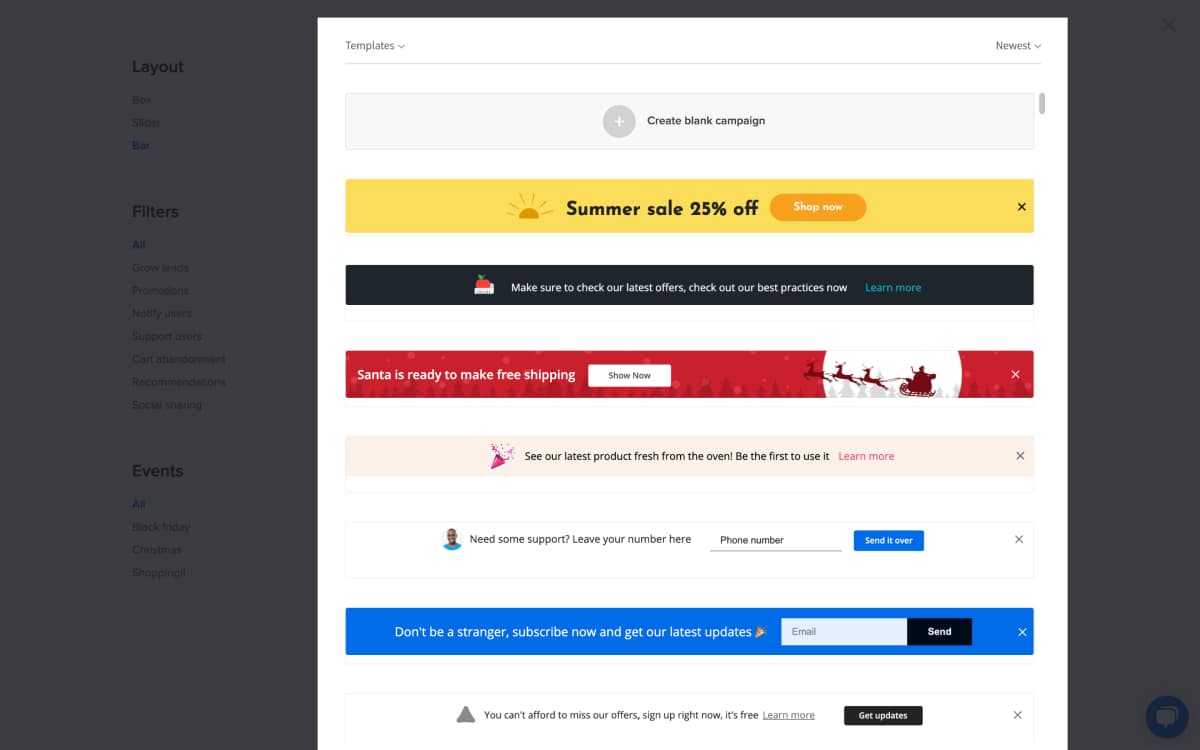 Would you like to announce a flash sale to visitors coming to your website without running your users' experience? No tool is better suited for the job than a sticky bar.
In addition to promoting a flash sale, you can as well use them to capture emails, just like you would with popups.
Like sliders, sticky bars are less invasive and annoying. Their sticky nature makes them impossible not to notice.
By default, sticky bars are placed at the top of web pages. But with Adoric, you can place them wherever you wish: top, center, or bottom of your webpage.
Campaign Goals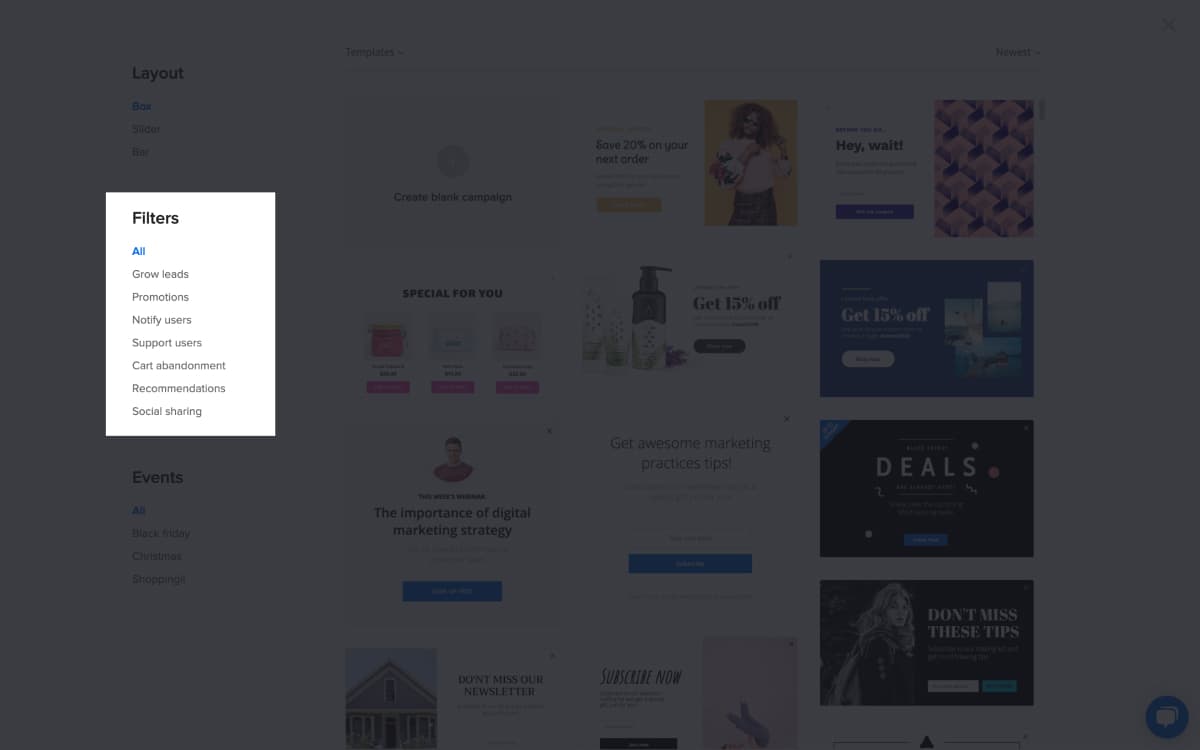 Adoric allows you to filter out templates based on your unique campaign goals.
For example, if you are looking to grow your leads, Adoric's filter feature can help you find templates uniquely created for this purpose.
In addition to that, you can filter out templates based on any of the following
Content/product promotion
User notification
User support
Cart abandonment recovery
Product recommendation
Social shares
And, of course, you can always create unique designs from scratch with our drag and drop editor.
Events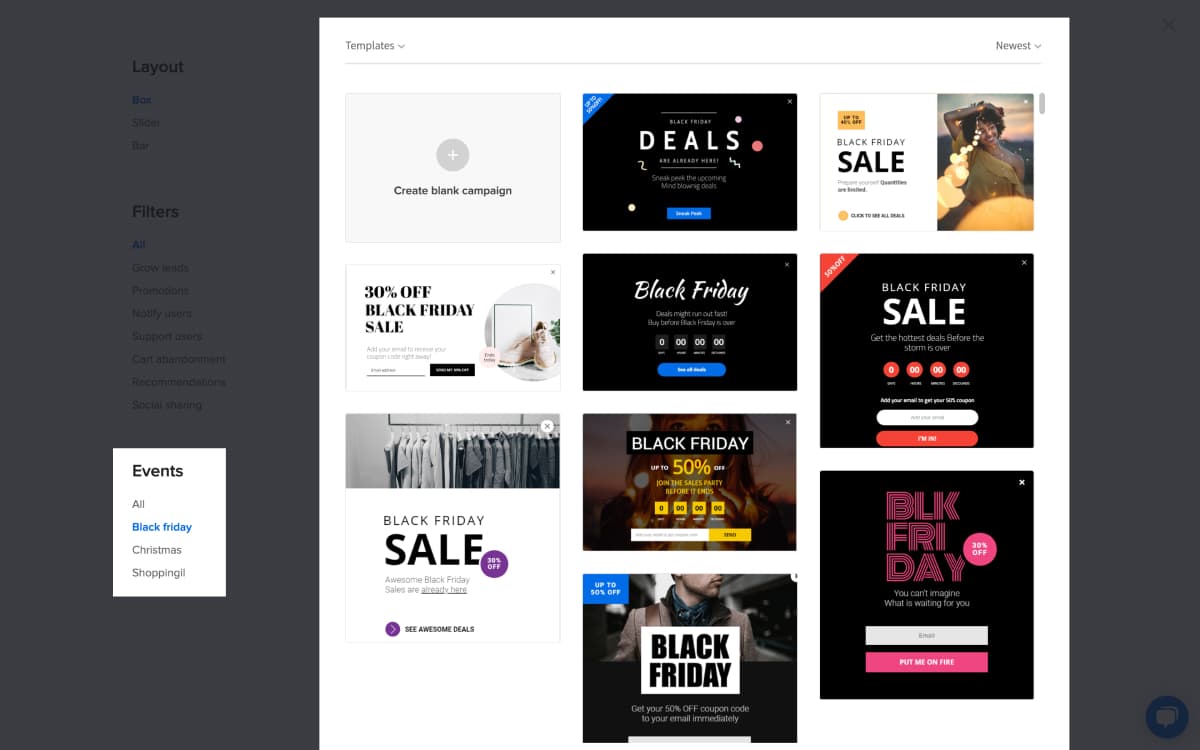 Adoric has lots of out-of-the-box, event-specific templates you can use for your marketing.
By events, we mean Black Fridays, Christmas, etc.
So for your next Black Friday marketing campaign, save yourself the time and stress of creating campaign designs from scratch by using any of our templates.
What Next?
Curious to see how Adoric's free templates can help your business? Why not sign up for an account right away.
It's free!
That means you can test run all our designs without making any upfront financial commitment.
We are continually adding new templates to our collection, so you can never run out of options.