When launching a marketing campaign, it can be tempting to base your decisions on guesswork and assumption. This is one fatal mistake you can't afford to make. 
What headline should you use to get higher conversions? 
Would including an image to your popup bring more clicks?
What color should you give to your CTA buttons to improve your click-through-rate?
The truth is, you can never really figure out the right answers to these questions until you experiment – or A/B test, in this case – your ideas.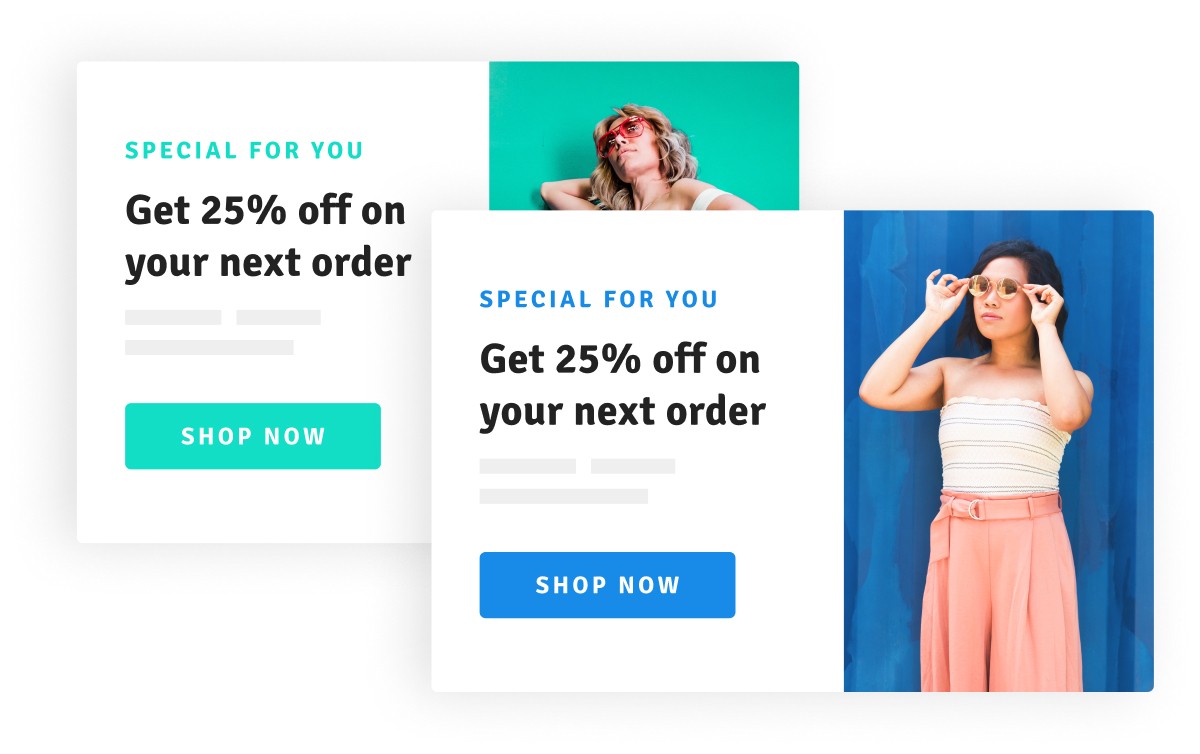 A/B testing – or split testing, as some prefer to call it – allows you glean reliable, actionable data you can base your marketing decisions. 
A/B testing simply means creating two (or more) variations of your campaign, A and B, and then testing them out to see which works best and yields better results. 
Adoric allows you to effectively A/B test your campaign designs before launching them. And you don't have to be a techie to use this feature. 
Adoric's A/B Testing Feature
Adoric's A/B testing feature is so robust that it lets you split test, literally, every aspect of your campaign design.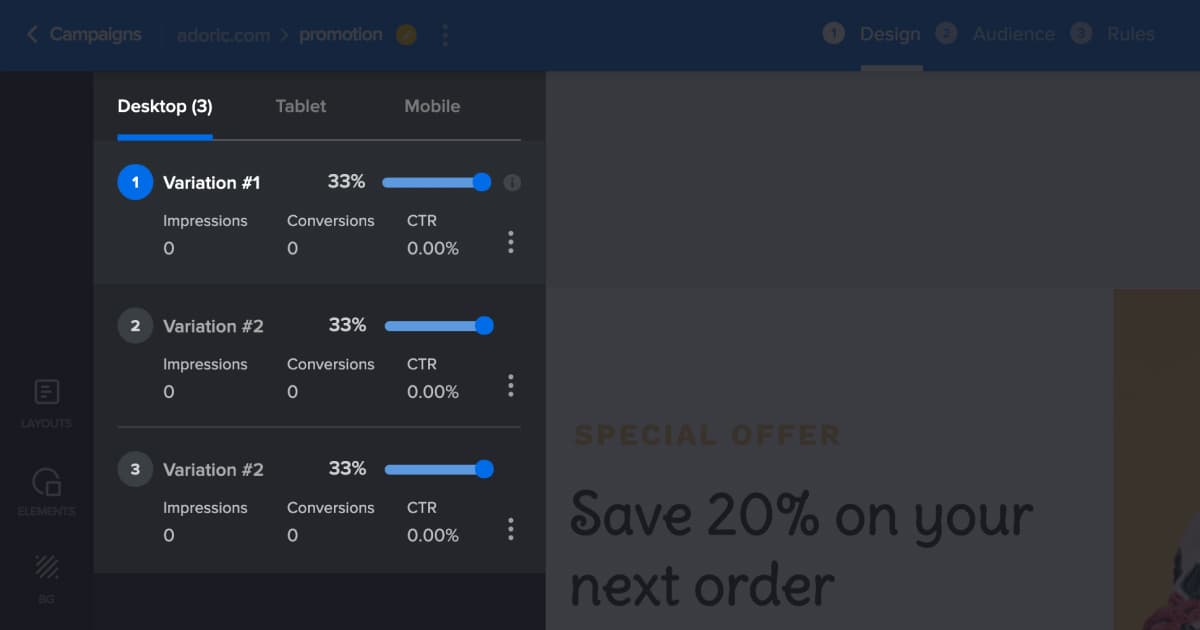 Wish to try out different opt-in form layouts to see which will get you the most subscribers? Adoric has got you covered. 
Or, perhaps, you want to create mobile and tablet variations of your design without hassles? Adoric is your best bet.
The possibilities are limitless!
And the best part is that our A/B testing tool is super easy to use. Right from our drag and drop builder, you can create as many variations of your campaign as you please with few clicks of the button. 
How Can Adoric's A/B Testing Feature Help You?
Here are some of the ways Adoric's A/B testing feature can help improve your marketing campaigns.
1. Improved Engagement 
Adoric makes it easy to spot out which design variation appeals to your visitors the most. When visitors find your website visually appealing, they will stay longer and engage more with it. 
2. Reduced Risk 
If you don't test out your ideas quickly to see which works best, you might end up investing time and resources into an idea that will never work. Hence, A/B testing isn't an option but a necessity. 
3. Better Conversion Rate
Making tweaks here and there to your opt-in forms can yield you more conversions. Only when you A/B test you can know which tweak in particular is responsible for the increased conversion.
4. Reduced Bounce and Cart Abandonment Rate
Has your website been plagued with a ridiculously high bounce rate? Or do most of your customers abscond before reaching your checkout page on your e-commerce website?
A/B testing can help reduce these unpleasant situations.  
5. Eliminate Guesswork
Nothing can damage your business harder than guesswork. A/B testing gives you valuable, practical insights on which you can base your marketing decisions. 
What Elements Can You A/B Test with Adoric?
Literally everything. This includes, but not limited to:
Button colors

Font style

Popup messaging

Image 

Subject line

Mobile view
What Next?
In addition to A/B testing, Adoric has a lot of other features, tailored to help you achieve marketing success. They include scheduling, triggers, audience targeting, lots of predesigned templates, etc. 
Excited already and can't wait to see Adoric's A/B testing feature in action? Why not sign up for an account right away.
It is free!