Looking to automate email marketing for your eCommerce business? I've collected the 10 best eCommerce email automation solutions that can help you.
Contrary to what most people think, email marketing still rules – even in a time where there are many digital options. So, it's not a surprise that more than 68% of businesses use some form of email automation.
Thankfully, there are many email automation solutions available to choose from. But there lies the problem – choosing one that will work for your eCommerce brand. Especially now when, according to the most recent print on demand eCommerce stats, the eCommerce market is overflowing with competition.
eCommerce businesses have peculiar email automation requirements. For example, you'll need to have email workflows for cart abandonment, post-sales follow-up, and so on. You'll also need advanced tracking and reporting features to help you see your progress at a glance.
Not to worry, we've simplified your decision process by providing you with the best 10 solutions available:
But first, let's take a look at the easiest way to get people on your email list.
Generate Leads for Your eCommerce Business with Adoric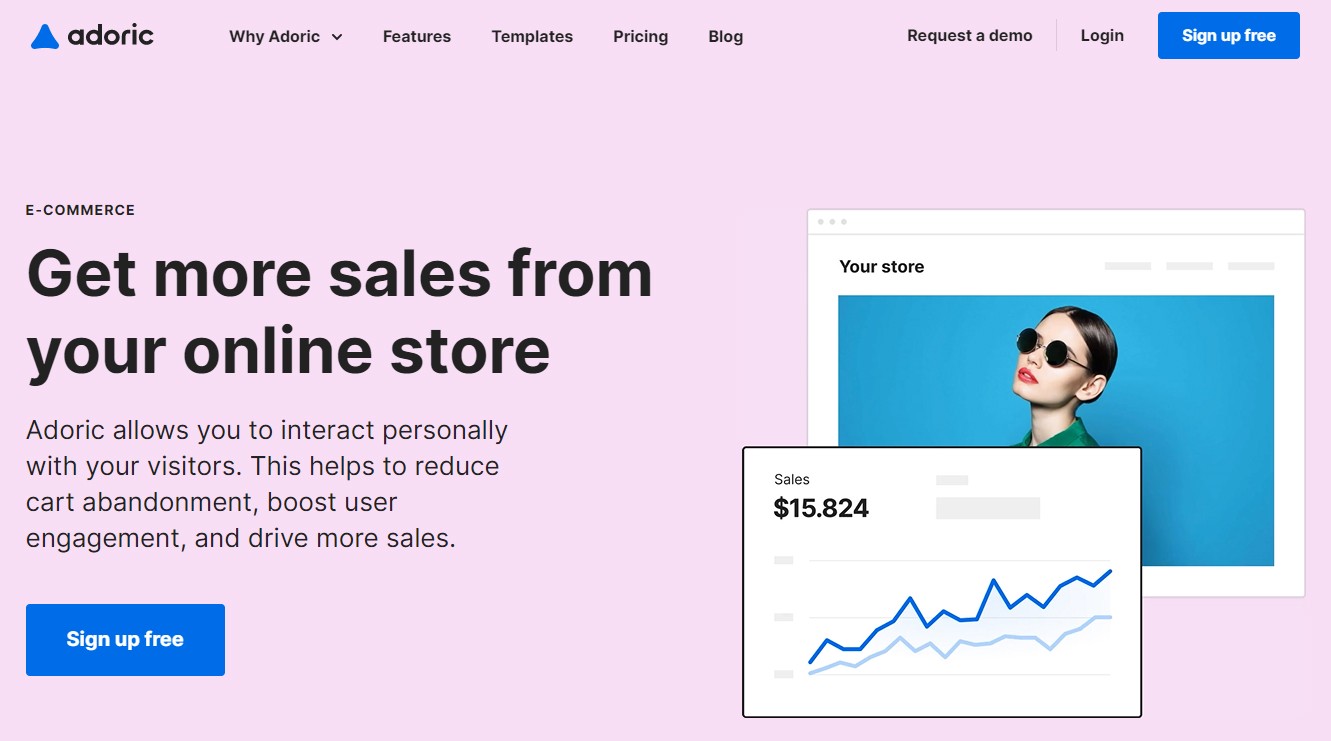 Adoric is designed to help you maximize conversions for your eCommerce brand. It does this with an array of tools that are built specifically for this purpose. These tools are built to:
Help you personalize your visitors' browsing experience  vis product recommendations
Reduce cart abandonment
Promote your sales offers
Get subscribers to your email lists
Adoric provides you with attractive and professionally-looking popups, floating bars, and slider templates that you can edit and embed into your eCommerce website.
With these tools, you can recommend products to your visitors based on their shopping behavior. You can also remind them to complete the checkout process just as they are about to exit your website. This is possible with our exit-intent technology that triggers a popup when a visitor attempts to leave your website.
It's also a great way to notify your visitors of special offers, promotions, or updates while they browse your website.
If you're wondering whether your user experience will be affected, Adoric offers different trigger options that let your visitors see your messages at the right time. This way, their browsing experience is not affected.
What's more, Adoric offers integrations with major eCommerce platforms, Email Service Providers, and other third-party software.
Ready to start generating leads from your website using Adoric? Sign up for an account right away.
10 Best eCommerce Email Automation Solutions
1. Omnisend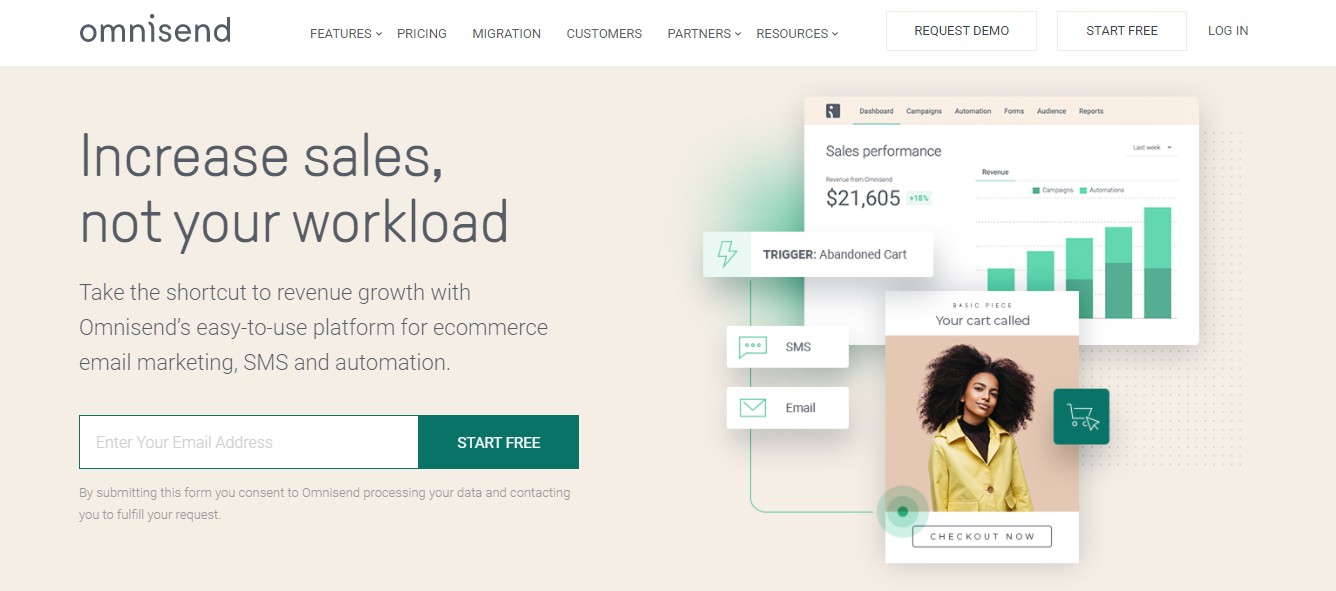 Omnisend simplifies the process of communicating with your customers via email, thanks to its easy-to-use interface. It works well with many eCommerce solutions and offers many features that will make your email campaigns highly likely to succeed.
Beyond emails, it allows you to reach your customers via other channels like social media and SMS too.
Omnisend has a free version that allows you to send up to 15,000 emails a month. Its paid plans start at $16 per month.
If you're wondering if it's worth its salt, the pros and cons below will help you decide.
Pros
Simple to use and therefore beginner-friendly
It has a free forever version
It integrates seamlessly with popular eCommerce platforms and tools
Excellent customer service
High email deliverability rate
Has an automatic product picker that lets you add product recommendations to your email automatically
You can send up to 15,000 emails monthly using the free version
Has powerful segmentation and tagging features to make targeting your audience easy
Lets you save unlimited contacts on the free version
Cons
Limited options for customizing email design
2. Drip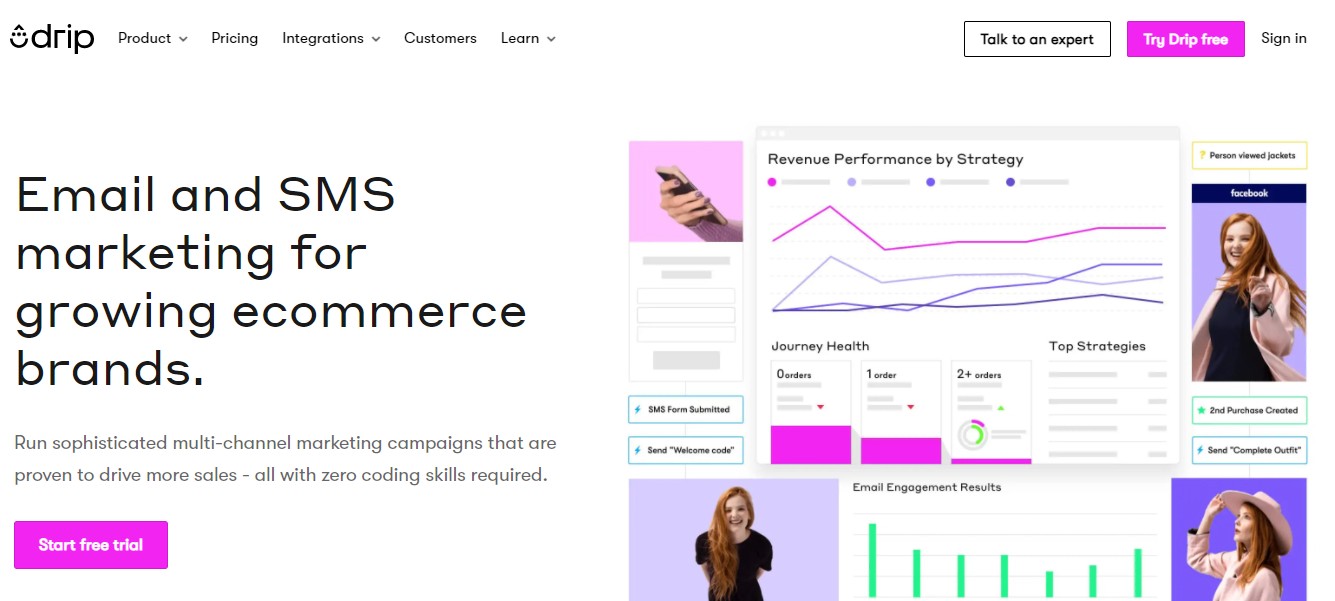 Drip, as you can already tell from the name, allows you to create and automate email marketing drip campaigns for your eCommerce business.
Drip's plans are based on the number of contacts you have on your list and start at $19 per month after a 14-day free trial.
Pros
Offers a free trial
Offers A/B testing features
Provides smart segmentation tools
Offers a collection of attractive templates that are mobile-friendly
Provides a drag-and-drop editor that you can use to edit the templates to your taste, or design emails from the ground up
Comes with an analytic tool that makes it easy for you to monitor your campaign in real-time. By doing so, it becomes easier to spot what's working and what's not.
Provides campaign recommendations based on your store's unique requirements
It integrates excellently with third-party software
Lets you trigger email sequences based on your customers' actions
Allows you to create well-targeted Facebook ads, thanks to its Facebook custom audience integration feature.
Has a built-in CRM
Easy to set up drip email campaigns
Cons
It doesn't have a free-forever plan
Its templates are limited
Can get expensive as your contacts grow
1. ActiveCampaign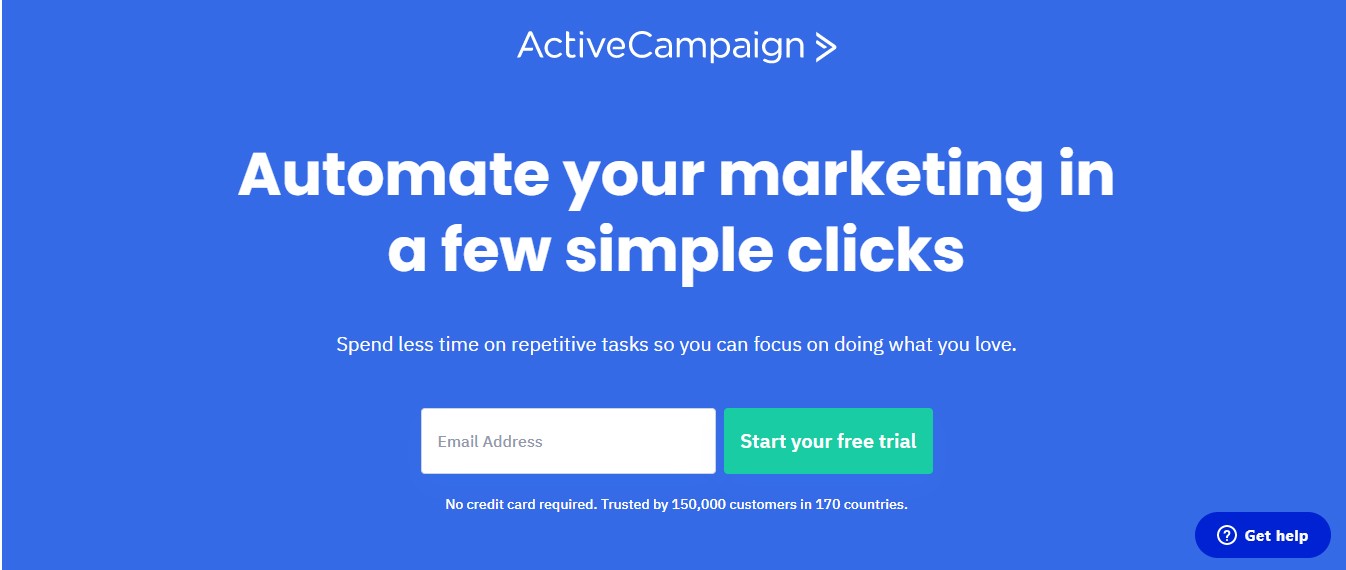 ActiveCampaign is a powerful email automation solution for eCommerce businesses regardless of your industry. It is great for both beginners and people with more advanced email automation needs.
The pricing is based on the number of contacts you have and the features you want. It offers four plans with the least being $9 per month. If you opt for a yearly plan instead, you get a 25% discount.
Pros
High email deliverability rate
Offers a free trial
An array of tools for advanced email automation
It integrates well with over 850 third-party apps. So, you can use your business tools with it.
Provides a tracking feature that uses insights from your eCommerce website to send personalized emails to your customers
Has an added sales CRM feature to help you automatically follow up on sales
Comes with professional email templates and a drag-and-drop editor
Provides a landing page builder.
Lets you integrate a live chat into your website
It lets you add tags to your emails. This way, you can hide certain parts of your email content from a specific segment of your recipients.
Cons
The free trial is only limited to 14 days
Might take you a while to get the hang of it, especially if you are new to email marketing
4. Campaign Monitor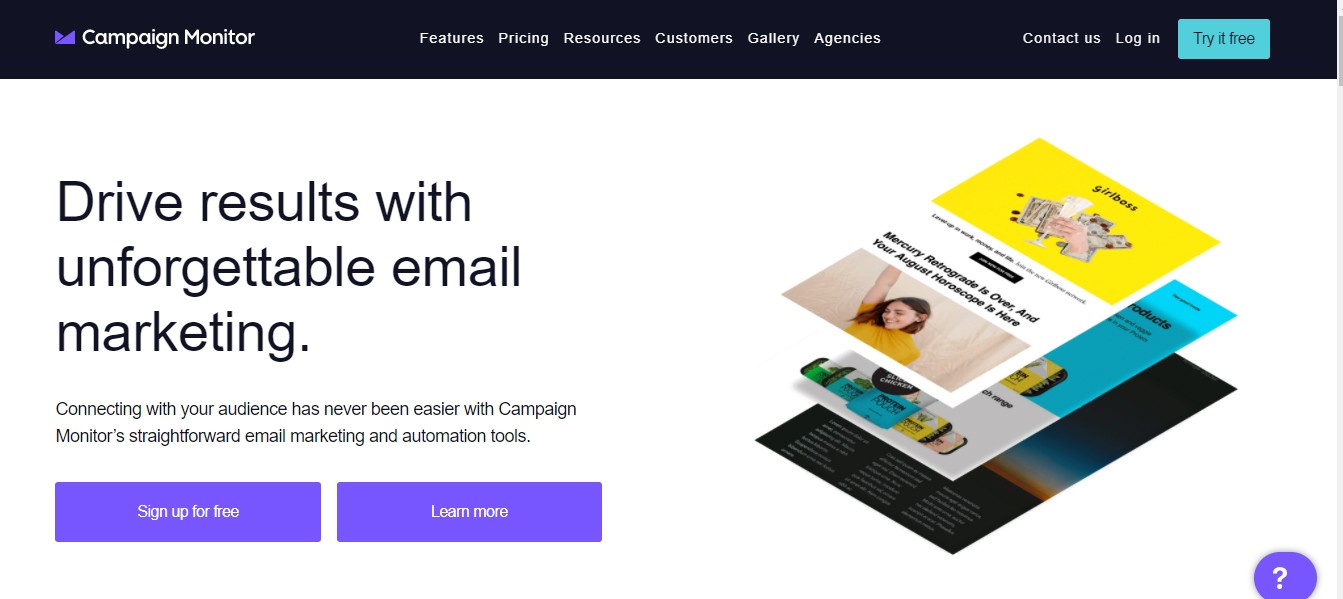 Campaign Monitor is designed to help you get maximum value from every email you send. It provides a visual email designer to create emails that bring in sales.
Its plans start at $9 per month and increase as your contact list grows.
Pros
Provides well-designed and well-optimized templates for emails
Allows you to do split tests on your emails
Has a great reporting feature that allows you to monitor the performance of your emails at any time
Comes with a drag-and-drop design editor that requires no web design or coding knowledge
Easy-to-use interface and beginner-friendly
Provides flexible segmentation options that allow you to send emails to multiple segments or lists simultaneously
No manual save feature, only autosave to ensure that you never lose your work
Offers opt-in forms you can embed on your website via a link or code
Cons
It is expensive
Options to customize templates are limited
No native social sharing feature
Doesn't give a free trial
Offers limited customer support for its "Basic" and "Unlimited" plans
Doesn't provide a landing page builder
Lets you test only two variants
Its analytic features are basic
5. Klaviyo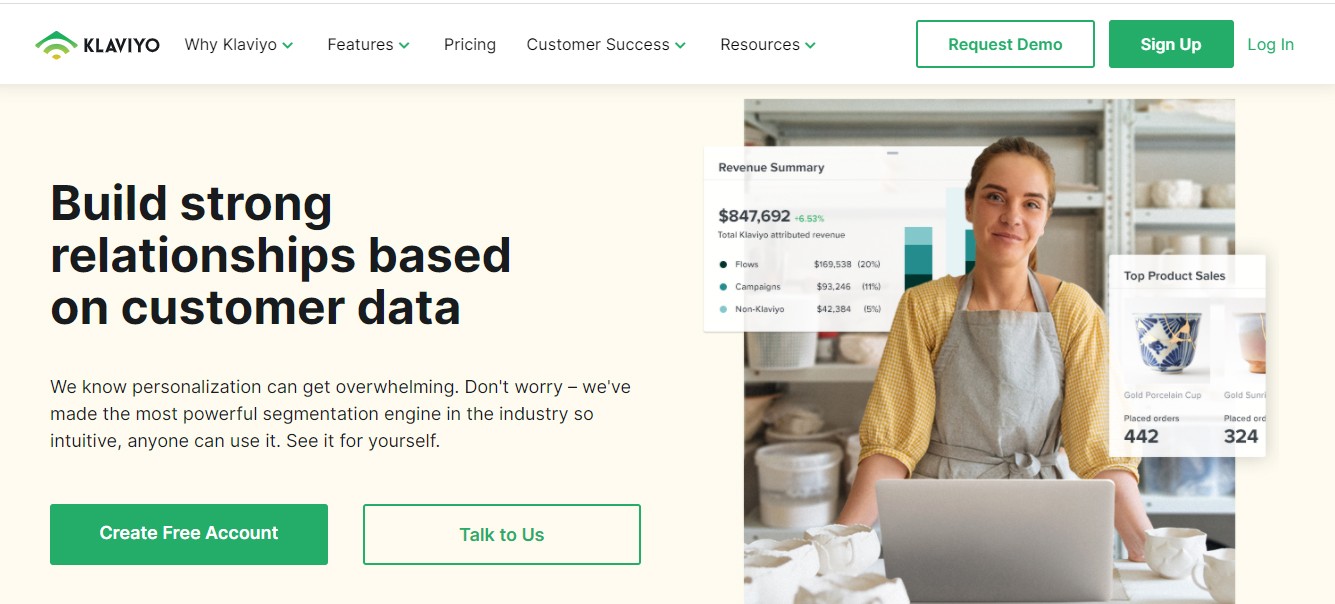 Klaviyo is specifically designed for eCommerce entrepreneurs looking to grow their sales via email marketing.
It doesn't just send emails but also helps you capture customers' contact details from your eCommerce website using opt-in forms.
Its paid plans are based on your list size and start at $20 per month.
Pros
Offers a free forever version that allows you to have up to 250 contacts
Its plans are affordable
It integrates with most eCommerce platforms and CRM software
Provides highly customizable segmentation options
Attractive templates
Provides a drag-and-drop email builder to customize email or form templates or design from scratch
Has many advanced features for both beginners and experienced users.
Can integrate your list with your Facebook custom audiences to help you extend your reach on social media
Allows you to send automated emails to your customers when they abandon their carts, make a purchase, or sign up for your newsletter
Offers a free trial for paid versions
Has an impressive autoresponder flow
Cons
Small businesses may find it expensive
May require a learning curve for beginners
Limited customer support
6. Hubspot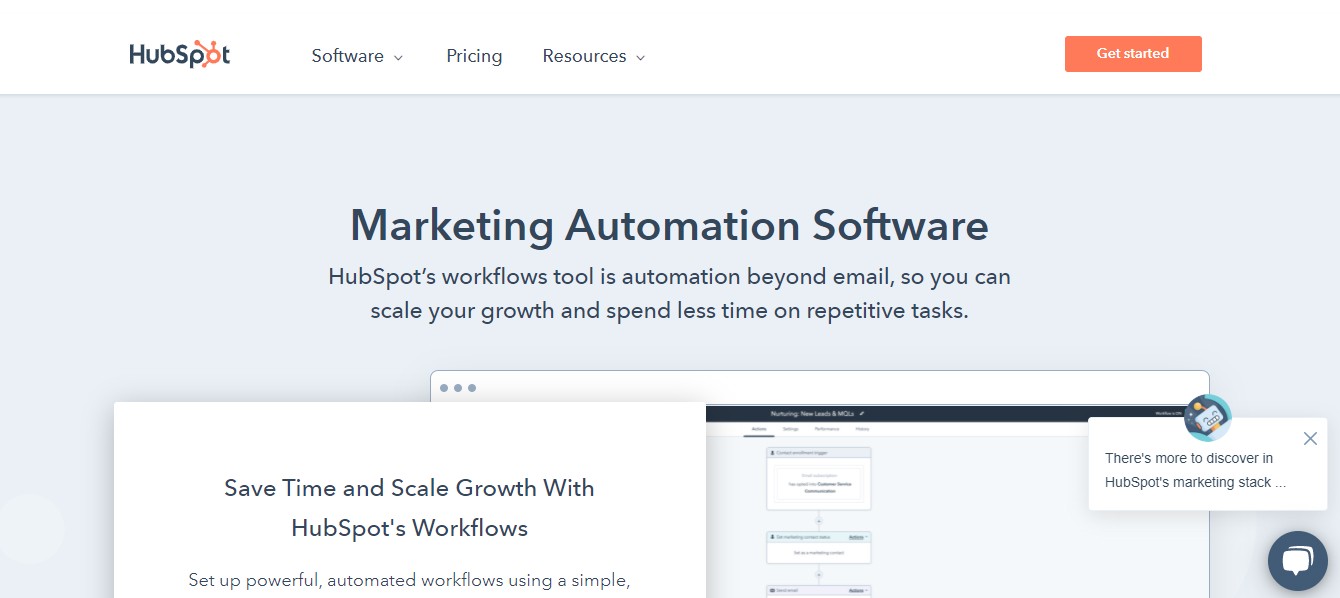 HubSpot is a remarkable tool for an eCommerce business owner. Like other solutions I have reviewed so far, Hubspot also offers email automation for small and big businesses.
Its lowest plan for email marketing costs $200 per month and increases as your contacts grow.
Pros
It's a comprehensive tool with robust features for marketing, sales, and customer support.
Offers a content management service for content marketing
Comes with a free CMS software
It has a free version
Comes with professional templates you can use for creating your email designs
Allows you to monitor your email performance
Offers lead generation tools
Comes with an easy-to-use drag-and-drop email and landing page builder
Doesn't require any technical knowledge
Powerful automation and segmentation tools
Integrates well with third-party platforms like Salesforce, Unbounce, Shopify, etc.
Cons
Small businesses may find it quite pricey
Its free version has very limited features and doesn't include email marketing
Lower subscription plans don't come with A/B testing
Its reporting features are basic compared to its alternatives
The templates may be difficult to customize
It may require some time to get the hang of it
7. Mailchimp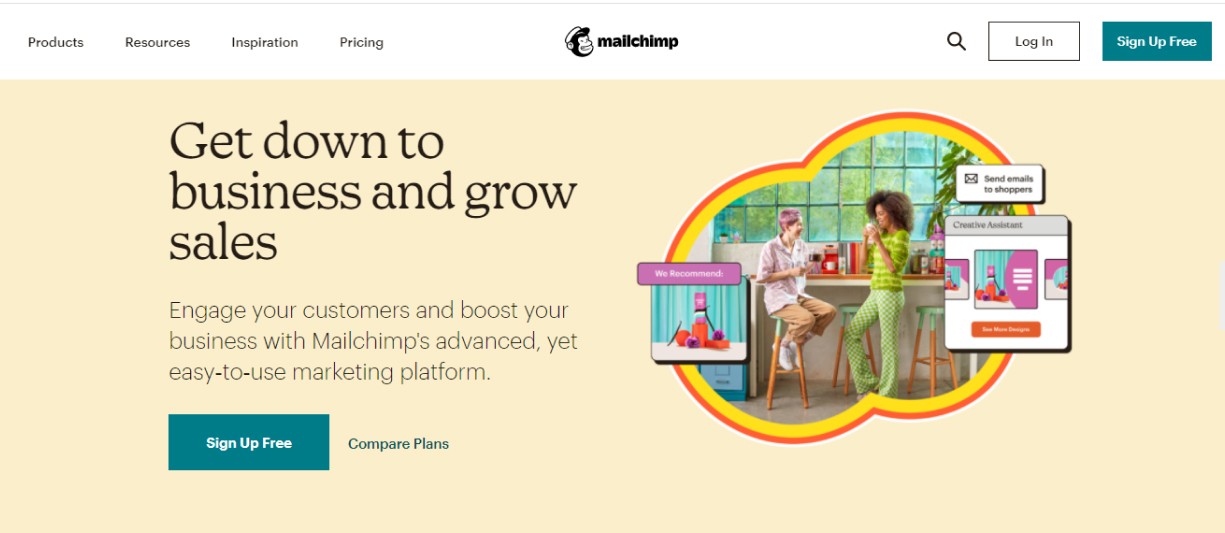 Mailchimp is a popular email marketing software for eCommerce and has been around for quite a while. It comes with features to help you manage your email lists, send out newsletters, create and run automated email marketing campaigns, and so on.
Furthermore, it offers three paid plans which start at $9 a month. The prices add up quickly as your subscribers increase.
Pros
Easy to use and beginner-friendly
Provides templates for building emails
Quite generous with its free version
It is affordable for small and medium eCommerce businesses
Mailchimp is easy to set up
Allows you to send up to 10,000 monthly emails to 2000 contacts on the free version
Lets you edit emails using an intuitive drag-and-drop editor
It supports integration with several eCommerce platforms and other third-party software
Has a detailed reporting feature and integrates with Google Analytics
Gives a Pay As You Go option that lets you send emails without a monthly subscription
Cons
Limited customer support
Doesn't have advanced analytic features
A limited number of templates
Charges for unsubscribed and duplicate subscribers unless you delete their details
Doesn't have advanced email automation features
The free plan offers limited features
On the free version, you can't remove Mailchimp's logo from your emails
8. Privy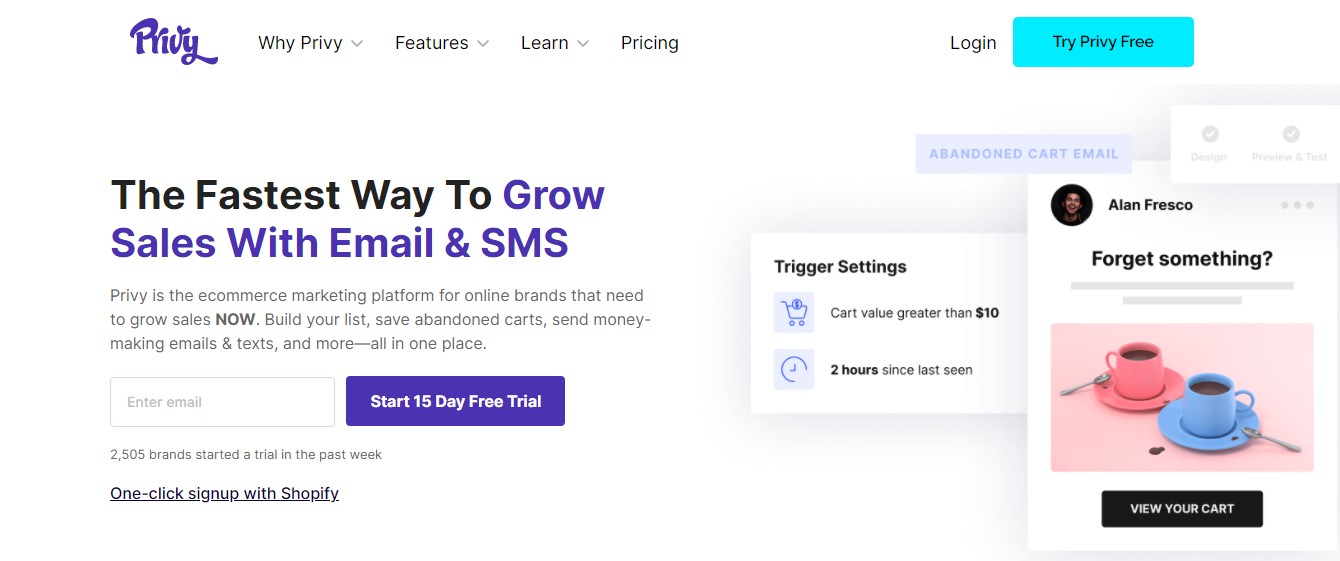 Privy was built specifically to help small and medium eCommerce businesses to grow their email lists, reduce cart abandonment, and increase sales.
As for pricing, its lowest plan costs $20 after a free trial. It increases as your email list grows.
Pros
Privy offers a free version for brands with less than 5000 average monthly views
Offers a 15-day free trial for paid versions
Excellent customer support
Provides lead generation tools to help you capture leads from your website
It is easy to use
Lets you create automated campaigns triggered by cart abandonment, and other actions
Allows you to cross-sell via email and add an Add to Cart button
Its email editor has a drag-and-drop function you can use for building and editing emails
You can sync your Privy email lists with other lists (secondary leads) on email services like Mailchimp to expand your audience
Privy integrates seamlessly with a wide range of eCommerce platforms like Shopify, Magento, BigCommerce, etc.
Offers lots of targeting options
Lets you do A/B tests with the option of automating it for every email campaign
Cons
You can't remove the Privy logo from your emails with the free version
Allows you to send only a maximum of 3000 autoresponder emails a month
9. Constant Contact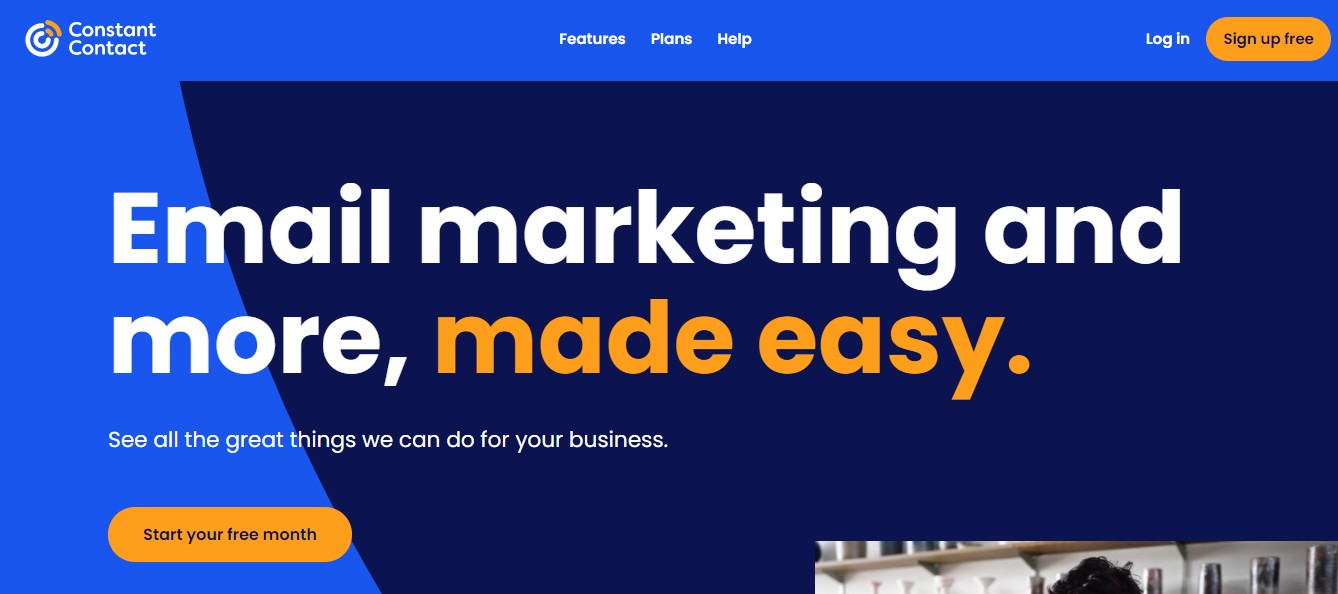 Constant Contact is a beginner-friendly email automation software used by over 650,000 people globally. It is aimed at helping businesses make the most of their email marketing efforts.
With Constant Contact, building an email list is a breeze. If you're a newbie, you'll have access to learning resources you can take advantage of to get a hang of this email automation.
To use Constant Contact, you have to pay at least $20 per month after a 30-day free trial. Subsequently, your subscription costs increase as your subscribers increase.
Pros
Offers integration with over 400 software applications to give you lots of flexibility
Has really high email deliverability rate
Offers high levels of personalization for email campaigns
Provides website builders you can use to create your online store in no time
You don't have to be a UX or graphic design pro to use its design tools
Offers a 30-day free trial
Allows you to send unlimited emails to your contacts
Gives you a discount when you pay for 6 months or 1 year
Offers a 30-day money-back guarantee
Provides hundreds of responsive templates that you can easily customize as you wish
It can scan your website and automatically generate email designs that align with its color and images
Allows you to use your own custom codes to build your own emails from scratch
Provides A/B testing options
Its reporting feature allows you to view your visitors' interactions according to their location
eCommerce and reporting tools are advanced
Provides great customer support
Only the Email Plus version has all the features
Offers a resend option for recipients who haven't opened your email
Cons
No free version
Offers limited features during the free trial
You can only have 500 subscribers on the $20-subscription plan
Email builder doesn't have advanced design options
You can only test the subject line of your emails
Does not provide tracking features for your eCommerce website
10. Keap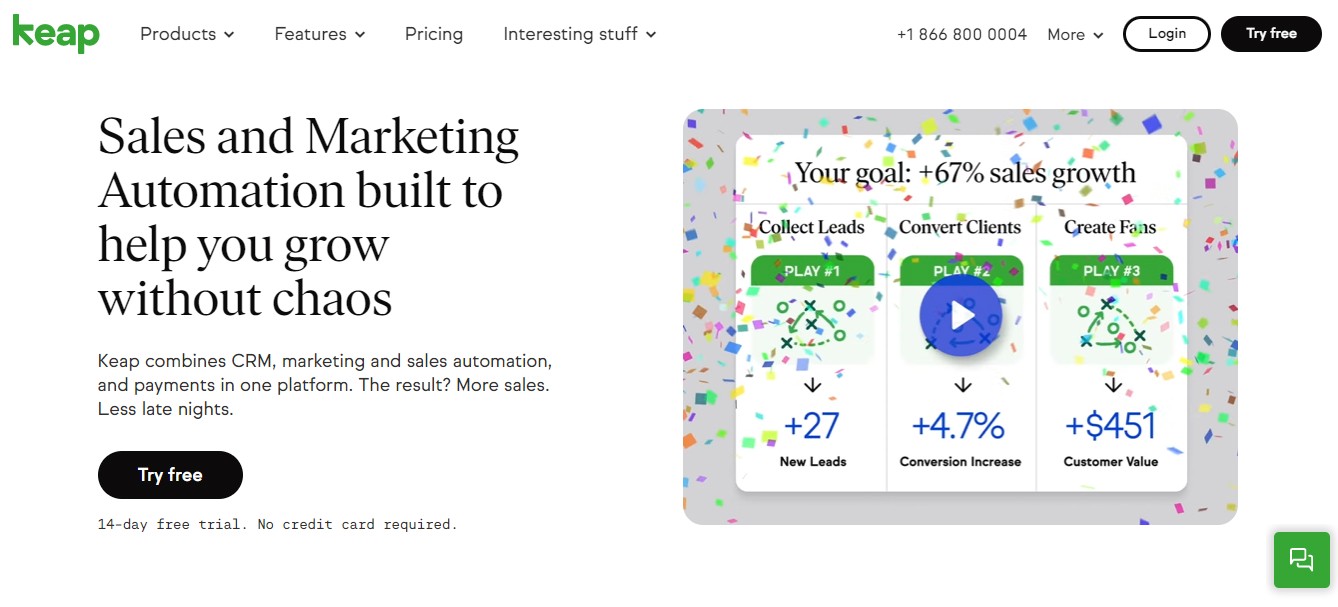 Keap (formerly Infusionsoft) is an end-to-end solution designed for small businesses. It comes with several marketing features, including a robust CRM.
Hence, if you don't want to work with multiple software on your eCommerce website, Keap is your best option.
For pricing, Keap starts at $80 per month.
Pros
Provides hundreds of integrations with eCommerce platforms, CRM software, accounting software, and other third-party applications
Offers an intuitive drag-and-drop builder to help you create and launch marketing campaigns in no time
Has one of the best CRM tools available
Doesn't require any technical knowledge to use
Has a great autoresponder feature
Lets you create landing pages for your campaigns
Provides industry-specific templates that are responsive across devices
Offers tools you can use to create your own eCommerce store
Provides graphs to give you a visual report of important campaign performance metrics
Lets you generate reports based on the information you need per time
Allows you to send unlimited emails
Provides 24/7 expert support
Offers a free trial
Cons
Doesn't have a free version
It is somewhat expensive
Keap may not be the best solution for a rapidly growing business because of scalability issues
The templates are basic
Requires training as part of its onboarding process
Conclusion
There, you have it: 10 best eCommerce email automation solutions. Carefully consider the pros and cons of each and choose which one works best for your brand.
If you're ready to explore Adoric, simply sign up for free and start trying it out.