Looking for the best email autoresponder software for your business? Say no more. I have compiled 10 of the best of them to help you make your email marketing a breeze.
To make it easy for you to determine which is best for your business, I will be analyzing the pros and cons of each software.
Having an email marketing strategy is crucial to every business. However, to make sure you can send the emails at the right time and to the right people without spending too much time and resources, you need an email autoresponder software.
With an email autoresponder software, you can automate your email marketing, and, hence, save money on labor.
How does it work? An email autoresponder software allows you to create a sequence of emails and send them to your subscribers automatically. The software decides who and when to send the emails based on certain rules or conditions you have selected.
So, what is the best autoresponder software for email marketing? You'll get your answer shortly.
Here's an overview of the software I will be reviewing in this post:
But first, you'll need to generate leads to send those auto-response emails to, right? Or better put, you'll need to get people to subscribe to your email list first.
Get Email Subscribers with Adoric
One of the best ways to get email subscribers is to harness what you already have – your website.
When properly harnessed, it makes it easy for you to convert your web visitors into subscribers.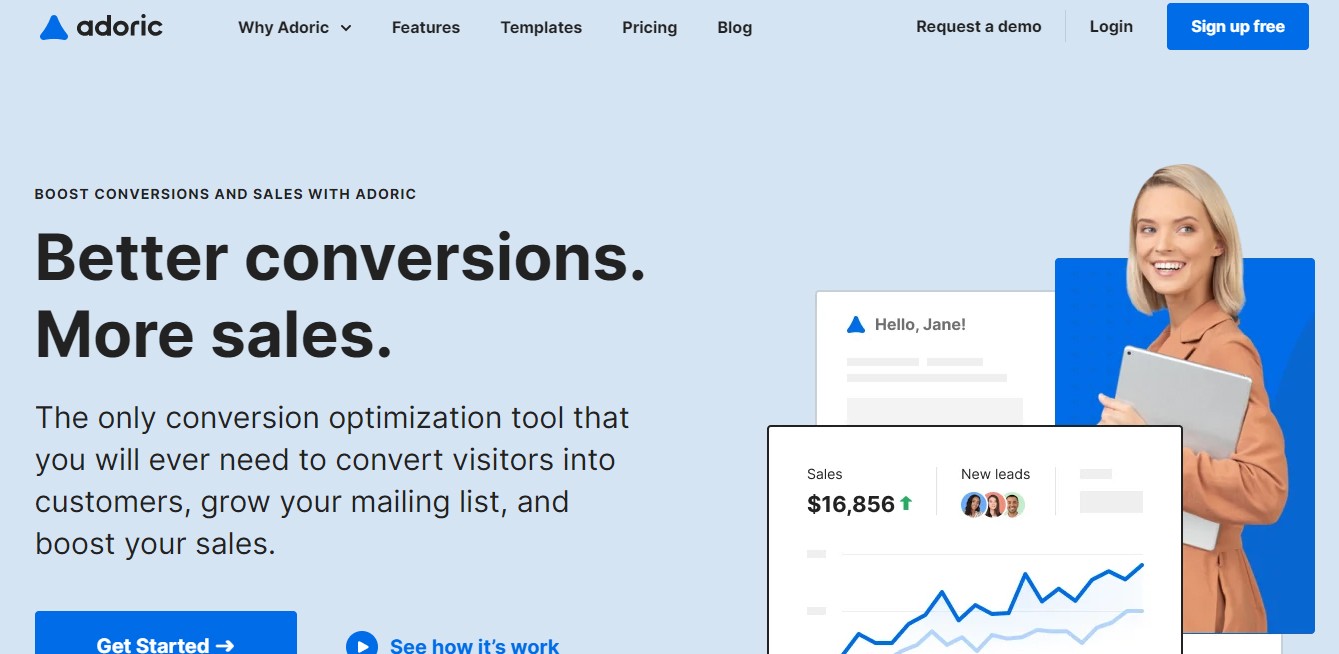 Adoric has features that are specifically tailored to help you efficiently convert your website visitors into subscribers.
These features include:
Attractive email opt-in forms that you can deploy as popups, sliders, or floating bars on your website.
Tons of campaign templates to choose from, so you can save time designing and get on with your business.
An easy-to-use drag-and-drop builder for customizing templates according to your preferences or building your forms from the ground up with no coding skills required.
Powerful trigger features to ensure opt-in popups don't affect your user experience.
Exit-intent technology to remind your web visitors to opt-in when they attempt to leave your website.
Seamless integration with email autoresponder software.
Ready to get subscribers for your email list?
Best Email Autoresponder Software
Now that you have a solution for building your email list, let's see the best email autoresponder software on the market.
1. Sendinblue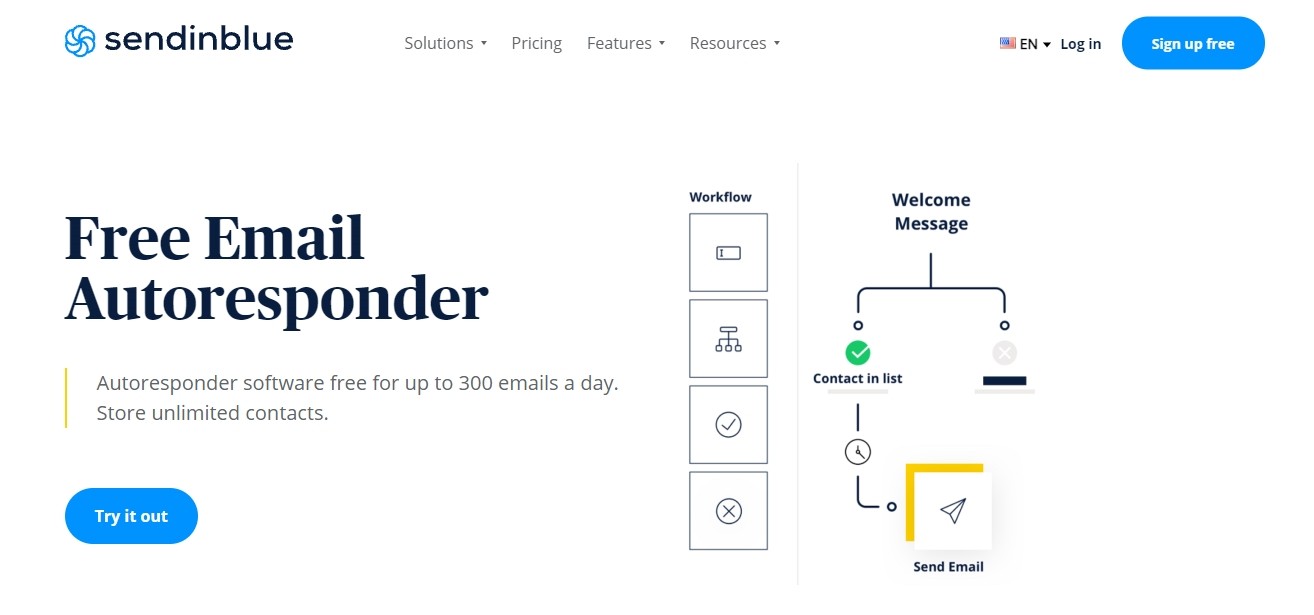 First on our list of best email responder software is Sendinblue. It is suitable for small and medium-sized businesses. This software allows you to send welcome emails, onboarding emails, birthday/anniversary emails, or eCommerce-specific emails such as cart recovery emails.
Unlike most email autoresponder software out there, Sendinblue's pricing is based on the number of emails you send per month. Its paid plans start at $25 a month for up to 10,000 emails.
Pros
With its free plan, you can send up to 9000 emails a month.
Sendinblue's free plan also comes with automation features that a small business can use until they can afford a paid subscription.
Its free version doesn't require a credit card to sign up.
You can store unlimited contacts on both free and paid plans.
They also offer SMS marketing features.
Its autoresponder feature has an extensive template library you can use when you need design inspiration.
It also has a drag-and-drop editor that lets you customize templates and create new email designs with ease.
It is easy to use, even if you don't have any technical skills.
Sendinblue's website and customer support are available in 6 languages.
Cons
It allows you to send only 300 emails per day.
You can't remove the Sendinblue label from your emails if you use the free or lite version.
Allows you to test only 2 variations of an email.
Customer support is quite limited on the free version.
2. MailerLite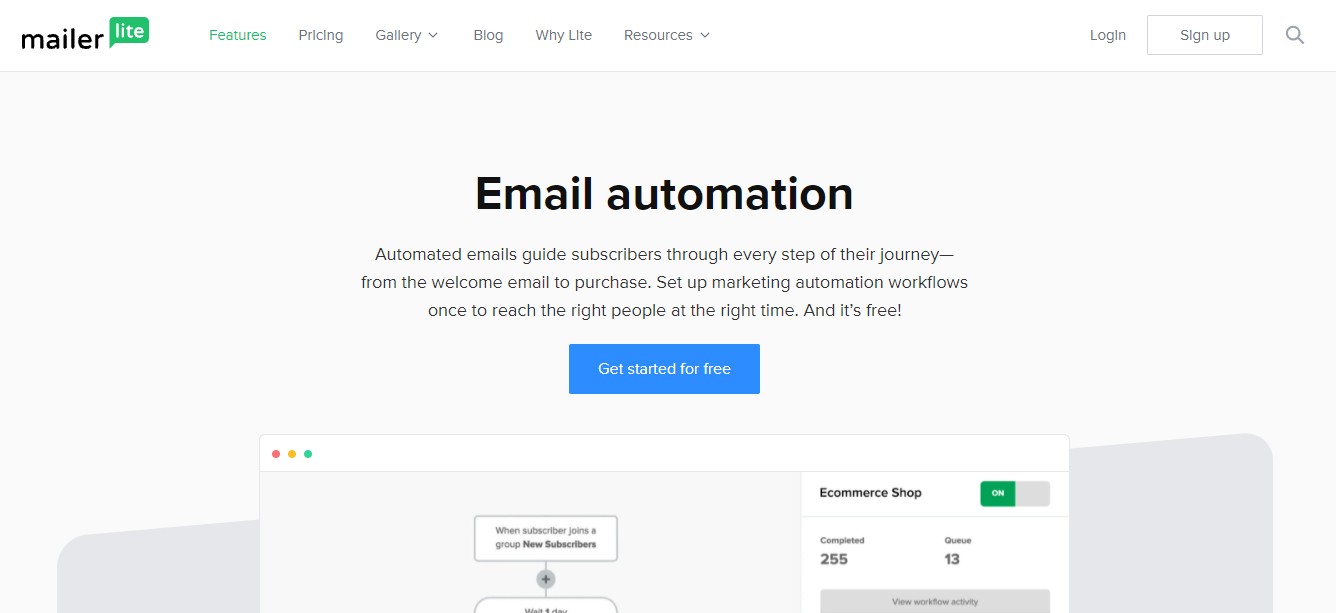 MailerLite offers many features at a budget-friendly price. It is quite generous with its free version. This makes it suitable for small businesses, startups, and freelancers. It has more than one million users worldwide.
With this autoresponder, you can set up emails for different stages of your customer journey – from welcome emails to order confirmations.
Its lowest plan costs $10 a month for a list of up to 1000 subscribers and $15 upwards for a larger subscriber base.
Pros
It has a clean interface that is easy to navigate and understand.
The free plan has advanced automation and segmentation features.
You can do A/B testing, build landing pages, and set up a multi-user account on the free plan.
It has a time-zone factor that ensures emails are delivered at the appropriate time of the day.
It has an auto resend feature that resends unopened emails with a different subject line.
Provides detailed reports to help you track your campaign's performance.
It comes with a drag-and-drop editor to make email design seamless.
Its paid versions are affordable.
The free version allows you to send up to 12,000 (12 emails each to 1000 people).
It has unique features like a countdown feature and survey block that aren't common with other autoresponder software.
Cons
You can't get full reporting on the free version.
It has limited advanced features compared to other autoresponders. So, it may not be suitable for some large-scale businesses.
If you're on the free plan, you can't remove the MailerLite logo from your emails.
You have to subscribe or upgrade to a paid version to get access to email design templates.
Klaviyo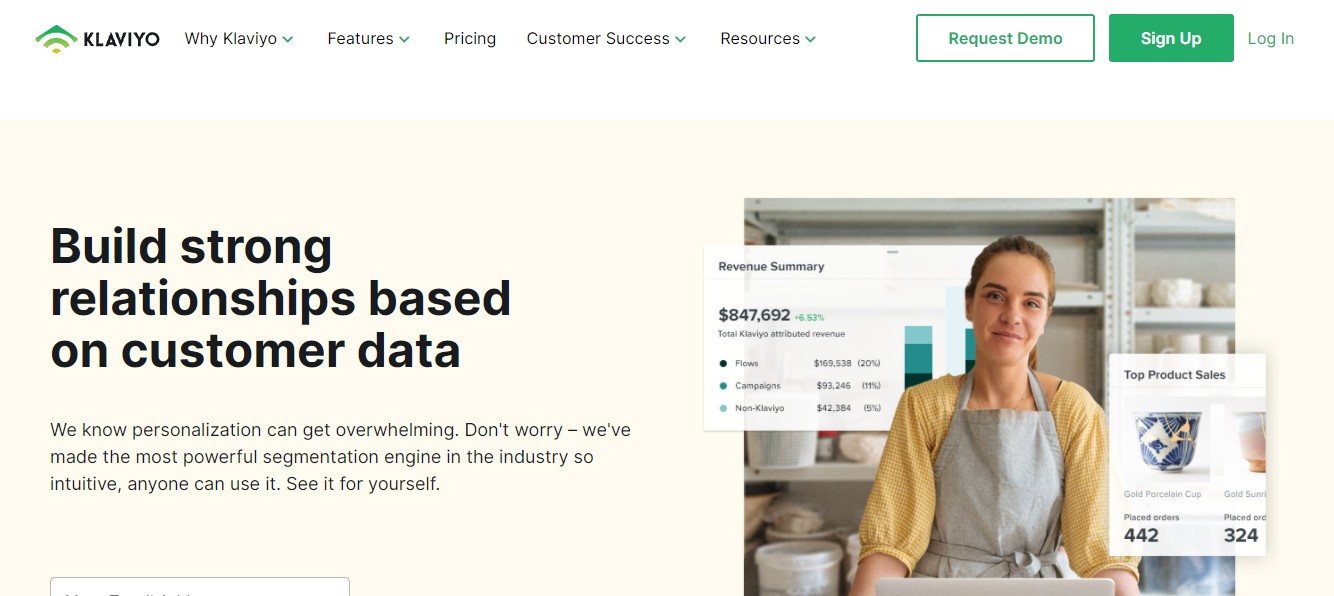 Klaviyo is a popular email autoresponder software that works perfectly with eCommerce platforms like WooCommerce, Shopify, BigCommerce, etc. With it, you can create unique email sequences for your first-time visitors and existing customers.
Its paid subscription starts at $25 a month.
Pros
Integrates well with CRM platforms like Salesforce making it easy to keep track of customer data.
It has a simple user interface.
Offers A/B testing features.
Provides email personalization features that you can use for first-time buyers, existing customers, VIPs, etc.
Offers automation features that allow you to send automated emails.
Provides email design templates that are responsive across mobile devices.
Klaviyo offers a free version that allows you to save up to 250 email addresses.
As soon as your emails get to your recipients, Klaviyo automatically tracks their interactions with them.
You can also get reports for each email's performance.
Cons
For non-eCommerce businesses, Klaviyo can be a bit complicated to use.
The number of emails you can send with its free version is very limited.
Pricing quickly increases as your email list grows.
4. GetResponse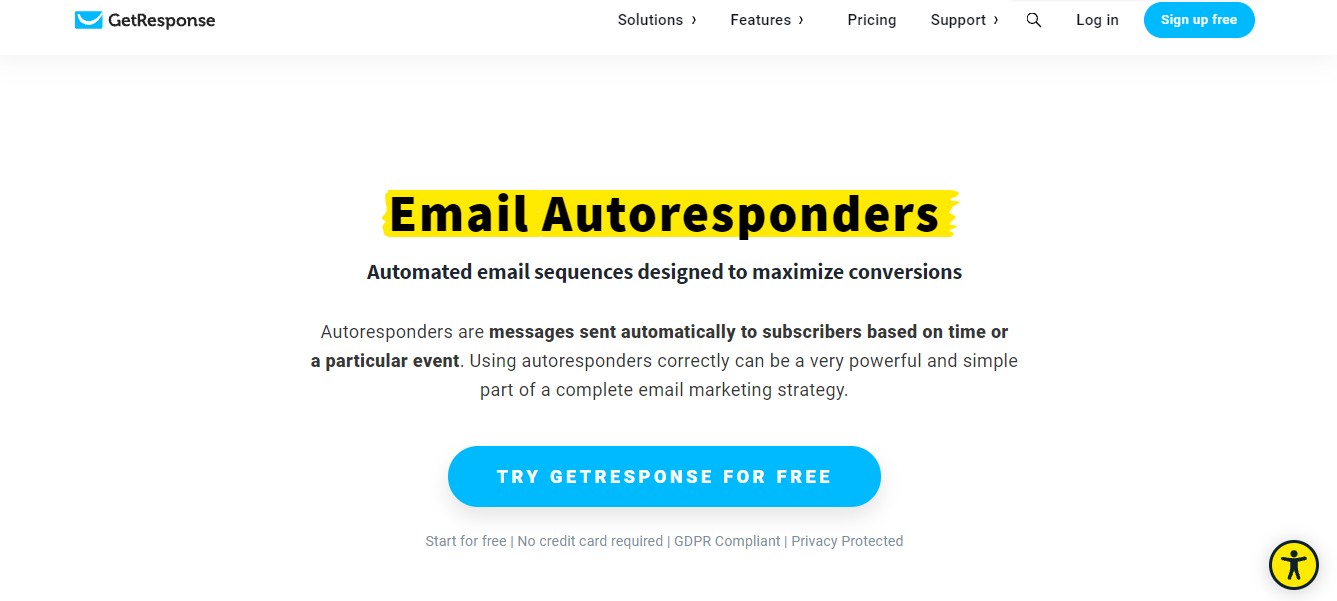 GetResponse is an all-in-one online marketing tool that has an autoresponder feature. It also has tools for building websites, landing pages, and for setting up webinars.
Interestingly, GetResponse is easy to use and allows you to send automated emails that are triggered by the activities of your subscribers and at your preferred time interval.
It offers 4 plans which are priced based on the size of your email list. The lowest starts at $15 monthly for 1000 subscribers.
However, you'll get a discount if you subscribe to a 12-month or 24-month plan instead.
Pros
It allows you to select what day(s) of the week you want your emails to go out.
You can send an unlimited number of emails per day.
It comes with sales tracking features, making it perfect for sales teams.
GetResponse allows you to edit your email design using its built-in drag-and-drop editor.
It has A/B testing features.
Offers a 30-day free trial.
The basic plan is quite generous and lets you have a sales funnel, unlimited lead funnels, and unlimited landing pages.
It integrates seamlessly with tools like Microsoft Dynamics, Magento, and Salesflare.
Cons
It doesn't have a free-forever version.
Its automation feature might require a learning curve for beginners.
5. Mailchimp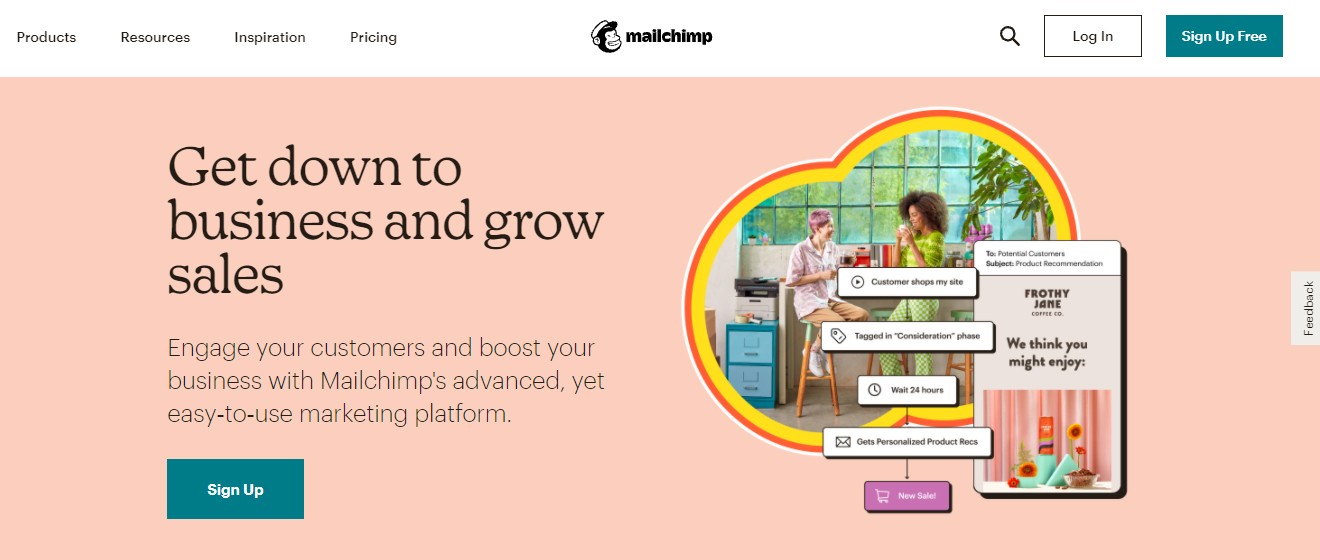 Mailchimp is one of the most popular email marketing solutions available. It is also known for its simple but effective email automation features.
Its pricing is based on audience size and costs a monthly fee that ranges between $9 for 500 subscribers and $299 for 10,000 subscribers.
Pros
It has a free-forever plan.
Mailchimp is easy to use and, therefore, beginner-friendly.
It offers user recommendations based on insights from its other users.
Provides a library of pre-designed emails you can use when you run out of ideas.
Has a drag-and-drop editor for editing your email design templates, or building one from scratch.
Comes with analytic features to help you analyze your subscribers' behavior.
It has a built-in CRM tool that allows you to engage your contacts with ease. You can use this to help manage your sales leads.
Mailchimp has an excellent integration capability. It integrates with apps like Canva, Help Scout, etc.
It offers behavior-based automation and allows you to create lookalike audiences.
Cons
Its automation features are not as advanced as its alternatives.
You cannot remove the Mailchimp logo from your emails on the free plan.
Their customer support is available for only 30 days on the free plan.
Its free version limits you to only 2000 contacts.
6. Omnisend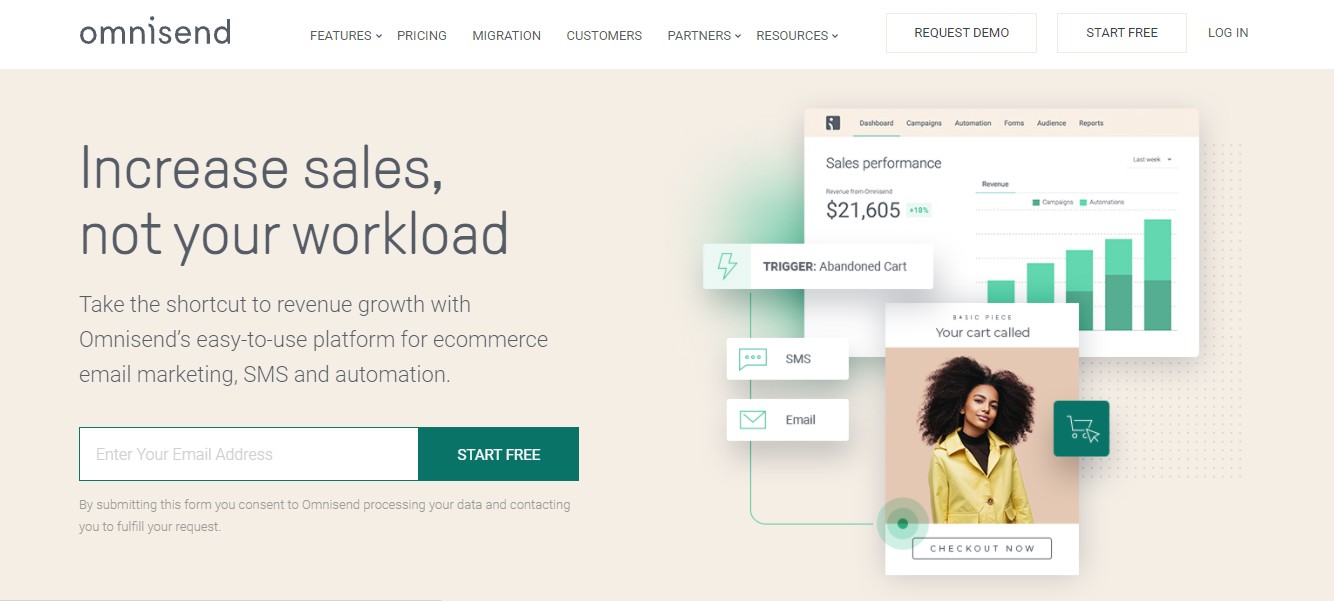 Omnisend was specifically built for eCommerce businesses. It provides robust autoresponder features that online stores of all sizes can use to get new customers and nurture their leads.
Its Standard plan starts at $16 a month.
Pros
It comes with a behavior-based trigger to ensure your recipients get emails only when appropriate.
Omnisend integrates easily with eCommerce platforms like Shopify, Magento, and WooCommerce.
Apart from email, you can also set up autoresponders on other channels like Facebook Messenger, WhatsApp, etc.
It offers a free plan with up to 15,000 emails per month.
Offers SMS marketing at a little additional cost.
It offers a 14-day free trial on its paid plans.
Cons
Its free version doesn't come with any automation features.
On the free version, you won't get access to support from the Omnisend team.
It may not be ideal for non-eCommerce businesses.
7. Moosend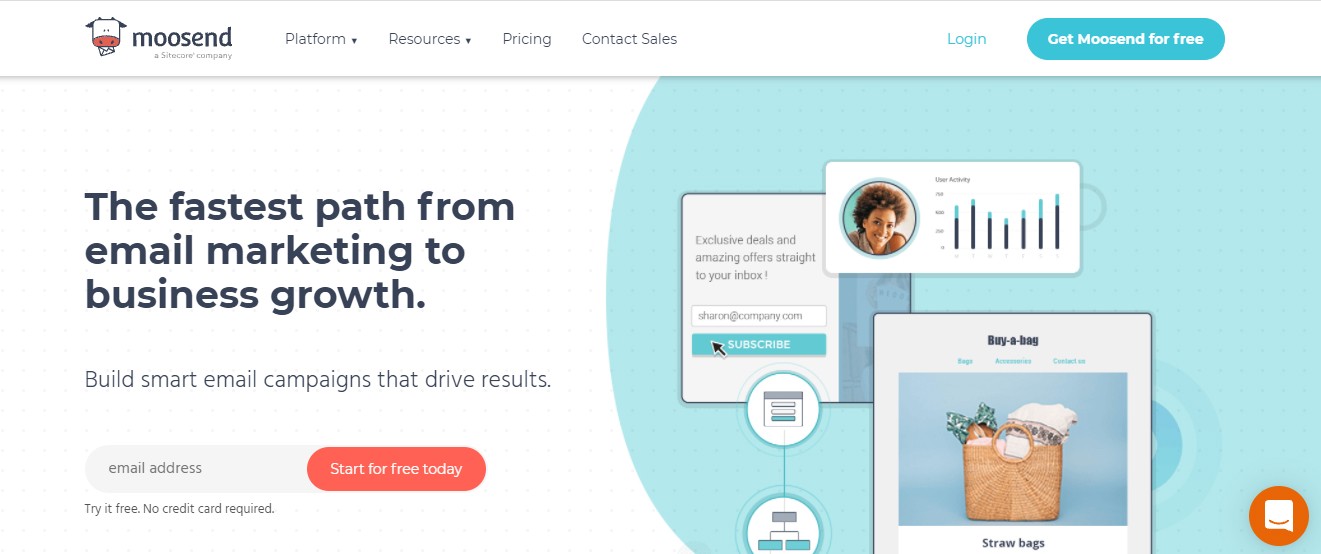 Moosend is one of the easiest email marketing software to use. It is also quite affordable and is suitable for growing businesses. It is ideal for eCommerce brands, freelancers, publishers, etc.
If you have more than 1000 subscribers, you'll have to pay for a premium plan starting at $8 a month.
Pros
It offers advanced segmentation and personalization features.
You don't need any technical knowledge to set up your emails.
It has real-time tracking and analytic features.
Native integrations with WooCommerce, WordPress, Salesforce, etc.
The forever-free plan allows up to 1000 contacts.
It allows easy collaboration among team members as you can share workflows and receive feedback.
Its paid plans are affordable.
Comes with a drag-and-drop editor that allows you to customize email templates.
Cons
You'll need a pro plan if you have more than 1000 subscribers.
They have limited customer support on the free plan.
It doesn't have a CRM feature.
8. Constant Contact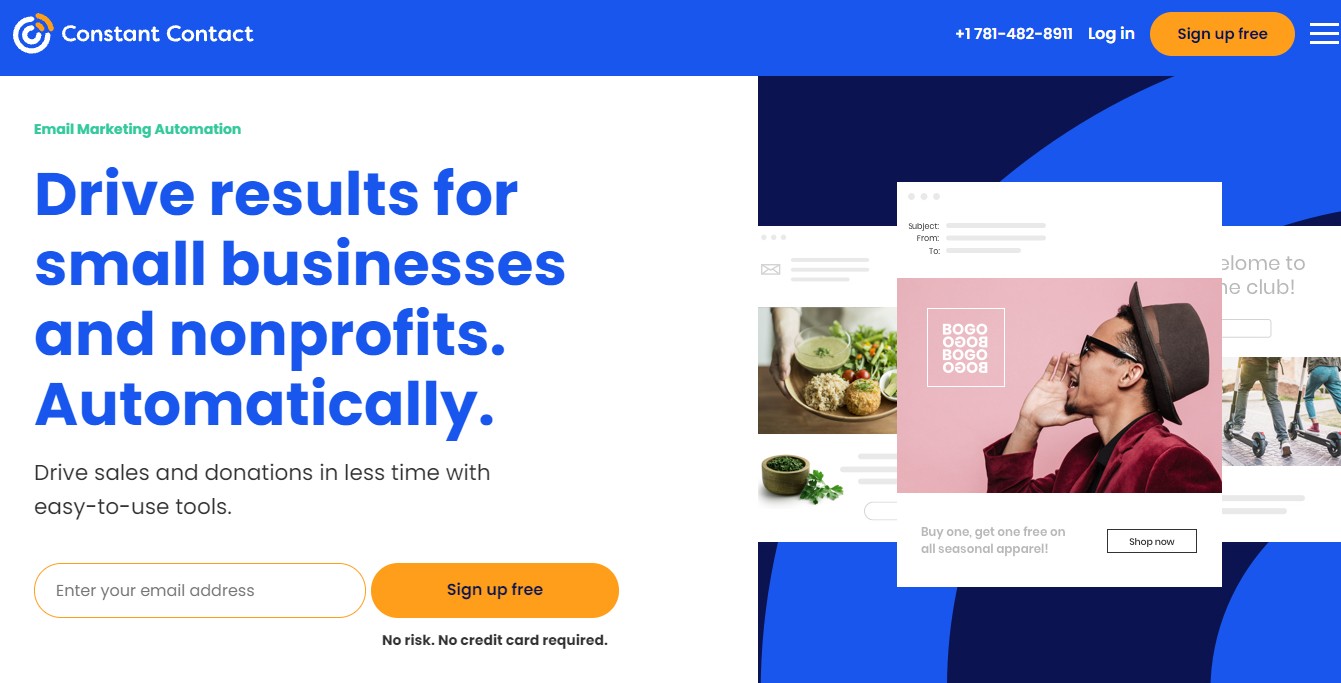 Constant Contact is one of the best email autoresponder software available and has over 650,000 users. This software is easy to use and built for businesses that need more advanced email automation features.
It also allows you to create either complex or straightforward email sequences depending on your needs.
Constant Contact's subscriptions are based on your number of contacts with the least plan being $20 for up to 500 contacts. Your subscription gets upgraded automatically as your list grows.
Pros
It has a library of templates for you to choose from.
Constant contact can scan your website to find images and other brand elements to create design options for you to select from. This way, you can easily create email layouts that are on-brand.
Its drag-and-drop editor is beginner-friendly.
It offers a 60-day free trial which is enough time to test its features before making any financial commitment.
You can also embed customizable forms on your website or landing pages to capture your visitor's contact details.
With its segmentation feature, you can group your contacts and set up separate email sequences for them.
It allows you to set up different email triggers ranging from cart abandonment to clicking a link in an email, and so on.
You can select days of the week and times of the day you want your emails sent.
It has a high email deliverability rate.
Integrates well with third-party tools.
Has reporting and analytic features.
Provides great customer support.
Cons
It doesn't have a free-forever plan.
Its plans are a bit pricey.
Only the Email Plus version has advanced automation features.
You can only A/B test subject lines.
Its user interface can be tricky to navigate for a beginner.
You may have to contact a sales representative to cancel your subscription.
9. AWeber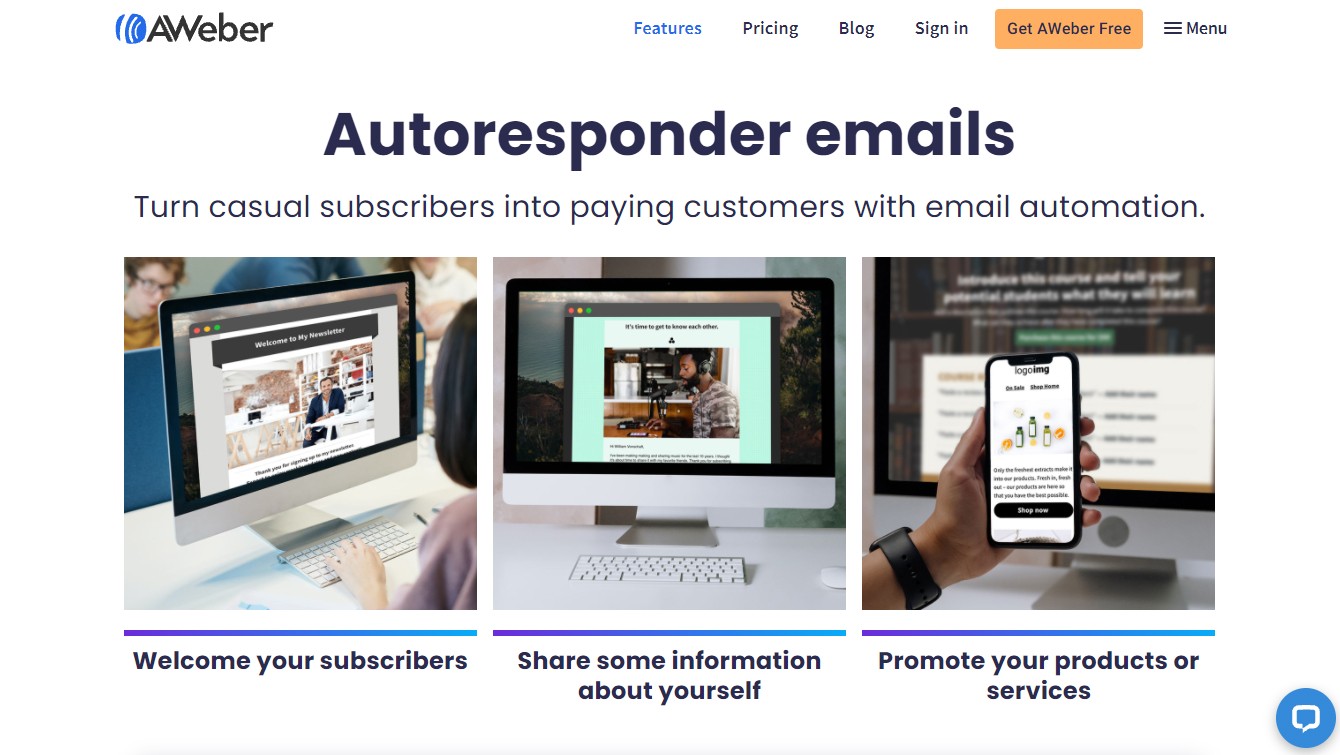 AWeber is another awesome autoresponder software available today. It is suitable for small and medium-sized businesses and offers most of the features you'll need in an email autoresponder software.
It costs between $19 a month for up to 500 subscribers and $149 a month for up to 25,000 subscribers. However, it gets quite pricey for anything above 25,000 subscribers.
Pros
It offers a free trial.
Integrates seamlessly with third-party tools like PayPal, Shopify, Facebook, WordPress, etc.
Has powerful segmentation and automation tools to help you target your contacts with more precision.
Offers a 30-day free trial period for its pro plans.
It allows you to import your contact list from other sources.
You can create an unlimited number of lists on the paid versions.
Allows you to create and split-test 3 variants of an email.
It has tons of templates that you can customize according to your preferences.
If you provide a link to your website, AWeber can design template options in line with your website's aesthetics. You can then choose which one you prefer and customize it as you want.
AWeber's email templates are responsive across all devices.
It has a drag-and-drop feature that you can use to create, customize, or format email design, messages, or landing pages with or without coding.
You can set predefined time intervals and other conditions for your auto-response emails.
It has an autosave feature to help you prevent the loss of data or the email design you're currently working on.
High email deliverability rate.
Offers full customer support both on paid and free plans.
Cons
Doesn't have a free forever plan and its free trial lasts for only 30 days.
During the free trial period, you won't have access to A/B testing and email tracking features.
You can't remove the AWeber logo on your emails if you use the free version.
You'll be billed for your unsubscribers unless you delete their details.
10. ConvertKit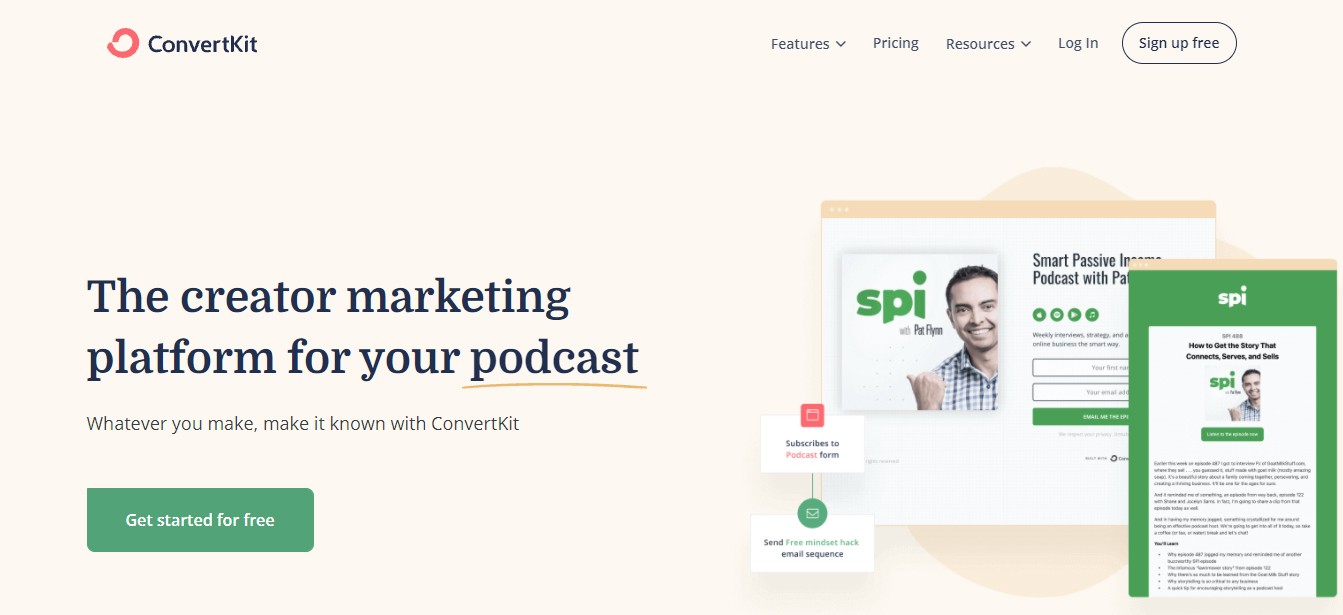 ConvertKit was built for bloggers, podcasters, and other creatives. It is also suitable for marketers, agencies, and startups.
ConverKit's paid plans may seem a bit pricey at first glance, but when you consider the features it offers, it's definitely worth the spend.
In addition to that, ConvertKit's pricing is based on your number of subscribers and starts at $29 for 1000 subscribers.
Pros
Offers segmentation features to help you send targeted messages to your subscribers.
Allows you to tag your subscribers according to their interaction with your email content.
Comes with a visual automation builder that lets you build a workflow for your email sequences with ease.
Paid plans offer a 14-day free trial.
If you have up to 5000 subscribers, you can import your list from another email service provider to ConvertKit at no extra cost.
Comes with a landing page builder and over 30 templates to choose from and customize.
Provides email opt-in forms that you can customize and embed on your website or landing pages to build your email list.
Offers A/B testing feature.
Has a dashboard that displays all reports and statistics such as open rates, click-through rates, etc.
Offers vast third-party integrations with tools like Zapier, Facebook, Monday.com, etc.
Cons
Its free plan is limited and doesn't include automation features.
You can only test the subject line and two variations of it at a time.
Its dashboard only gives you basic reporting features.
Conclusion
Choosing an email autoresponder software goes beyond just pricing or features. It's a combination of both plus what's best for your business.
With this list of the best 10 email autoresponder software, I hope that you will find it easy to pick one that suits your business well.
Adoric offers powerful lead generation tools to get your email marketing underway. Sign up today to explore them.