Looking for Valentine's day marketing campaign ideas or tools to make a bang with your sales this love season? Popups are the way to go.
Yep, you heard right.
I know what you are probably thinking…do pop-ups still work?
Of course, they do but provided you use them in the right way.
As a matter of fact, you can convert as much as 40% of your website's traffic into paying customers with popups.
Okay, enough of the rambling.
Let's get to the business of the day: 20 Valentine's day sales promotion templates to use for your marketing campaign.
We took the pain out of creating popups from scratch for you by designing loads of easy-to-edit templates. Each template was designed with one goal in mind: help you win more sales this Valentine.
Alright, here they are.
1. Valentine's Day Special Sales Popup Template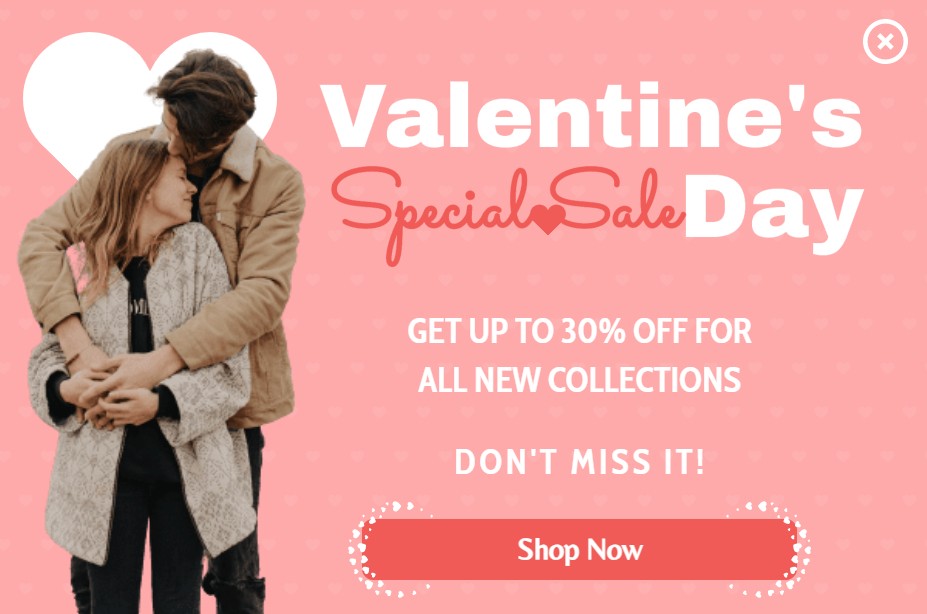 Use this template
Delight your visitors with this all pink and peach popup template. Use it to give them a reason to shop for something romantic from your store for that special someone in their lives.
And of course, you don't have to use this template "as-it-is". With our design editor, you can make tweaks here and there, edit as you wish, and move elements around. All with ease.
2.  Animated Purple-themed Valentine Popup template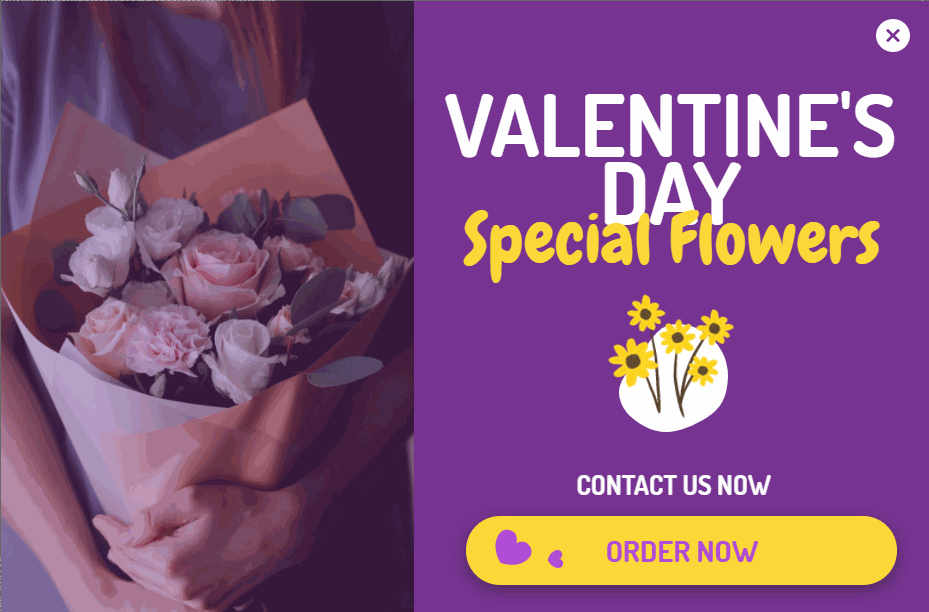 Use this template
How about some nice animations to spruce up your marketing campaign this Valentine? This will make your popup more eye-catching, thus improving user engagement.
And you know, improved user engagement means better sales. Isn't that what you've always wanted?
Don't sell flowers? No worries.
You can change the text used in this template to whatever you deem fit.
The same applies to the imagery.
3. Heart-shaped Valentine Promotion Popup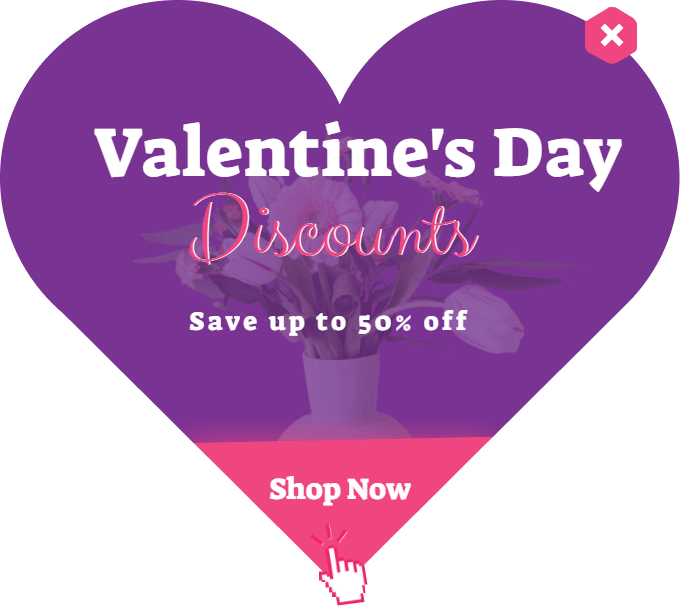 Use this template
Attract lovers looking for Valentine's deals to your online storefront with this heart-shaped popup. To make things even sweeter, we've added a discount to this template to make it more enticing.
You can always swap out the discount text with whatever you have in mind. And even change the colors to what matches your brand's theme.
All thanks to our drag and drop editor.
4. Valentine's Day Deals Promotion Popup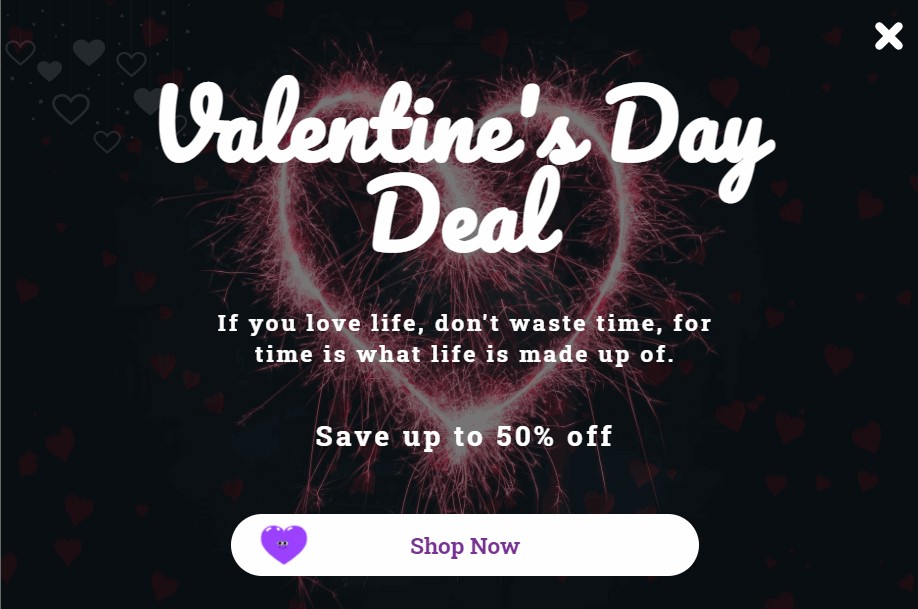 Use this template
What is Valentine if there's no love and spark, chocolates and pink? That's the aura you will want to create around your store to make the best of sales this shopping season.
Thankfully, you don't have to give yourself so much trouble to do that. This popup template you see right here is all you need.
5. Animated, Red Valentine's Day Marketing Campaign Template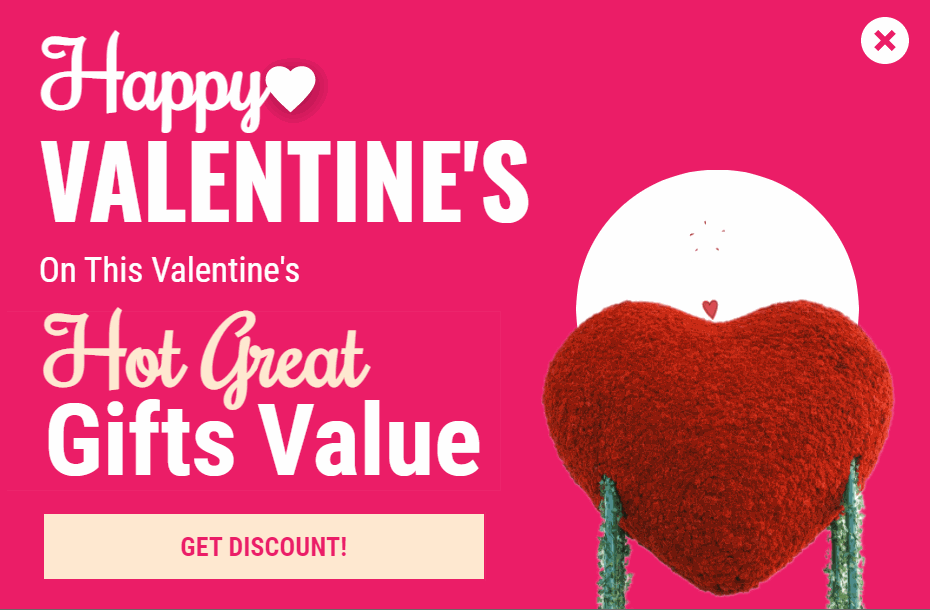 Use this template
Get heads spinning and eyes rolling with this classic, lovey-dovey popup template.
Style this template however you please and make it exclusively yours by using our intuitive design editor. It allows you to edit text, move images around, add your own CTA button.
You can even add a video to this popup if you so desire.
6. Spin-to-win Valentine's Sales Popup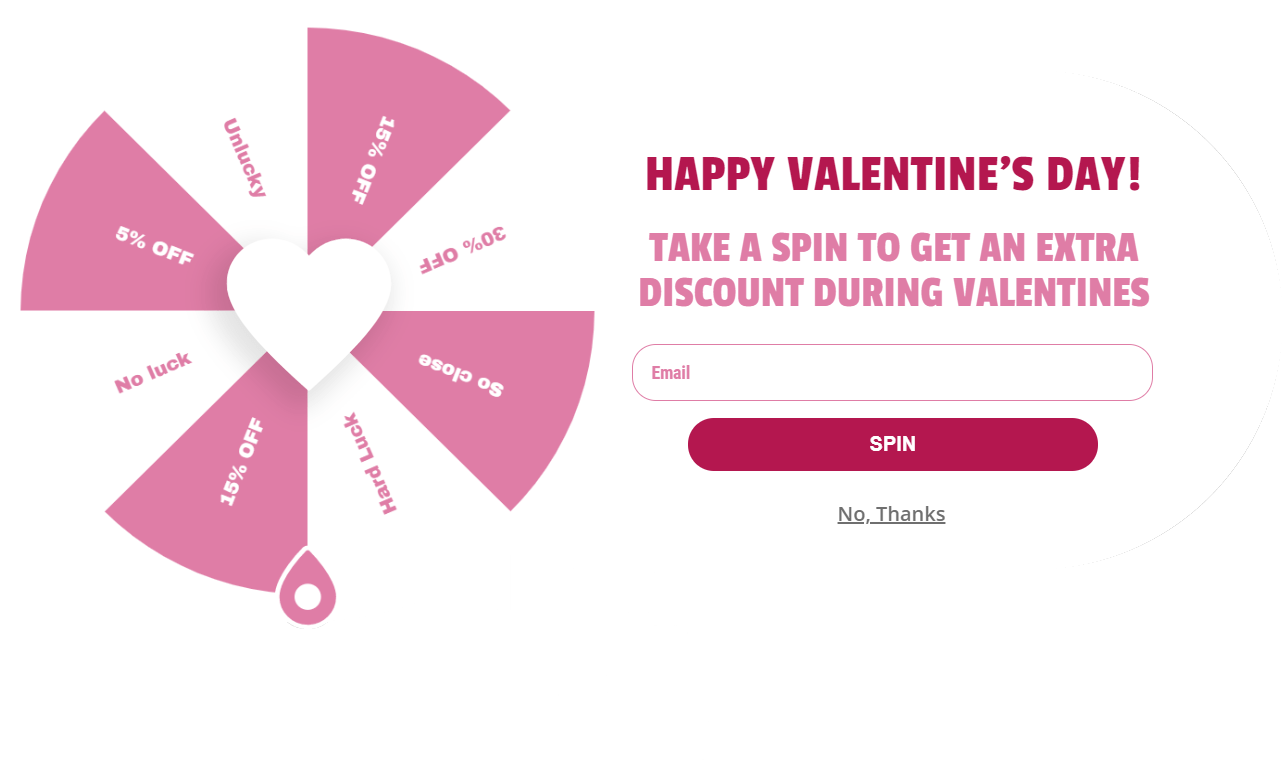 Use this template
Looking for a Valentine sales idea that is unusual, but yet works? Lucky wheel coupon pop-ups might be what you are looking for.
As you might have guessed, this type of popup gives your visitors the chance to win coupons by playing the game of lucky wheels.
Then they can shop in your store with the coupons they win.
This means better engagement and a lower bounce rate for you.
7. Opt-in Popup Form for Valentine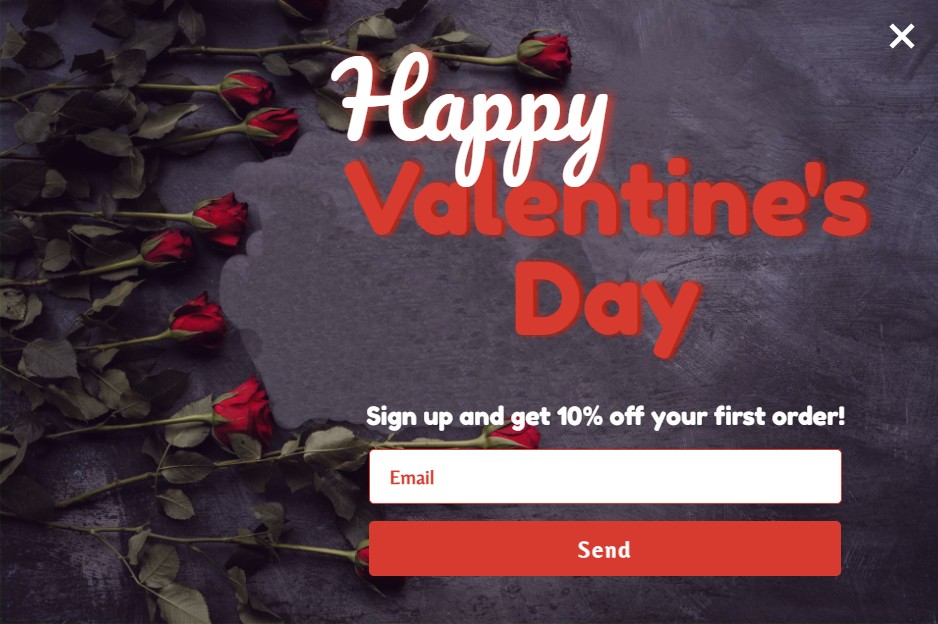 Use this template
Make this Valentine a delightsome one for your visitors by teasing them fancy, all-romantic opt-in popup.
The goal?
To get them signing up and waiting in anticipation for your Valentine deals. And as you would expect, this popup template is 100% customizable, just like the rest.
8. Discount Sales Valentine's Day Popup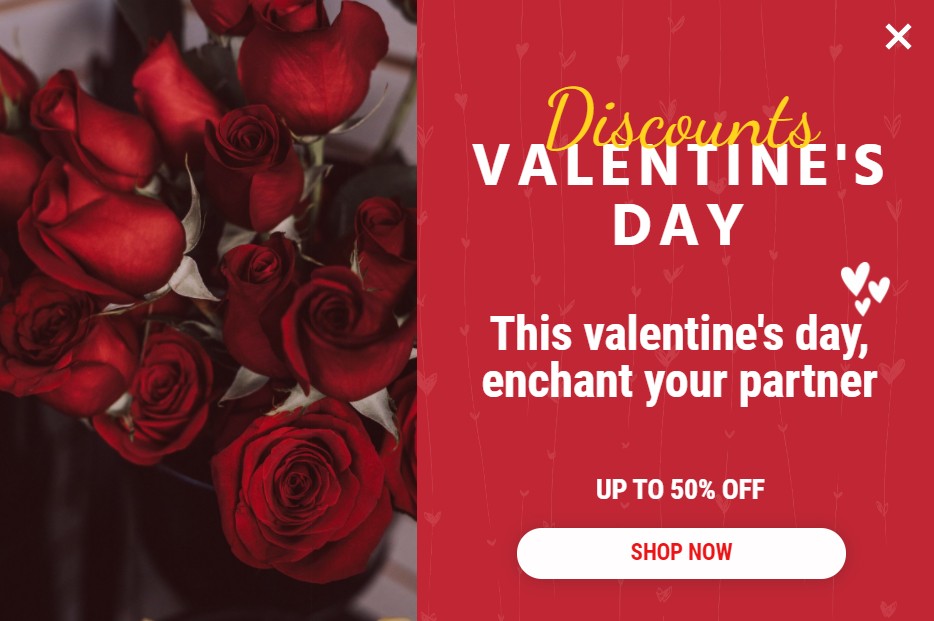 Use this template
Looking for an excellent Valentine promotion idea for your photography, restaurant, or decoration business? You just found one!
No marketing tool beats a popup when it comes to promoting discounted deals.
Wish to add some vibe to this popup? Embed a countdown timer to it. Doing so will make your visitors jump at your deals without hesitation.
And Adoric makes it easy to do so.
9. Blue-styled Special Sales Promotion Popup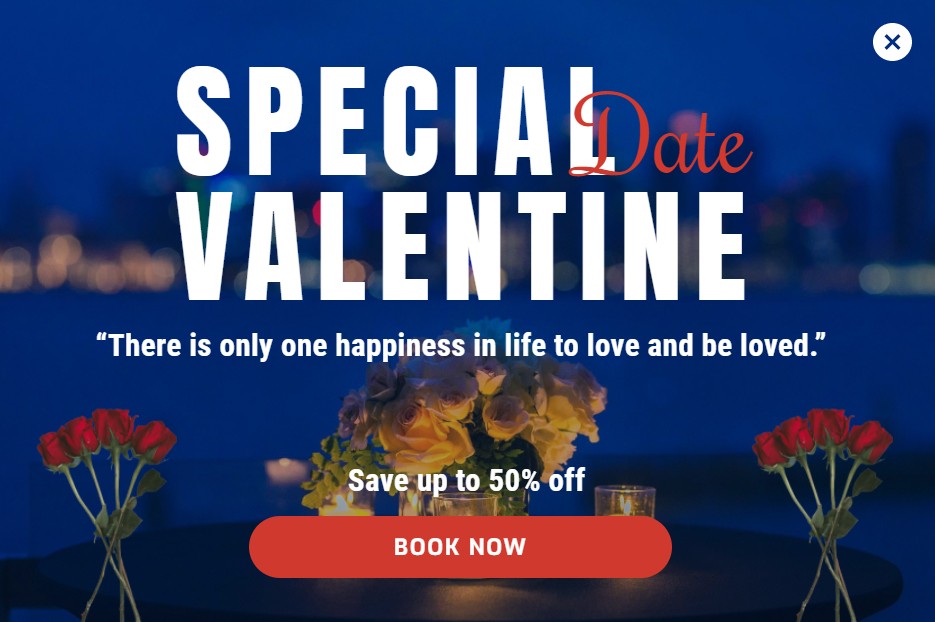 Use this template
What's Valentine without romantic dates? You can be sure that many lovers will be looking for a good place to have a nice time with their partners this love season.
As such, if you run a restaurant or cafe, this popup is an excellent Valentine promotion marketing tool.
But it isn't limited to restaurateurs alone: just about anybody can use it. You only need to make a few tweaks with our editor, and it will turn out exactly the way you want it.
10. Discount Wheels Coupon Popup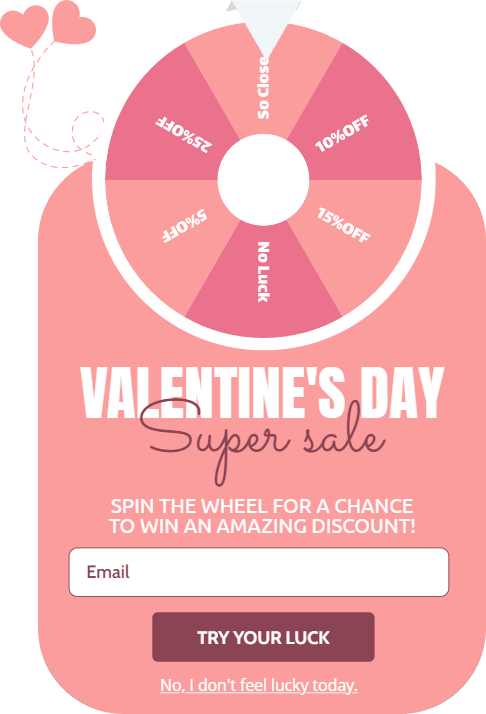 Use this template
Are your visitors turning a blind eye to your opt-in popup forms? They are most likely doing so because your popups are rather boring.
Create some excitement by giving them a chance to win amazing discounts simply by playing the game of spin-the-wheel.
We've taken the troubles out of setting up a spin-to-win campaign by creating this popup for you.
So, we encourage you to use it unreservedly in your Valentine's day marketing campaign.
11. Special Offer Sales Popup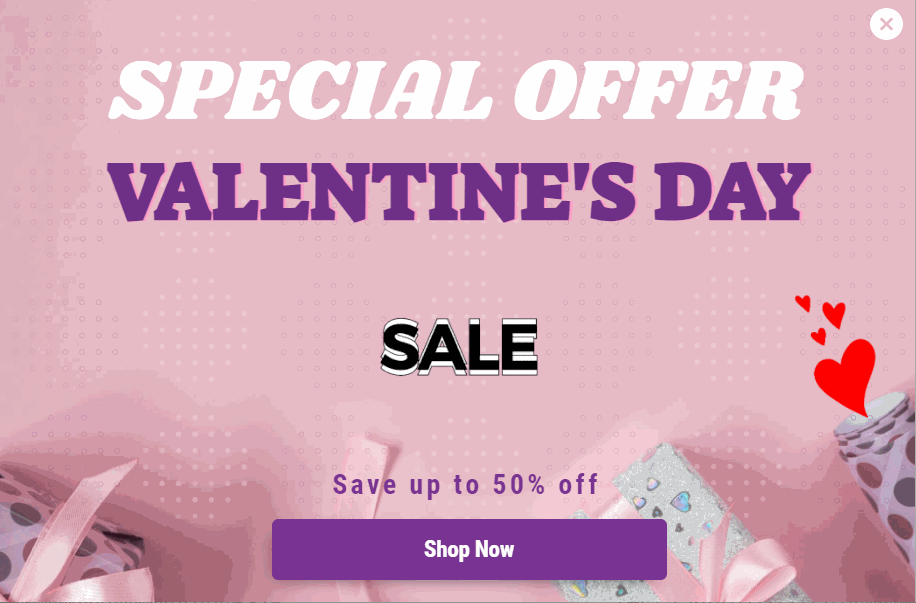 Use this template
Got some really cool Valentine special offers you would like the whole wide world to know about?
This bubbly popup gives you the chance to do so.
Use it to grab and hold down your visitors' attention.
12. Valentine's Day Campaign Promotion Popup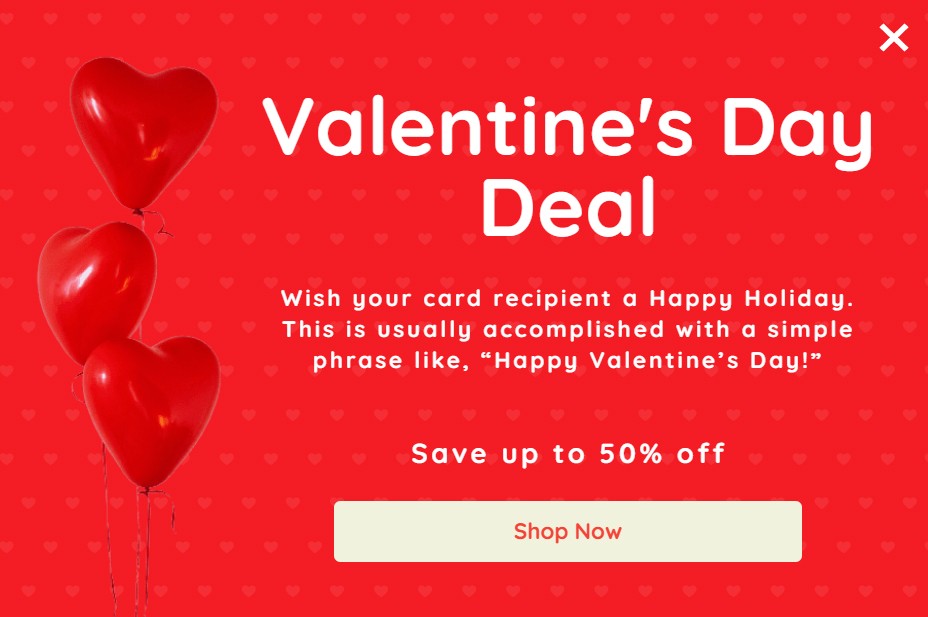 Use this template
Offering your visitors Valentine deals is one smart marketing move you just can't go wrong with.
But how would they know you've got some deals if you don't let them know about it with this popup template?
Never mind the texts we used here – they are just placeholders. You are at liberty to swap them out, thanks to our design editor.
13. Slide-in Valentine Marketing Template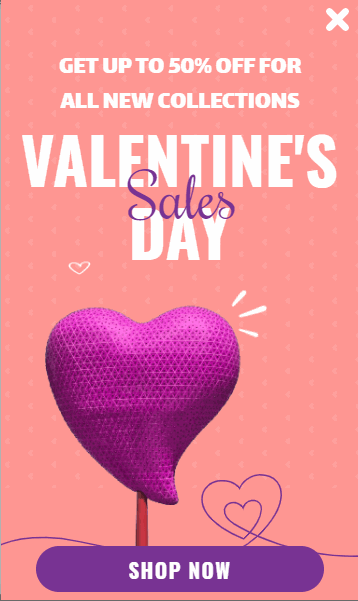 Use this template
Want to get your visitors' uninterrupted attention to your Valentine's day marketing campaign? This slide-in template is all you will ever need.
Do you know what makes slide-ins special? They take up very little real-estate on the computer screen. That means your visitors will less likely find them off-putting.
Adoric puts you in total control of how and when your slide-ins get displayed. For example, you can set them to appear after a user scrolls a certain distance down your web page.
14. Slide-in Template for Promoting Valentine Special Sales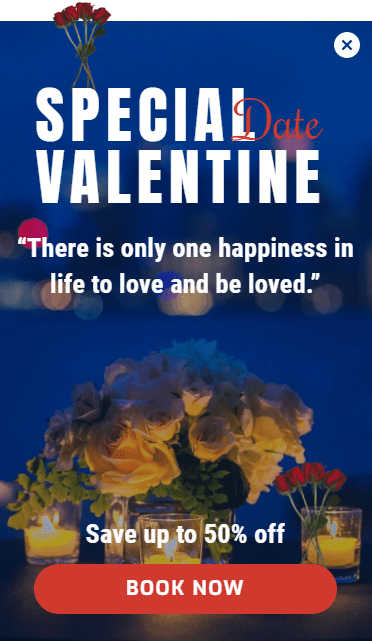 Use this template
Slide-ins, like popups, are also an excellent tool for promoting discounted deals.
So, if you would like to use one this coming Valentine, search no more.
15. Discount Promotion Slide-in Template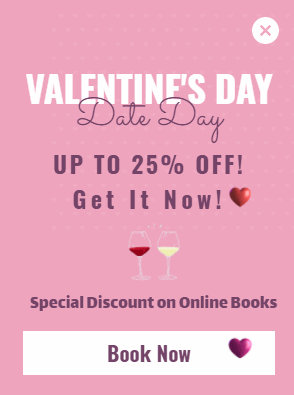 Use this template
Do you run a hotel, tour, entertainment, or any other type of booking service, and will like to have an overflow of customers this Valentine?
See to it that this slide-in template is in your marketing arsenal. You will be glad you did.
16. Slide-in Optin Form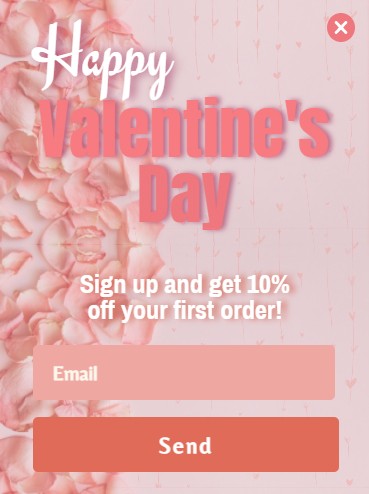 Use this template
A Valentine's day marketing campaign is never complete without a slide-in like the one you see above.
The uniqueness of slide-ins lies in their ability to subtly stick fast to a visitor's screen as they scroll up and down your page.
This ensures your campaign enjoys maximum visibility and without annoying your visitors.
17. Valentine's Day Advertising Floating Bar Template

Use this template
Floating bars are an effective marketing tool you can bank on to promote your special Valentine's sales.
But why use them? Simple. To keep your offers glued on your visitors' screen as they move around your webpage. And, of course, without irritating them.
18. Valentine's Day Marketing Campaign Floating Bar Template

Use this template
Take your Valentine's day marketing campaign to the next level by using this floating bar to promote your deals.
You can tweak and edit to your heart's content by using our design editor.
19. Floating Bar Template for Special Sales Promotion

Use this template
Here's another eye-catching floating bar template we've created especially for you. We made it in such a way that you can easily change colors, add your own pictures, and edit the text used in the design.
So, by all means, feel free to use it however you like.
20. Discount Promotion Floating Bar Template

Use this template
You sure want to make a killing this Valentine shopping holiday, don't you? We figured out you would, and so went ahead to create this floating bar just for you.