Do you know the most visited website in the world after Google? Definitely not Facebook.
It's YouTube!
But what has got to do with anything, you may wonder?
Simple. Video consumption is on the rise. And if you haven't cashed in on the potential of video in marketing your business yet, you are leaving a lot of money on the table.
Okay, maybe you aren't sold yet. Perhaps you need some more convincing reasons before jumping on this whole video thing.
That's fine. Here are facts and statistics that might help melt away your hesitations.
First off, 85% of internet users in the US alone consume video content on a monthly basis
84% of marketers say video has helped them to generate more leads
78%, on the other hand, affirm that video has helped them to increase sales
54% of internet users prefer video content from their favorite brands to any other form of content.
Interesting stats, aren't they?
These are proofs that video marketing has got lots of potentials. Fortunately, with a video popup, you can fully take advantage of it.
Adoric Makes It Easy to Create Video Popup
Video popup, simply, are lightbox popups with videos embedded in them.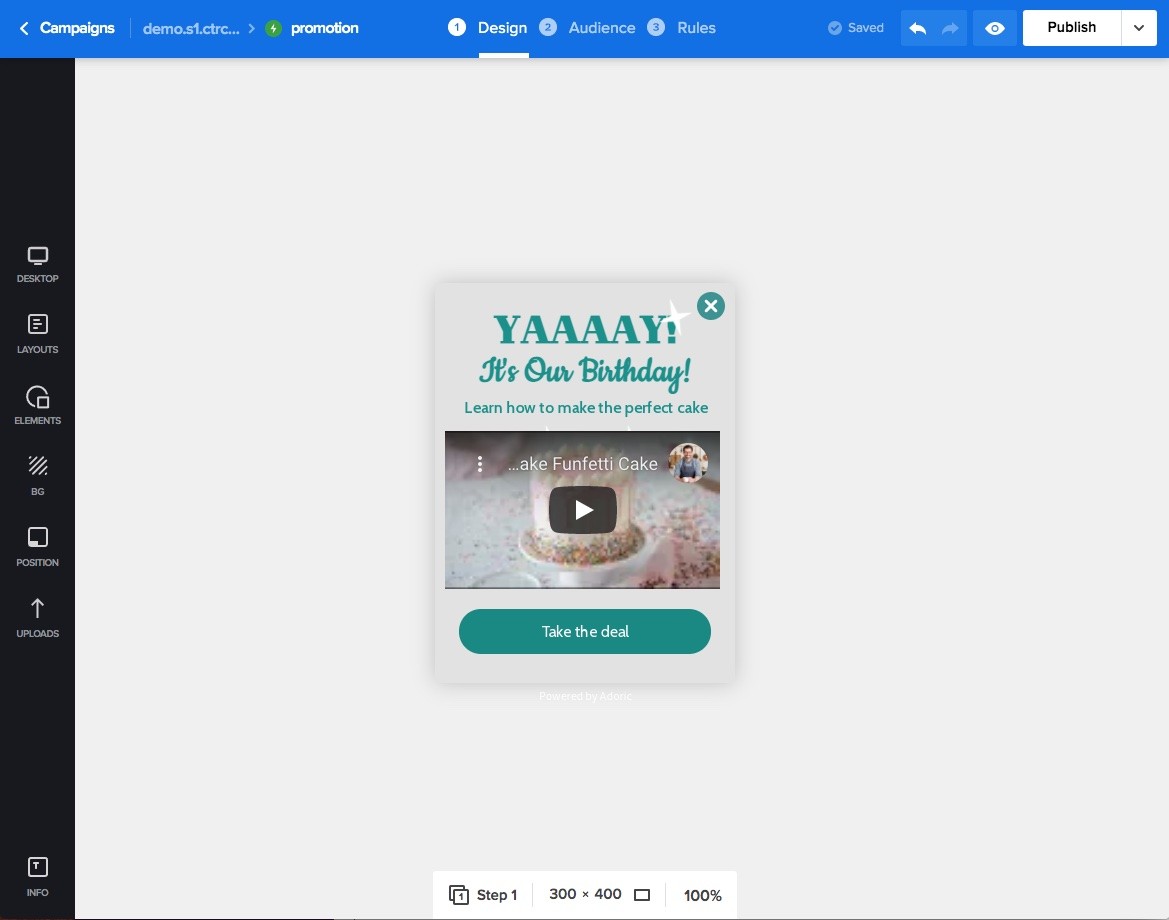 Adoric makes it easy for you to create one. Simply pick from our collection of popup templates, edit as you please, and then embed your video.
You can embed videos from:
YouTube
Vimeo
Wista
TikTok
Etc.
In short, you can embed videos from any video sharing platform, so long it supports embed code.
We've created a detailed tutorial that explains how to embed video from YouTube into your forms. Do well to check it out.
When Do You Need a Video Popup?
Are video popups really useful? If they are, how and when best are they used?
Video popups will come in handy when you are looking to:
Share an explainer video about your product/service with visitors, but without ruining their browsing experience. The video will only show when they click on the product.
Delight your visitors with video content while still keeping them on your website and not losing them to YouTube.
Run a promotion and need to engage visitors with a video
Make Your Video Popups to Show at the Right Time
Pop-ups are by nature annoying. But if you show them at the right time and to the right people, they won't be.
Adoric Trigger and Targeting feature allow you to display popups just when the time is right. You can show it:
Immediately a visitor lands on your site. Or after a certain time delay
When a user starts to scroll down your webpage
As soon as a visitor motions to leave your website
On all your web pages. Or on a selected few.
What's more, you can create a video popup now and schedule it to be published at a later date.
What's Next?
Ready to create your very first video popup? Why not sign up for a free account right away.