When is Cyber Monday starting this year? Well, it's just a couple of weeks away.
As an entrepreneur, marketing, eCommerce merchant, etc. looking to make a ton of sales online this coming shopping holiday, you need to have the right tools in place.
One of the tools that should never be missing from your marketing arsenal is a Cyber Monday sales promotion campaign. This campaign could be a popup, slide-in, or a floating bar.
But creating these campaigns from scratch can be difficult and time-consuming. Hence the need to use templates – or premade designs, if you prefer to call them.
These campaign templates make it easy for you to promote your sales offers, and make a ton of sales afterward.
Thankfully, Adoric has got a shipload of these campaign templates in our design collections, and we will be sharing 20 of the best of them with you.
They are all editable, and so you can tweak and adjust them to your heart's content.
Let's get things started already!
1. Dark Blue Themed Popup With a Countdown Timer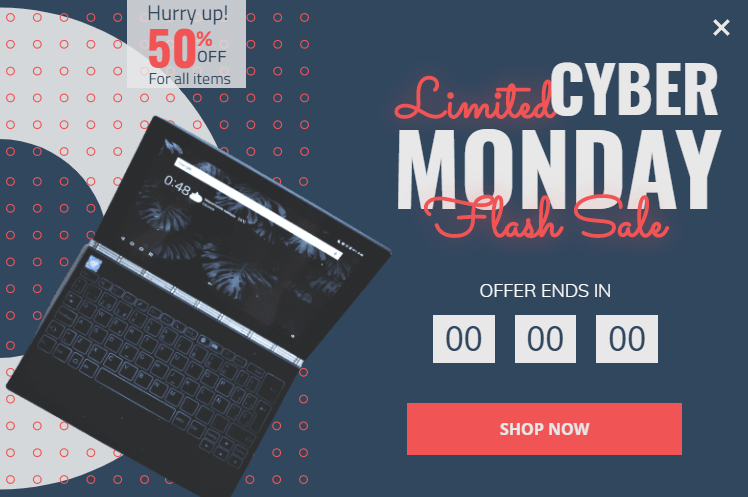 Use this template
Do you want to make your website's visitors rush to your product pages without any hesitations? Show them this popup.
As you would have noticed, it features a highly conspicuous countdown timer. And you know what countdown timers do? They stir urgency – and hence make anyone that interacts with it fear missing out on something of value. Technically, this phenomenon is known as FOMO.
2. Black Popup With a Waffle Dish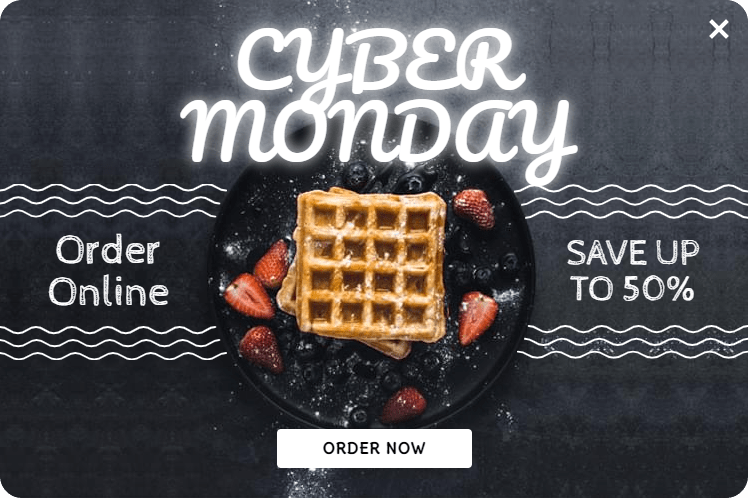 Use this template
Restaurateurs, you are sure going to love this popup. Use it to entice your visitors to order their favorite dishes – maybe a plate of steaming hot waffles.
Ok, maybe you don't do waffles, but chicken soup and everything chicken. It doesn't matter!
You can always customize this template however you please, and with great ease by using our drag-and-drop editor.
3. Pink, Purple, and White Popup Template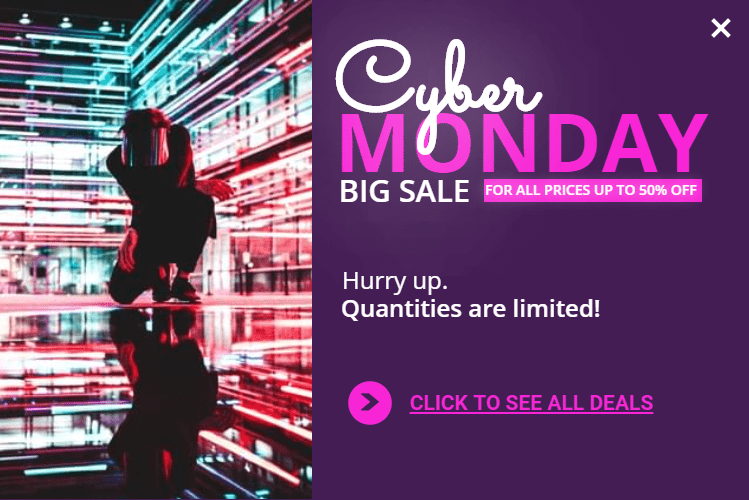 Use this template
Want to make things a little bit exciting for your visitors – and fun? Have this Cyber Monday marketing popup template displayed on your website's pages.
Isn't it cool? Sure it is.
Do you know the coolest part? Adoric's trigger and placement features allow you to display this popup just the place you want it: your home, product, or contact page.
4. Kid's Cyber Monday Marketing Template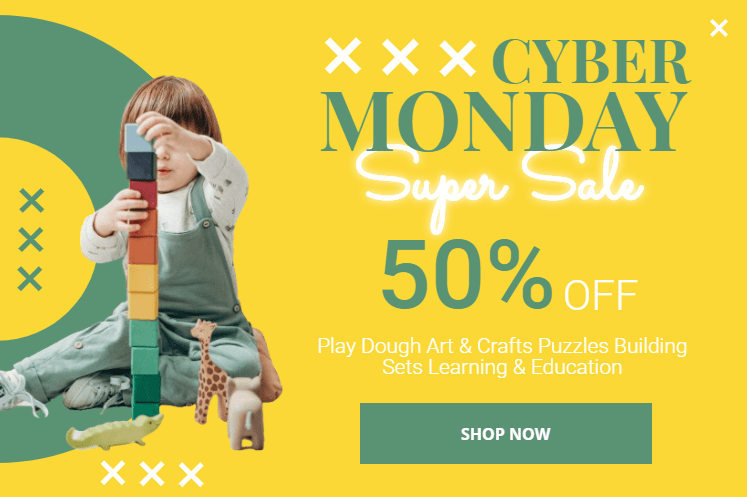 Use this template
Are you into kids' wear and accessories, and want to make bountiful sales this coming Cyber Monday? This popup template is for you.
Make it exclusively unique to your brand by changing the colors, font style, and even the image used in the design. Of course, you can easily do all of that via Adoric's drag-and-drop editor.
It's easy to use, and you don't need to be a Photoshop guru to get a hang of our editor.
5. Glowing Pink Marketing Template for Tech Products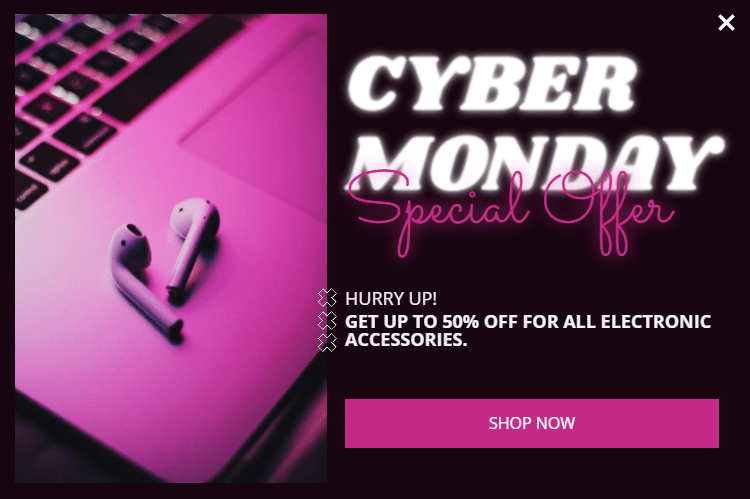 Use this template
Tech retailers and merchants, this marketing template is for you.
If you sell computers, computer accessories, smartphones, and their accompanying accessories, this marketing template will certainly come in handy.
And you know, tech gizmos will be on hot sale this Cyber Monday.
You are at liberty to style this popup campaign however you want and without hassles. What's more, you can make it appear on your website just when a visitor attempts to leave. That way, your website's UX won't be ruined.
6. Spin to Win Cyber Monday Promotion Template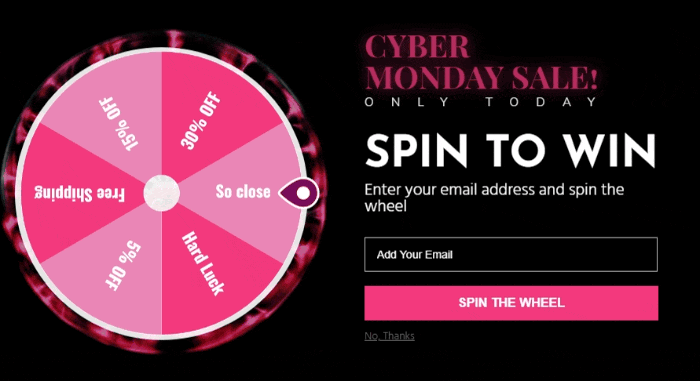 Use this template
Coupons and discounts will flow freely like a river this coming Cyber Monday holiday shopping. Thus, if you are looking to attract sales with coupons and discounts, use this spin-to-win popup to make them enticing.
The idea behind this popup is to make your visitors earn coupons by spinning the lucky wheel. Then they would use the coupons they won to shop in your online store.
7. Glowing Yellow Lucky Wheel Coupon Campaign Template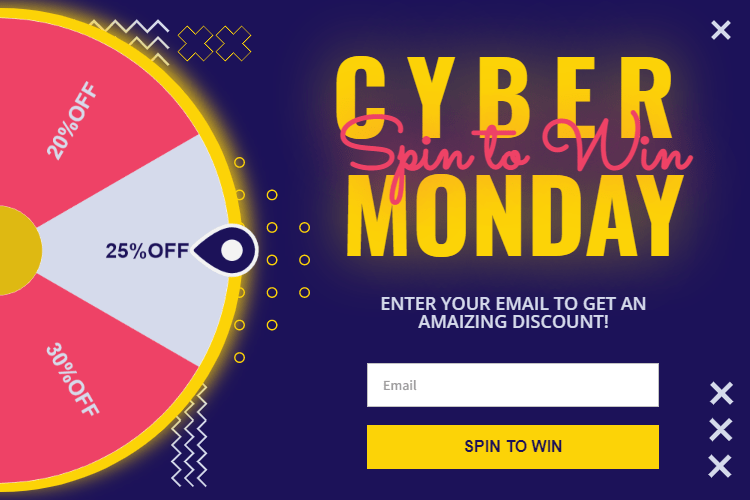 Use this template
Here's another lucky wheel popup template from our library. Not only is it eye-catching, but it is also engaging enough to make your visitors want to give you their emails.
Make this template match your branding like bread and butter by changing the color scheme, font style, text, etc. You could even customize how many slices the wheel will have and set the winning probability.
8. Multi-step Spin to Win Popup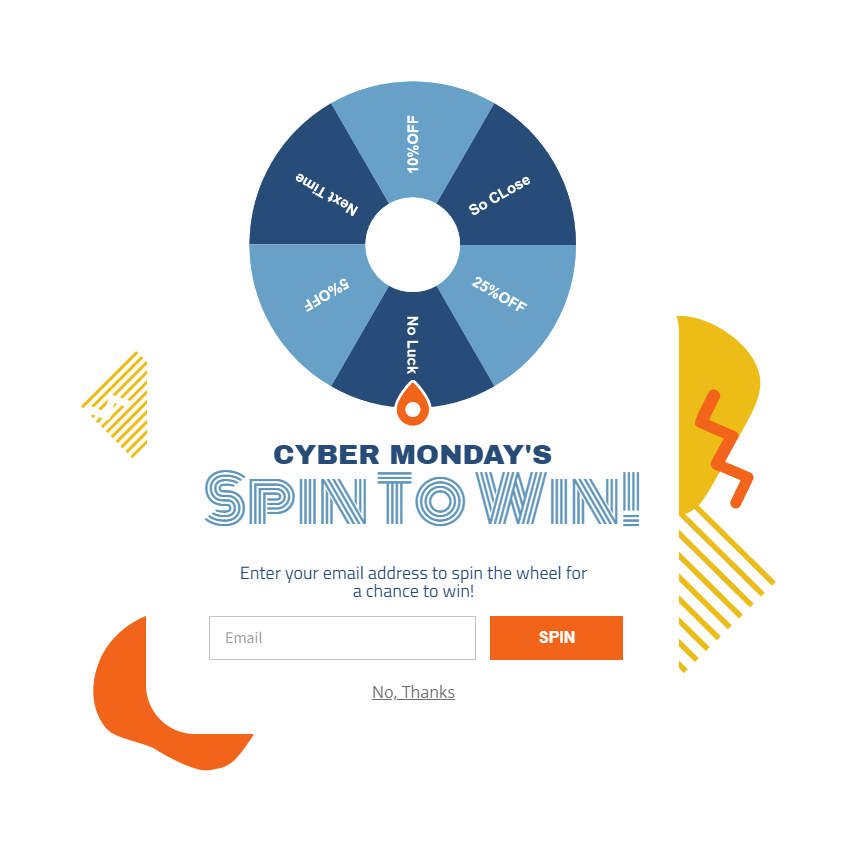 Use this template
How cool would it be to display a Thank-you message after a visitor signs up to your email list? That's definitely cool, and with this multi-step popup you can easily pull that off.
Do you know other benefits of a multi-step popup? It can incredibly boost your opt-in rate. This means more sales prospects for you this Cyber Monday shopping.
9. Cyber Monday Food Deals Template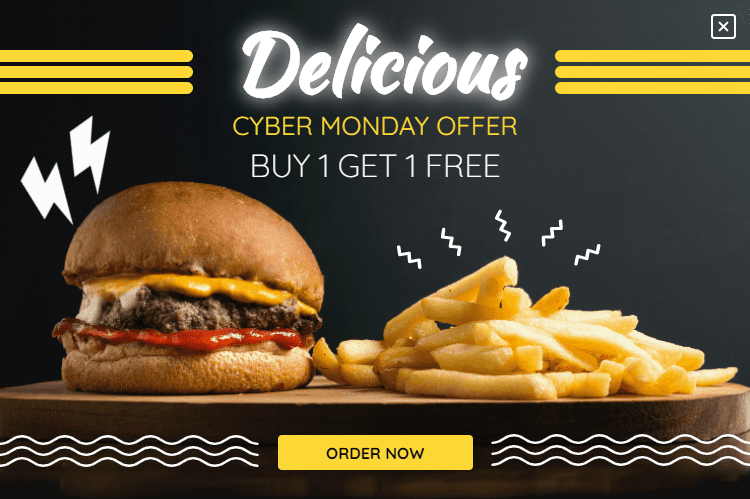 Use this template
Use this campaign template to titillate your visitors with some shades of deliciousness that leaves saliva dripping down the corners of their mouth.
So, if you have hot food deals that you would like to promote, this popup right here is definitely for you!
10. Cyber Monday Marketing Template for Sales Promotion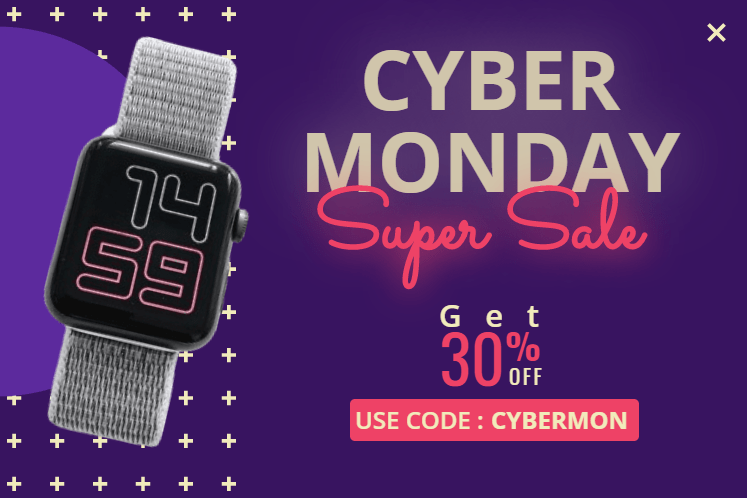 Use this template
Arrest your visitors' attention and get them hooked on your sales offers by displaying this popup on your web pages.
Adoric's trigger feature gives you the option of doing that immediately when a visitor lands on your site, scrolls down to a certain distance, or hovers over an element on your page.
In addition to that, Adoric's exit-intent feature makes it possible for you to also display the popup just when a visitor attempts to exit your website.
11. Mega Sales Promotion Popup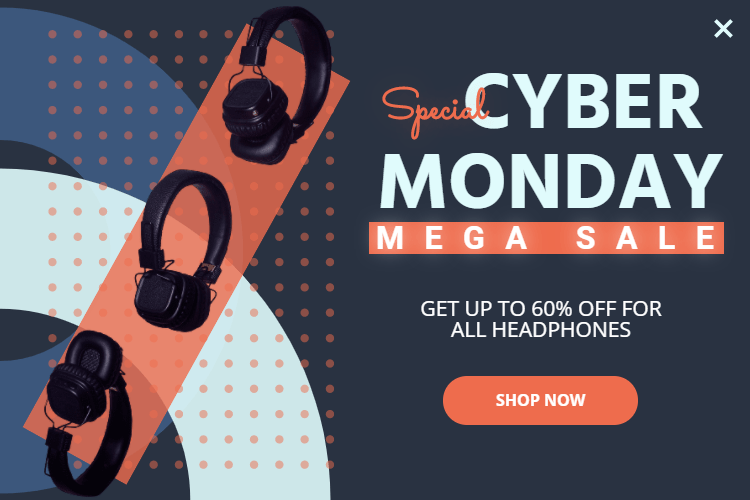 Use this template
Have you got hot mega sales deals in store for shoppers and would like the whole wide world to know about it? Then by all means get this campaign template for yourself.
Worried you would have difficulties setting it up on your website? Worry no more because, with Adoric's plugin, you can set this popup up on your WordPress website with a few clicks of the button.
12. Purple-Toned Mega Sales Promotion Campaign Template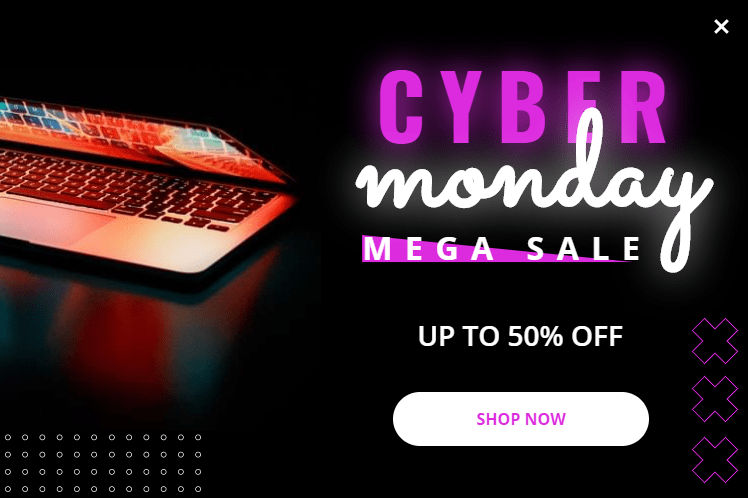 Use this template
Here's another captivating, and simply breathtaking, campaign template you can use to promote your upcoming mega sales.
And it isn't only limited to electronic gadgets; with a little tweaking, you can use it to promote shoes, clothes, and whatever tickles your fancy.
13. Blue-red Themed Cyber Monday Sales Template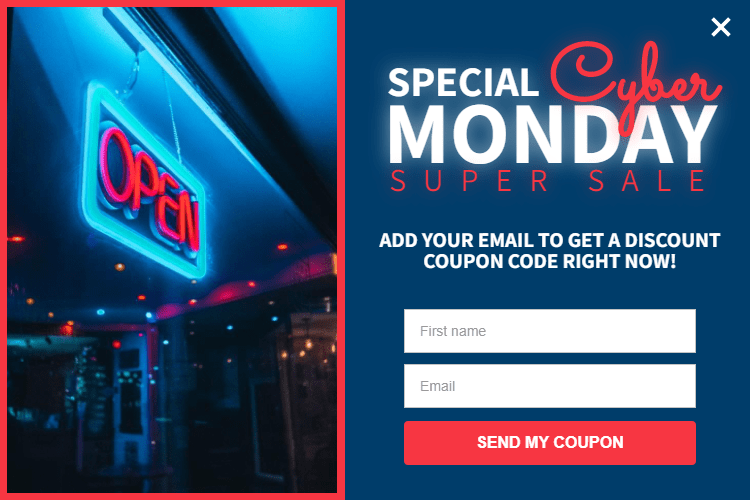 Use this template
Looking to build an email list filled with sales leads as Cyber Monday draws closer? Why not grab this template and publish it on your website right away?
Of course, you don't have to use it as it is – you can always make tweaks and adjustments here and there until it perfectly fits into your imagination.
You could even make things a little more interesting by adding a video, gif, or other attention-grabbing graphical elements to it. Our design editor allows you to do that.
14. Blue, Funky Music Promotion Campaign Template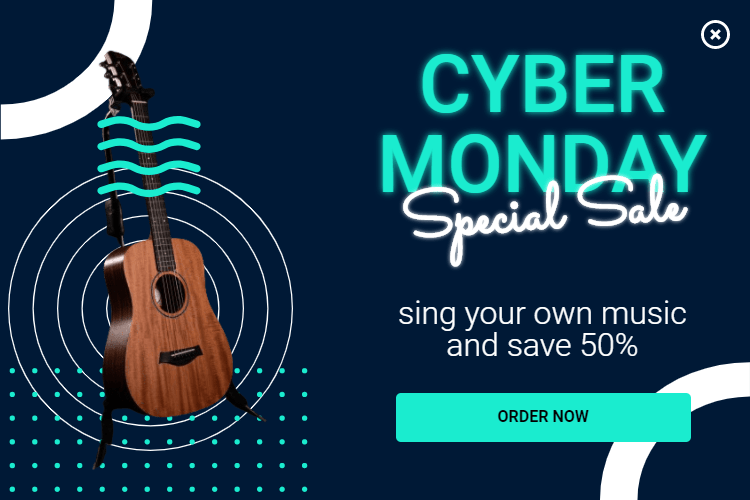 Use this template
Got a music album that you would like to promote in the heat of Cyber Monday? We specially created this popup for you.
Free feel to edit, customize, and tweak it to your heart's content by using our intuitive and easy-to-use design editor.
15. Animated Slide-in Cyber Monday Template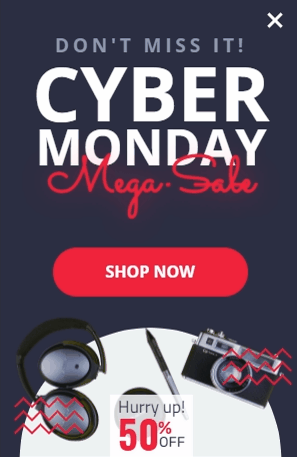 Use this template
There are times when a popup won't just be appropriate for promoting your sales offers due to their rather intrusive nature. This is where a slide-in comes into play.
Such campaigns take up very little real estate and also command a lot of attention.
16. Free Shipping Promotion Slide-in Template
Use this template
Are you offering free shipping on your sales deals this shopping holiday? Let shoppers know about it by using this slide-in campaign.
It's just a template, so you can make it look however you want. Plus, Adoric allows you to position the slide-in just where you want it to appear on your visitors' screen.
17. Slide-in Lucky Wheel Coupon Template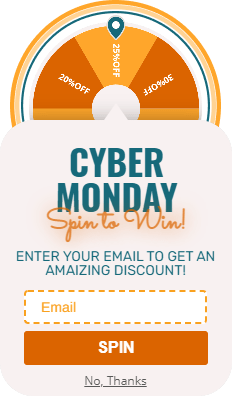 Use this template
Lucky wheel coupon campaigns are attention grabbers. And when used properly, they can really boost your conversion rates.
Hence why we've created this slider lucky wheel coupon. Use it to create excitement with your visitors.
18. Black Floating, Sticky Bar

Use this template
People's attention span is short – and it keeps getting shorter by the day. Sometimes, the only way to get and keep their attention is by sticking something in their face, but in a subtle way.
So, if keeping visitors' attention fixed on your sales offers as they navigate through your website means a thing to you, use this floating bar template.
19. Floating Bar Template for Promoting Mega Sales Offer

Use this template
In case you haven't realized yet, you can also promote your mega sales offers by using a floating bar like this one.
So get on with your promotion already
20. Spin to Win Floating Bar Template

Use this template
Oh yes, spin-to-win campaigns can also be used on a floating bar, just like pop-ups and slide-ins. Make your promotions enticing and exciting for your visitors by using this template.
Okay, we are done! 20 campaign templates that you can use to promote your sales offers this coming Cyber Monday shopping holiday.
Ready to start trying out all the templates we've shared so far? Sign for a free Adoric account right away.
And, oh, we've got many more from where those templates came from.