Explore core features
Meet Adoric, advanced tools for creating automatic and personalized live website engagements
EDITOR
Design has never been this easy!
10,000 free graphic elements
New
Adoric editor offers an endless stock of images, icons and shapes. Just search or filter for the one that works best for you and create your own design.
Learn more
Tons of templates
Choose between dozens of suggested layouts, from neat and sleek large pop-ups to more minimal and concise notification sliders.
Learn more
Drag & Drop Builder
Simply drag images, animated GIFs and vector elements into the editor. Your elements will be saved so you can use them for any new campaign.
Learn more
Mobile friendly
Create your mobile versions with the click of a button. With Adoric's editor, you can design different tablet and mobile variations.
Learn more
Countdown
This FOMO tool is designed to urge your users towards engagement. Set a general end date or use it as a one time scarcity feature.
Learn more
Form
The perfect and ultimate feature for growing your mailing list and achieving your leads goals. Simply connect to your preferred CRM and keep on rocking!
Learn more
Crop
Simply edit any image and crop it so its ratio fits your pop up boundaries.
Multi-step messages
Any campaign CTA can be a trigger for a pop-up. You can also create a small teaser and follow with an even bigger pop-up.
Learn more
On screen position
The screen is your canvas. Easily, select the position of where you want your campaign to appear. Anything goes!
Learn more
Grids
Do you sometimes feel the urge to place images on a grid? The Adoric team feels you, so we've created the perfect tool for image composition.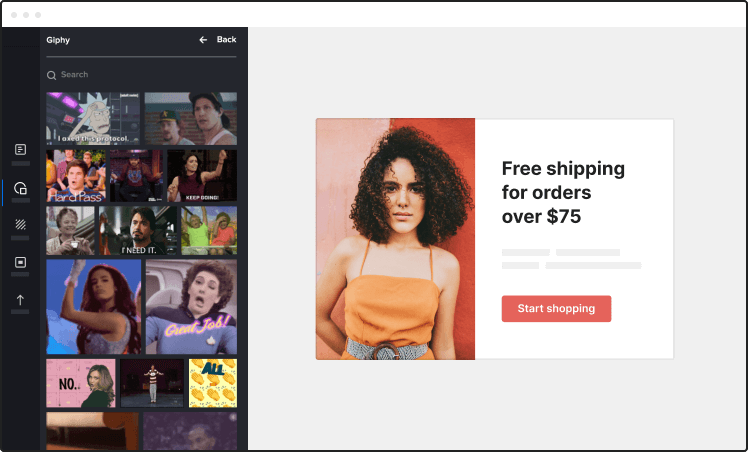 Text variables options
Show the user's name or city on top of the pop-up for a more personalized message.
Embed code
Take full customization over your campaigns by inserting your codes inside.
Save templates
Fell in love with your perfectly designed pop-up? You can save it as a template and use its layout while designing your next campaign.
Embed video
Make your campaigns real attention magnets by putting videos in them.
Animation effect
Make your pop ups enter the page with style. Choose the direction, type of animation and which message to enter/exit with.
SVG support
Once you go vector, you can never go back. Add any SVG file and choose the right color as well as the mouse hover color.
Upload
Start building your own Adoric library. You can add endless elements into your campaigns, they will always be there when you need them.
Fonts
Our text feature is integrated with Google fonts, so you'll definitely find the font you love.
Giphy library
Full access to Giphy's library with all of the GIF's you need.
Share templates
You have the ability to share your templates with your team and other teams!
TRIGGERS
Show messages at the right time
DESIGNED LAYOUTS
Templates in a variety of layouts
Box
The traditional concept of a pop-up, a large centerized message that stands out on top of a webpage. Feel free to use it on the first landing page or when your users bail out.
Slider
Segment your traffic via your main traffic channels. For instance, you can show your campaign to users who only came from paid or social sources.
Bar
Whenever you have an important offer or announcment you can use a top or bottom bar that pushes your page and follows your users along the website pages.
Go custom
Want to play around and create a new kind of pop-up? No sweat! Choose the custom option and create a unique design.
Carousel
With an easy drag and drop, you can add a fully customizable carousel with images, buttons, text and more.
Tooltip
Help your audience understand more about your products by showing them useful information and tips.
In-page content
Have the option to add elements to different parts of your website without a developer. It's like magic!
Persenolization
Personalize your audience
Audience targeting
Personalize your audience
Learn more
Visitor types
Our first and basic segmentation feature lets you approach new and returning users with different messages.
Traffic sources
Segment your traffic by your main traffic channels. You can, for instance, show your campaign only to the user who came from paid or social sources.
Geo locations
Is your website international? You can show different offers and notifications for users who are located in different countries.
Languages
Segment your traffic by selecting which 
languages your campaigns will appear as.
Browsers
We know that users who use various browsers behave differently, even on the same website. Therefore, we've created the option to segment users by their browser.
Devices
Create platform-modified messages. 
Desktop & tablet users can see large pop-ups, while mobile users can see a small slider.
Day or night?
Adoric's schedule feature enables you to show different campaigns depending on the time of day.
Operating systems
Mac/Windows iOS/Android, segment your users by the type of system they are using.
Advanced options
Placement
Choose the URLs you want your pop ups to appear on. You can also choose only a part of the URL or even just a specific Query.
Cookies
Show your campaign only to a cookie variable qualified users. Easily enable the campaign only to users who are identified with a specific Cookie.
HTML conditions
This feature will scan the page's HTML and allow the campaign to appear only to users who have a specific css selector on their webpage.
JS variable
Show your campaign only to a JS variable qualified users.
Local & session storage
Segment your users by using data from their web browser storage.
URL conditions
You can now segment your returning users by showing them your campaign according to their previous pages visits.
User behavior conditions
Use a previous user's behaviour as a condition for showing your current campaign. Only user's who already clicked on or saw a previous campaign will see your current campaign.
Analytics
Get important stats that actually matter.
Analytics and Summary Reports
New
Retrieve all the data you need with regards to your real time engagement campaigns, you will receive insights of different metrics and get a weekly performance report.
Goal Tracking
Create goals such as how many visitors made a transaction after seeing Adoric's pop- up, and get actionable insights.
Lift test
Adoric's lift test feature allows you to conduct an A/A test that compares the conversion of a goal with and without Adoric's pop-ups.
Campaign combination
Discover which sequence of two or more campaigns contributed to a certain goal and how well this combination converted.
Events
Show a user a campaign based on specific events happening with your website or store.
Ecommerce
Our e-commerce section gives you insight and data for your store's performance in regards to your Adoric campaigns.
Google Analytics Events
Adoric automatically integrates with Google Analytics so you can track and measure your campaigns' goals at any time.
Google Tag Manager Events
Use your GTM as an event generator which triggers campaigns by pre-set event conditions and segmentation.
A/b testing
Conduct as many a/b and split tests as you wish while changing the variant's weights of exposure and letting the winners stand out.
Learn more
Acquisition
Target specific audiences by where they come from like, email, websites, direct, PPC and more.
Control
Create a Control to compare multiple variations and see which one works better compared to the original website.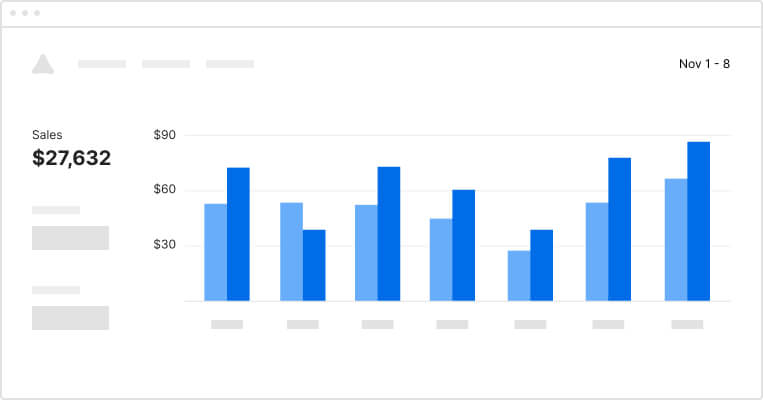 Greetings, Andrea

You grew your revenue by

$2,543

today
Hey, James

You got

365

subscribers since last visit
Good morning, Kathryn
Your average order value increased for
20%
Integrations
Connect your email provider with a click!
Mailchimp
New
A marketing automation platform that helps you share email and ad campaigns with clients and customers.
Learn more
Aweber
An email marketing service provider with over 100,000 small business clients world wide allowing businesses to easily keep in touch with clients.
Saleforce
An on-demand CRM suite offering applications for small, midsize and enterprise organizations, with a focus on sales and support.
Hubspot
An inbound marketing and sales software that helps companies attract visitors, convert leads, and close customers.
Campaign Monitor
An online email marketing application that allows designers to create, send, manage and track branded emails.
Constant Contact
A solution that includes email marketing, event marketing, social campaigns and reporting, and survey management.
GetResponse
An email marketing platform that allows users to create a valuable marketing list of prospects, partners, and clients.
Klaviyo
A centralized and cloud-based marketing system that allows eCommerce marketers to effectively target, personalize, monitor and optimize marketing campaigns.
Bronto
A cloud commerce platform that unifies e-commerce and POS with your operational systems.
SendinBlue
A SaaS solution for marketing allowing businesses to grow relationships through marketing campaigns, transactional messaging and marketing automation.
Active Trail
A one stop shop for email marketing platform, newsletter software and marketing automation software.
WebHooks
Integrate the form with your WebHooks account. Send all form submission to contacts.
Zapier
A web-based service that allows end users to integrate the web applications they use.
Adoric CRM
A full service web messaging tool that allows you to create, manage and engage with customers to increase conversions.