Implementing personalized product recommendations to your website can help to improve your chances of success? Personalized product recommendations mean recommending relevant products to your customers, which they will most likely want to buy.
Did you also know that personalized product recommendations, when implemented properly, can be a major sales driver for you?
Statistically speaking, 31% of all eCommerce sales come from product recommendations. Huge, isn't it?
Other Additional Benefits of Product Recommendations
One of the major benefits of using a product recommendation engine is increased repeat sales. A good proof of this is Amazon: 35% of the company's sales come from product recommendations.
And it's not just Amazon that drives sales via product recommendations; Netflix does too, to the tune of 75%.
To this end, if sustaining repeat sales is one of your major goals in business, a robust recommendation system must be in place on your website.
Other additional benefits of recommending relevant products to your visitors are:
Increased Average Order Value: users will buy more from your store if you point them to products that they will like.
Better loyalty from your customers. People like it when relevant products they love are shown to them, and not the other way around. They will always come back if you offer that experience.
More customer satisfaction. Period.
Recommendation Types
How would you like to recommend products to potential customers?
Would you like to show them random products in the hope that they will like them? Or would you like to suggest a product they recently viewed but never bought?
Whichever way, Adoric has got you covered. As a matter of fact, there are 6 recommendation options you can pick from, and they are as follows:
Random Products
Adoric randomly selects products from your catalog and shows them to your visitors. This is the most basic type of recommendation.
Recently Viewed
Oftentimes, online shoppers look up a product with the intention of buying but without ever going through. One good way of getting them back is by suggesting those products again.
First Products
Perhaps you want to sell off the first set of products in your catalog. If so, the first product recommendation is your best bet.
Most Viewed
Is there a product in your store that is getting massive attention? That's an indication that it will sell well. Why not recommend that product to your visitors?
Here's an example from SodaStream – one of Adoric's customers.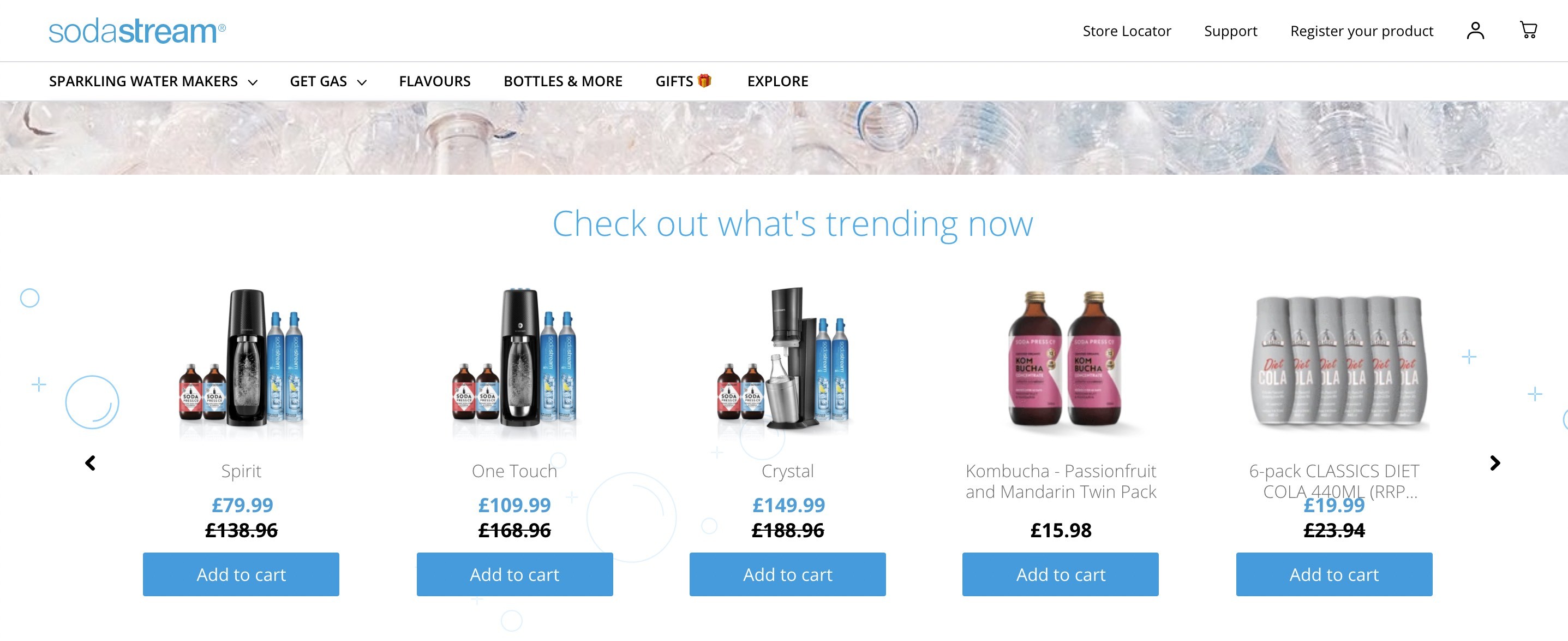 These suggested items have received the most views, hence trending.
Best Sellers
Recommend best-selling items to your visitors, and watch your sales grow.
Here's an example from SodaStream.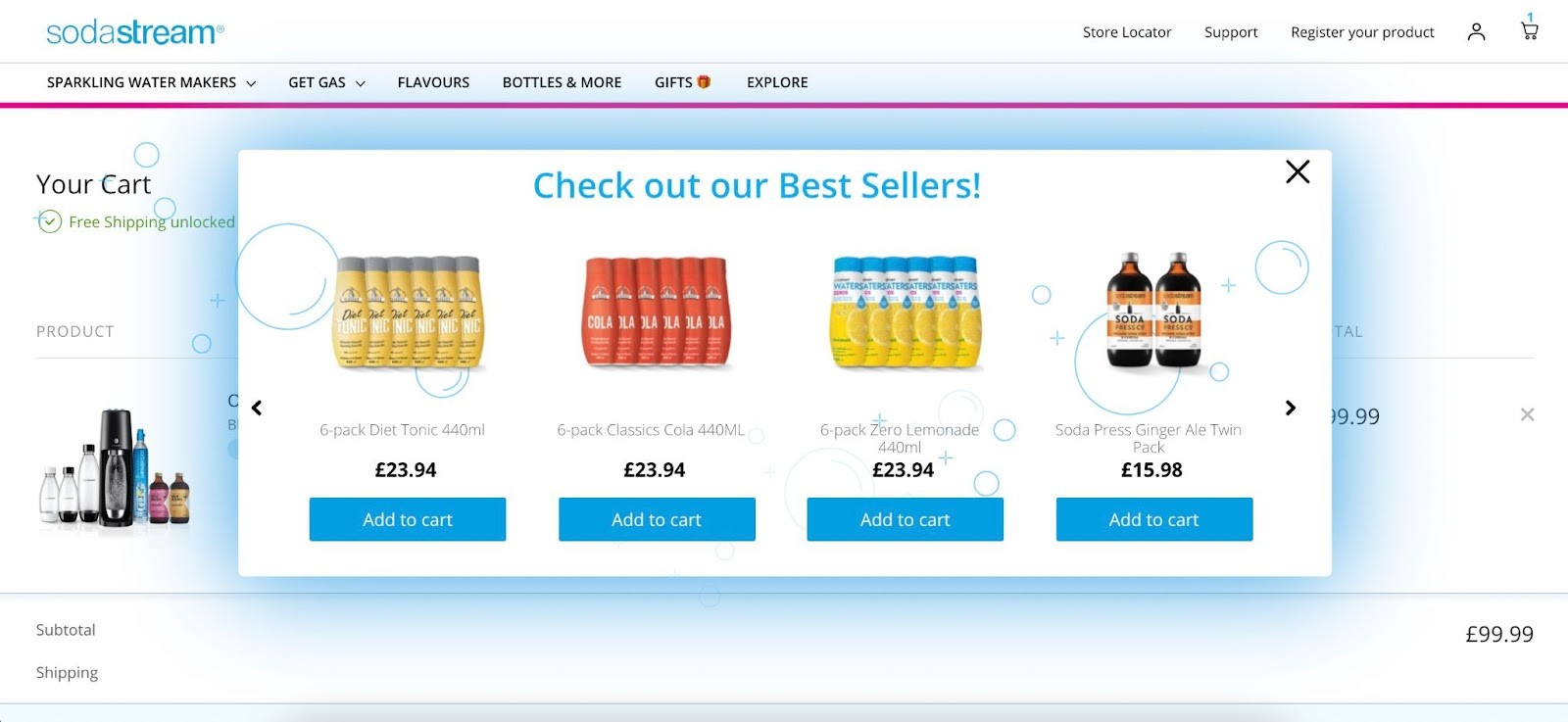 Bought Together
Cross-sell your customers by recommending complementary products that are frequently bought together.
Have a look at this example from IQOS.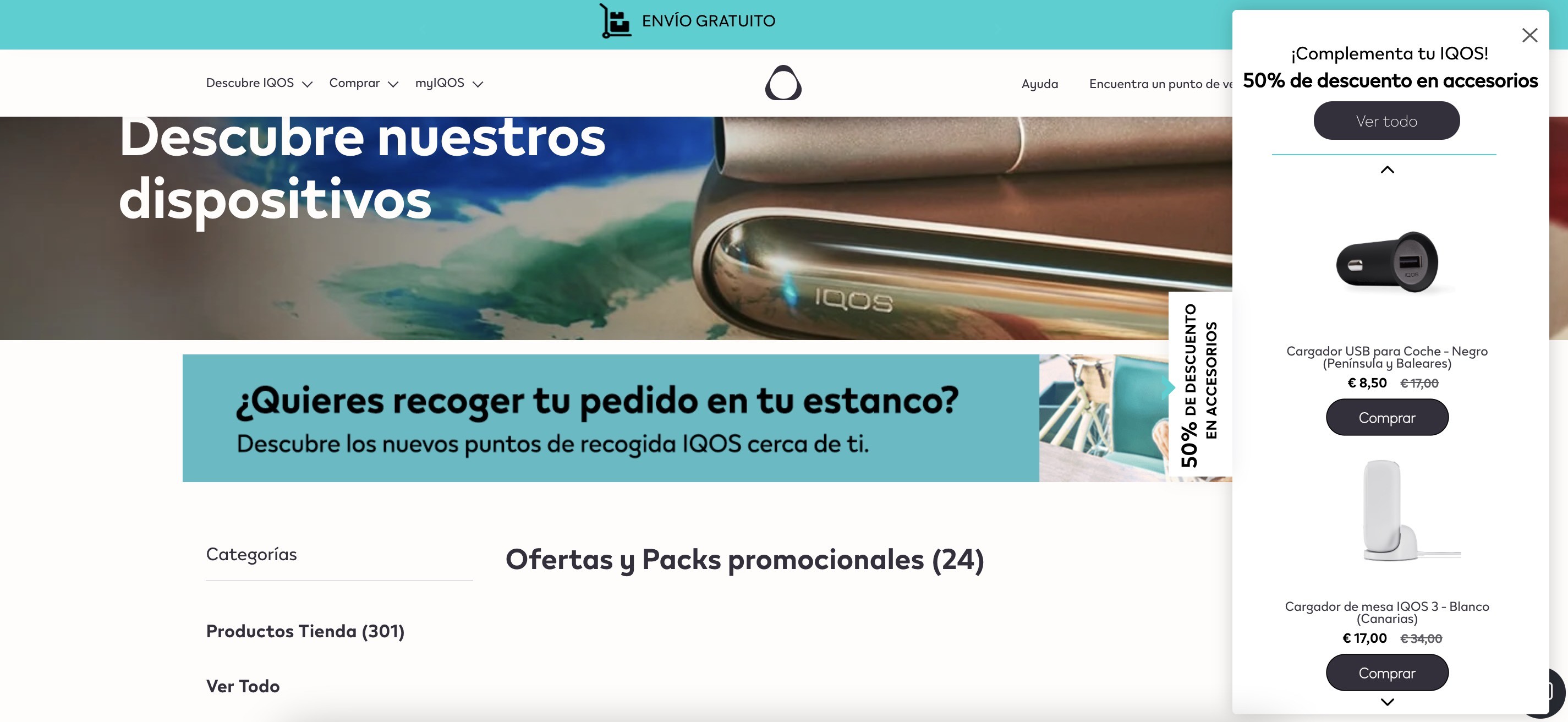 As you can see, the floating box on the right contains Complementary product suggestions. Never mind that is written in Spanish.
Adoric Product Recommendations Solution
With Adoric's products recommendation engine, you can easily upsell and cross-sell your customers by suggesting products they will like. Also, Adoric allows you to implement recommendations wherever you like on your website: the homepage, product page, and even checkout page.
What's more, Adoric's Audience Targeting and Campaign Trigger features ensure that you target the right people and at the right time, hence increasing your odds of success.
For example, you can show products to potential customers based on their geolocation, device, traffic source, etc.
Powerful filtering that allows your customers to filter out recommended products based on category and prices.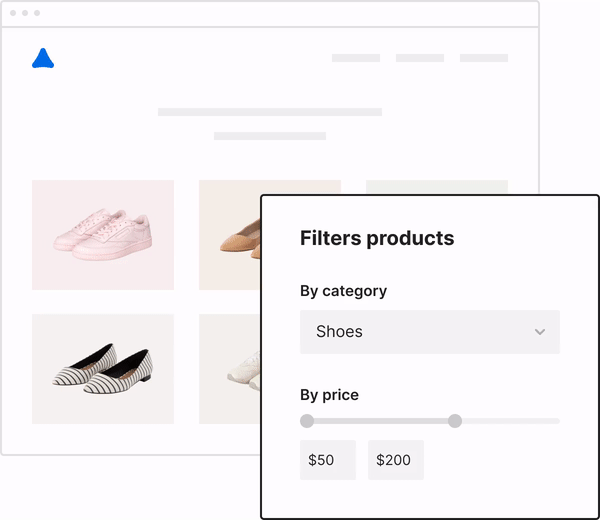 Easy and Fast Setup
Easy product recommendation setup. All you have to do is to import your product catalog and connect to your Google Analytics account. What's more, Adoric gives you the option of importing a catalog directly from your Google or Facebook feed directly.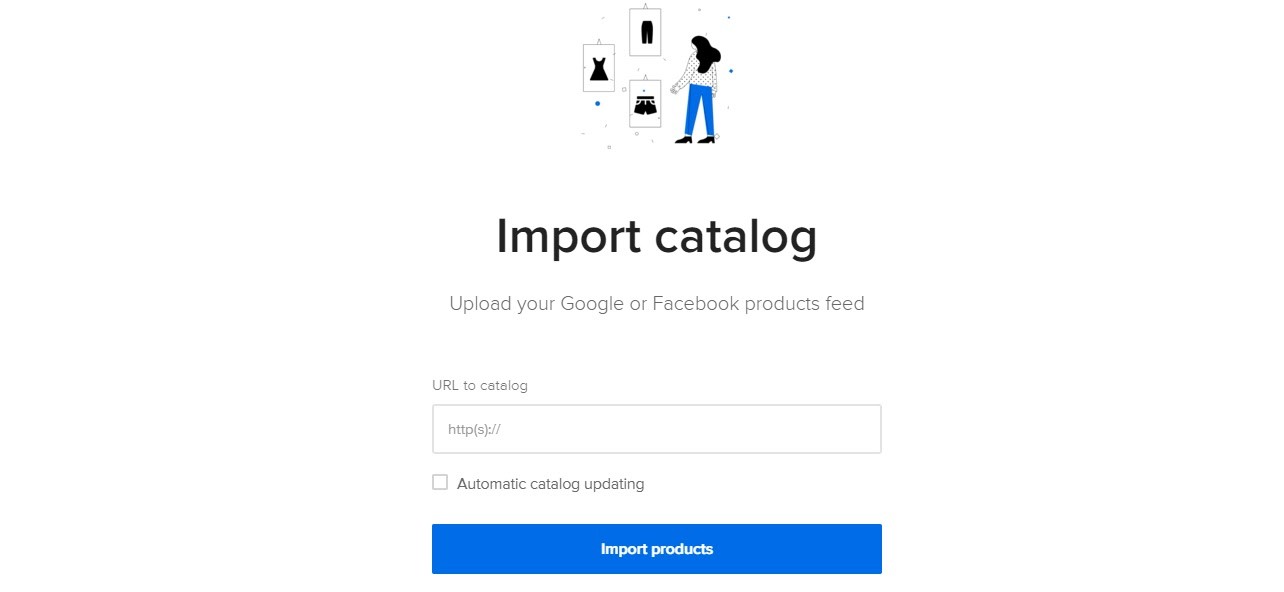 When you are done importing your catalog, the next step is to set your preferred recommendation type.
What's Next?
Do you want to boost your sales and revenue by leveraging the immense power of personalized product recommendations?
Why not sign up for an account right away. You can do so in less than two minutes.
If you would like to know more about our recommendation solution before signing up for an account, feel free to reach out to us anytime.